The Sea Doo is powered by a rechargeable battery that lasts up to an hour per charge. To start it up, just press the finger-activated soft-start trigger; the propeller starts slowly for a moment, and then ramps up to full speed. Let go of the trigger and the Sea Doo shuts off automatically and floats to the surface. A safety grill keeps you from poking your fingers into the propeller.
Driving the Sea Doo is a simple matter of turning it on, pointing it where you want to go, and then hanging on for dear life. It pulls you along underneath the water, so you'll need a good grip and a bit of arm muscle. Steering it involves turning the device right or left; you change depth by pointing it up or down. There are no fancy navigational controls to learn; it really is a point-and-shoot type of device.
Speaking of depth, you can adjust the Sea Doo to have anywhere from 5 ounces to 2 pounds of buoyancy. You want more buoyancy for snorkeling, and less for diving. You make the appropriate adjustments via a built-in buoyancy chamber .
It's a pretty sleek looking device, very James Bond-like and lots of fun. The Sea Doo is small and lightweight and can be carried in a small duffle bag in the trunk of your car. Anybody can use it, no license required.
And here's a fun fact: The Sea Doo was engineered by the same guy who invented the first portable PC, Sir Clive Sinclair. (Remember the Timex Sinclair computer?) From computers to sea scooters—what a life!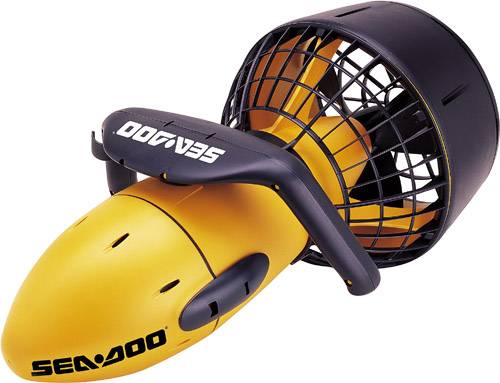 Model: Sea Doo Manufacturer: Sea Doo (www.seascooter.net) Dimensions: 15'' x 16'' x 9'' Weight: 11 lbs. Price: $399.95
Mares Nemo Dive Computer/Watch
The dive computer is an essential part of any diver 's gear package, and many of them are fairly high-tech gadgets. But Mares takes the concept to a new level by packing dive computer technology into a waterproof wrist watch. You get all the standard dive computer functions (depth, dive time, temperature, ascent rate, and so on) combined with an elegant electronic watch. It's a way-cool alternative to the traditional dive computer—perfect for the scuba diving gadget hound!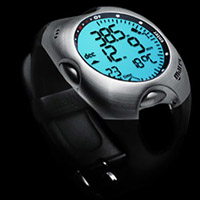 Model: Nemo Manufacturer: Mares (www.mares.com) Operating temperature: 14°-122° Fahrenheit Price: $600
Dive Alert SubDuck Underwater Signaling Device
Don't confuse Dive Alert's SubDuck with the RoboDuk I discussed previously; this one has nothing to do with hunting ducks . Instead, the SubDuck is an air-powered underwater signaling device that connects between your low pressure hose and power inflator. It generates a loud signal that's audible up to 75 feet underwater—great for getting the attention of your fellow divers.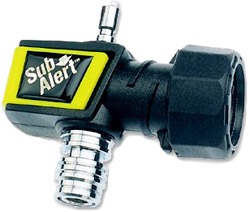 Model: SubDuck Manufacturer: Dive Alert (www.divealert.com) Dimensions: 2.5'' x 3'' Price: $59.95
JBL 38 Special SHD Speargun
What fun is scuba diving if you can't shoot anything? That's why every diver with a James Bond fantasy needs a JBL spear gun, like the 38 Special SHD. It shoots standard 3/8'' diameter spears and feels real powerful in your hand. Heck, it's a fun gadget even if you don't dive—it's great for picking off geckos in the back yard!

Model: 38 Special SHD Manufacturer: JBL Spearguns (www.jblspearguns.com) Length: 42'' Range: 17 feet Price: $219.95
SurfaceDive Deck Snorkel
Here's a diving gadget for non-divers. That is, the Deck Snorkel can turn anybody into a part-time diver, no oxygen tanks necessary. The Deck Snorkel is an air compressor unit that connects to your boat's battery and feeds you oxygen as you dive over the side. It comes with the compressor unit, one regulator with dive harness, and a 48 ft. hose. You can stay under as long as you like and never have to worry about running out of air!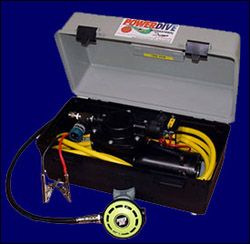 Model: Deck Snorkel Manufacturer: SurfaceDive (www.surfacedive.com) Dimensions (compressor unit): 16'' (l) x 10'' (w) x 9'' (h) Price: $1,080