Storyboarding for Fun and Profit
Think of your storyboard as a flow chart that leads a visitor to your site through the process of shopping and buying. A storyboard consists of a series of paper pages; each page represents a Web page of your site. Each Web page consists of the following:
The major navigation of your website and internal links within the pages of your site

The important elements of the Web page

The content of the Web page
Let's take a look at each one.
Major Navigation Elements
These are the top or side links to major sections of your storefront. Your major navigation should be no more than seven links. You can add navigation under those links as sublinks when the visitor arrives on those pages. This makes for clean, easy-to-understand use of your storefront. You should also repeat your major navigation as text links at the bottom of each page. You can add important text links beyond the shopping navigation of your site as well, such as links to your privacy policy, newsletter sign-up, and affiliate program sign-up.
Web Page Elements
Decide on the purpose of each page, and write those objectives into the pages of your storyboard. For example, lay out your checkout process screen by screen for your shopping cart programmer to create. Lay out all sign-up pages for newsletters or promotional emails. If you'll have a links page to strategic partners , lay out those pages also. Finally, create the layout for your community elements like discussion boards or chat rooms.
Tip: Miller's Magic 7
In 1956, George Miller wrote a paper titled "The Magical Number Seven, Plus or Minus Two: Some Limits on Our Capacity for Processing Information." In it, Miller stated that a person's working memory can hold up to seven bits of information, plus or minus two, at one time. This "Miller's Magic 7" has become the basis of many Web page design decisions. Here's what his research found:
Give users only seven links (choices) in the active window.

Give users only seven items on the menu bar.

Give users only seven tabs at the top of a website page.

Give users only seven items in a pull-down menu.

Give users only seven items on a bulleted list.
Keep Miller's Magic 7 in mind when designing your e-commerce website.
Consider developing a flowchart (see Figure 4.1) when planning your site, to help you lay out your Web pages visually. The flowchart will not only help you develop the top-level navigation menu, but it also will help you visually see how you can cross-link between subpages. Microsoft Word and PowerPoint have built-in tools to help you draw and organize your flowchart. If you are planning to outsource your Web design and development, creating a flowchart will help the contractor develop the Web pages in the appropriate category and give you a more accurate bid on your project.
Figure 4.1. Developing a flowchart will help you visually lay out your content flow. This will also help your team if you are collaborating to build your website.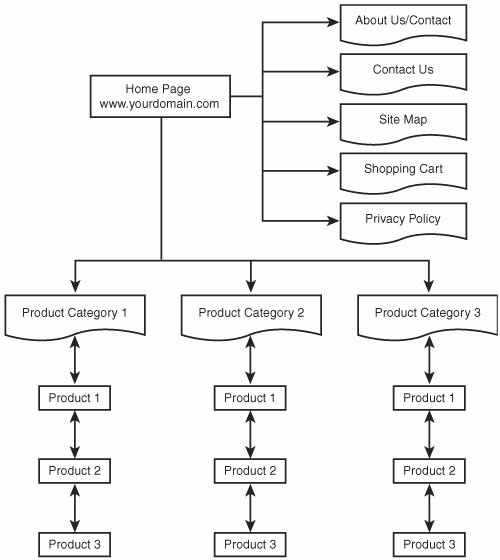 Web Page Content
Finally, you must write every bit of content that exists on each Web page of your site. This includes copy for the product or service pages, pages that describe your company, the press room, the privacy policy pages, the contact page, customer service pages, and more. We cover these more in depth later in this chapter.
Warning: Sell, Don't Entertain
Remember, the purpose of your e-commerce website is to sell shoppers, not entertain them. Keep the fancy graphics and animation to a minimumor don't use them at all. Don't dazzle , sell!
Your Storyboard Plot?
Bryan Eisenberg of Future Now talks about the website storyboard. The most important question he asks is, "What is your plot?" Eisenberg suggests that each element of your storyboard address these critical questions:
What do I want my visitors to know here?

What do I want my visitors to do at this point?

What do I want my visitors to feel right now?

Where do I want my visitors to go next ?

How do I make it easy for them to do that?
He points out that you should also consider different options. For example, suppose that a shopper arrives not on your home page, but somewhere in the middle of your site. That can easily happen if someone searches for your product or service, or even a piece of content, and is directed to your internal Web page by search engine search results. Can visitors to your website easily find their way around your storefront and eventually buy something from you? Your site should be designed for shoppers to enter anywhere in your site, know where they are, and understand how they can get to where they want to be. Your site navigation should be intuitive, not ambiguous.
Download the free informative article titled "10 Keys to Home Pages That Sell" at www.myecommercesuccess.com.
Eisenberg points out that "for every day you spend planning and getting all the details right, you save yourself the cost and time of three days of remedial tinkering and development."
Good advice.
Your Copy: Writing for the Web
Writing style for the Web is not normally used for other type of documents. This is because Internet users do not really read a Web pagethey scan it, picking out individual words and thoughts. Your writing style must reflect the way users read. The material you might have already written for your business, such as brochures , flyers, or advertisements, might not translate well for the Web.
Users do not necessarily read a page from start to finish, or even top to bottom. Their eyes are drawn to information that jumps out at them: bullet points, colored text, and one idea per paragraph. Users also shy away from Web pages that are cluttered with copy and confront visitors with a gray mass of verbiage instated of readable information.
Dartmouth College provides its faculty and students with these general guidelines when writing for the Web:
Summarize first Put the main points of your document in the first paragraph so that readers scanning your pages will not miss your point.

Be concise Use lists rather than paragraphs, but only when your prose lends itself to such treatment. Readers can pick out information more easily from a list than from within a paragraph.

Write for scanning Most Web readers scan pages for relevant materials rather than reading through a document word by word. Guide the reader by highlighting the salient points in your document using headings, lists, and typographical emphasis.
Keep these writing tips in mind when creating the content for your Web pages.
Here are some good writing references on the Web to use when writing your Web pages:
www.dartmouth.edu/~webteach/articles/text.html
www.useit.com/papers/webwriting/writing.html
www.useit.com/alertbox/9710a.html