Chapter 16:

What to Do When You're Not Getting Cooperation
Overview
The success of your Six Sigma project depends in good part on cooperation from people on your team and across the larger organization. So what do you do when you can't get cooperation, when people resist?
Let us be very clear: the best way to deal with resistance is to prevent it, which means planning in advance (see Chapter 10). But not all resistance can be prevented, so when you do encounter what you think is resistance, take this general approach:
Learn to recognize whether what's happening really is resistance (see checklist in Tool 16-1).
Checklist: Recognizing Resistance to Your Six Sigma Project
Tool 16-1.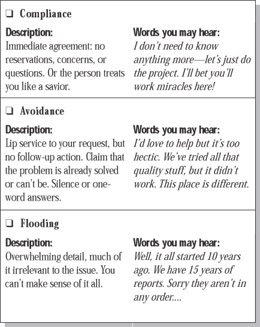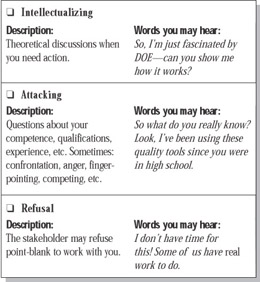 Understand possible reasons why people would resist your project (see Tool 16-2).
Checklist: Identifying Reasons People May Resist Your Six Sigma Project
Tool 16-2.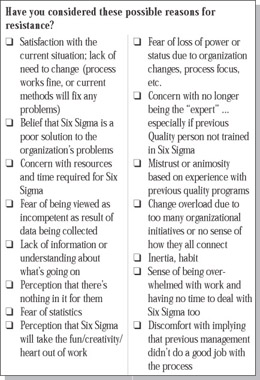 Learn and apply steps to minimizing the resistance (see Tool 16-3).
Checklist: Do's and Don'ts for Dealing with Resistance to Your Six Sigma Project
Tool 16-3.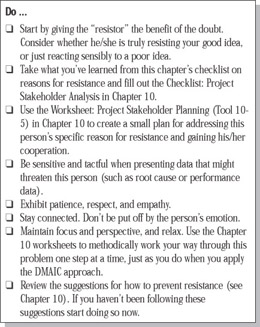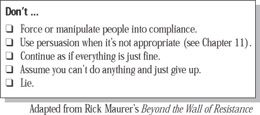 Why Might People Not Cooperate with Your Project?
People may be uncooperative or resistant for variety of reasons. Some of these reasons might seem understandable to you, while others may strike you as unsupportable or even petty. We recommend that you refrain from making value judgments about the reasons. Instead, you should to try to discern the possible underlying causes for the resistance and deal with it as best you can. Use Tool 16-2 for identifying causes of uncooperative behavior.
Resistance Behavior
During root-cause analysis, a process owner disputes the validity of the data, claiming that you collected the wrong information because you don't know what you're doing (attacking) or that it was an unusual month so the data is meaningless (avoiding).
A Possible Reason for the Behavior
The root cause is something the process owner now realizes he should have addressed long ago, and he fears that acknowledging it now might make him appear incompetent. Since he cannot admit this, he instead attacks you or looks for ways to avoid the issue.
A Warning
If you really don't know what you're doing or the data really is from a nonrepresentative month, then this may be common sense rather than resistance!
What to Do When Stakeholders Resist Your Project ... and What Not to Do
Tool 16-3 provides guidance on how to effectively deal with resistance behavior ... and what not to do.
Reality Check
Todd was leading a Six Sigma project that seemed to have come to a halt in the Measure phase. Joe, the team member responsible for gathering data from Jane, the department manager, just couldn't seem to get what he needed from her. He'd tried various approaches, using e-mail reminders, voice mail messages, attempts at face-to-face meetings. Nothing worked. The manager made promises ... weeks passed ... still no data. At this rate, Todd thought, the project could take a year or more!
Then another team member, Sylvia, suggested that they stop bemoaning the lack of data and instead apply Six Sigma principles to the problem. "We say we've tried everything," she said to the team, "but don't we need to know the root cause of this problem before we identify the solution?" Somewhat embarrassed at not having thought of this himself, Todd suggested that the team devote a meeting to analyzing the problem in detail.
The team's first question: were they seeing resistance or just good intentions gone awry? Using the Checklist: Recognizing Resistance to Your Six Sigma Project , the team saw two kinds of behavior that fit their situation. When Joe first spoke to Jane about what data the team would need, he barely got the words out before she said, "Hey, no problem! Anything you need—just ask and it's yours. I know you Belts will be able to fix all our problems." Oddly, she hadn't asked Joe a single question—not even what he planned to do with the data. But when Joe followed up with a detailed list of what he wanted, somehow Jane could just never get around to it. Nor was she available for calls or meetings. This sounded very much like compliance followed by avoidance . The team concluded that they were indeed up against resistance.
Next, the team consulted the Checklist: Identifying Reasons People May Resist Your Six Sigma Project to help them figure out why Jane might be resisting. The item about fear of being viewed as incompetent jumped out at them, as did the one on concerns about not being the "expert." They recalled that Jane had been part of the company's TQM effort five years earlier. In fact, she'd been trained in many of the same tools they were using in Six Sigma, yet she hadn't been trained as a Black Belt or Green Belt. When the TQM initiative fell apart, Jane ended up in a line job. Todd recalled hearing that she wanted to get out of that job and had been hurt and annoyed about being passed over for a Belt position, as she much preferred that kind of role. Joe recalled Jane's remark about "you Belts" fixing all her department's problems. In retrospect, this sounded less like a show of faith and more like resentment—with a bit of fear underneath. After all, shouldn't a department run by a former quality expert have solved its own quality problems already?
Armed with this new perspective on the situation with Jane, Todd and the team were able to create a "stakeholder plan" that incorporated a targeted influence strategy and set of tactics. Finally they began to make some progress on getting the latest data.