4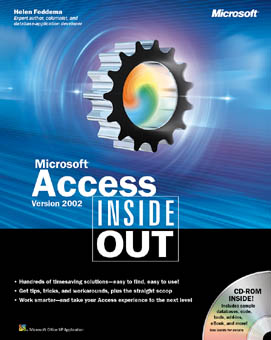 Copyright © 2002 by Microsoft Corporation
3 4
PUBLISHED BY
Microsoft Press
A Division of Microsoft Corporation
One Microsoft Way
Redmond, Washington 98052-6399
Copyright © 2002 by Helen Feddema
All rights reserved. No part of the contents of this book may be reproduced or transmitted in any form or by any means without the written permission of the publisher.
Library of Congress Cataloging-in-Publication Data
Feddema, Helen Bell.
Microsoft Access Version 2002 Inside Out / Helen Feddema.
p. cm.
Includes index.
ISBN 0-7356-1283-8
1. Microsoft Access. 2. Database management. I. Title.
QA76.9.D3 F437 2001
005.75'65--dc21 2001042743
Printed and bound in the United States of America.
1 2 3 4 5 6 7 8 9 QWT 7 6 5 4 3 2
Distributed in Canada by Penguin Books Canada Limited.
A CIP catalogue record for this book is available from the British Library.
Microsoft Press books are available through booksellers and distributors worldwide. For further information about international editions, contact your local Microsoft Corporation office or contact Microsoft Press International directly at fax (425) 936-7329. Visit our Web site at www.microsoft.com/mspress. Send comments to mspinput@microsoft.com.
ActiveX, FrontPage, IntelliSense, Microsoft, Microsoft Press, MS-DOS, Outlook, PivotChart, PivotTable, PowerPoint, Visual Basic, Visual C++, Visual FoxPro, Visual J++, Visual SourceSafe, Windows, and Windows NT are either registered trademarks or trademarks of Microsoft Corporation in the United States and/or other countries. Other product and company names mentioned herein may be the trademarks of their respective owners.
The example companies, organizations, products, domain names, e-mail addresses, logos, people, places, and events depicted herein are fictitious. No association with any real company, organization, product, domain name, e-mail address, logo, person, place, or event is intended or should be inferred.
Acquisitions Editor: Kong Cheung
Series Editor: Sandra Haynes
Body Part No. X08-06079
3 4
To Woody Leonhard, for all his help over the years.
3 4
Acknowledgments
Many thanks to my agent, Claudette Moore, and to Microsoft Press lead editor, Sandra Haynes, for helping coordinate the complex process of writing this book; to Susan Harkins, for writing Chapters 8–11 when time was short; and to Jean Ross, Dail Magee, Jim Fuchs, Marzena Makuta, Julie Xiao, Brian Johnson, and Robert Lyon for testing the code.
My thanks also to Jennifer Harris, Rebecca McKay, Kathy Murray, Ina Chang, Shawn Peck, Barbara Levy, Marilyn Orozco, Rob Nance, and Bill Teel for your help in producing this book (which often included long nights and weekends to meet the tight deadlines).