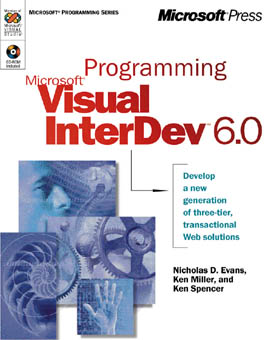 Copyright 1999 by Nicholas D. Evans, Ken Miller, and Ken Spencer
PUBLISHED BY
Microsoft Press
A Division of Microsoft Corporation
One Microsoft Way
Redmond, Washington 98052-6399
Copyright 1999 by Nicholas D. Evans, Ken Miller, and Ken Spencer
All rights reserved. No part of the contents of this book may be reproduced or transmitted in any form or by any means without the written permission of the publisher.



Library of Congress Cataloging-in-Publication Data


Evans, Nicholas D.


Programming Microsoft Visual InterDev 6.0 / Nicholas D. Evans, Ken


Miller, Ken Spencer.


p. cm.


Includes index.


ISBN 1-57231-814-7


1. Microsoft Visual InterDev. 2. Web sites--Design. I. Miller,


Ken, 1959— . II. Spencer, Ken, 1951— . III. Title.


TK5105.8885.M55E93 1999


005.2'76--dc21 98-31911


CIP

Printed and bound in the United States of America.
1 2 3 4 5 6 7 8 9 QMQM 4 3 2 1 0 9
Distributed in Canada by Penguin Books Canada Limited.
A CIP catalogue record for this book is available from the British Library.
Microsoft Press books are available through booksellers and distributors worldwide. For further information about international editions, contact your local Microsoft Corporation office or contact Microsoft Press International directly at fax (425) 936-7329. Visit our Web site at mspress.microsoft.com.
Macintosh is a registered trademark of Apple Computer, Inc. ActiveX, BackOffice, FrontPage, IntelliSense, JScript, Microsoft, Microsoft Press, Outlook, Visual Basic, Visual C++, Visual FoxPro, Visual InterDev, Visual J++, Visual SourceSafe, Visual Studio, Windows, and Windows NT are either registered trademarks or trademarks of Microsoft Corporation in the United States and/or other countries . Other product and company names mentioned herein may be the trademarks of their respective owners .
The example companies, organizations, products, people and events depicted herein are ficticious. No association with any real company, organization, product, person or event is intended or should be inferred.
Acquisitions Editor: Eric Stroo
Project Editor: Devon Musgrave
Technical Editor: Marc Young
Acknowledgments
We'd like to thank all the staff at Microsoft Press and the Microsoft Visual InterDev Product group for all their excellent support and encouragement throughout this project. We would particularly like to extend our sincere thanks to Eric Stroo, Devon Musgrave, David Clark, Anne Hamilton, David Lazar, and Greg Leake. Without your patience and cooperation, this book would not have been possible.
Nick Evans, Ken Spencer, and Ken Miller
My sincere thanks and appreciation go to my wife, Michele, and my sons, Andrew and David, for allowing me to spend time on this project and for supporting me every step of the way.
Nick Evans
I would like to extend many thanks to my wife, Trisha, and my two sons, Jeffrey and Kenny. They have continued to support me over the years in my writing efforts and without their encouragement, projects like this would not have been possible.
To Ken Miller, who has been my business partner in one way or another for many years: thanks for your support and help. You've always been there to help with whatever task needs to be done, and I really appreciate it.
Ken Spencer
To every conference attendee who's asked a question and every reader who's written, e-mailed, phoned, or faxed: thank you for reminding me that no matter how good the tool or how well it is understood , real-world practitioners routinely encounter worthwhile problems for which the answer is not obvious. Trying to solve these problems keeps me entertained and employed!
To my son Jeffrey, in whose eyes I see that wonderment at technology that first got me interested in computers: thanks for reminding me how much fun exploring the unknown can be.
Ken Miller