Authors: Eades K. M.
Published year: 2003


Pages: 75-76/106
NEGOTIATING
At negotiation time, in the mind of the buyer, the salesperson is like a washcloth. What do most people do with a washcloth full of water? They wring it out until the water stops dripping. Just to make sure, most people give it that one extra squeeze and then shake it out just to be sure.
In any negotiation, buyers squeeze salespeople until they believe they're getting the best possible deal. This includes both price and terms and conditions. The sooner the salesperson is willing to draw the line and walk away, the sooner the squeezing stops.
Even though you'll be negotiating with buyers, I strongly recommend that you remove the word negotiate from your vocabulary. Buyers frequently ask salespeople if an item being discussed is included in the price. If a salesperson responded, "That's negotiable," it implies that other buyers have avoided paying extra for it. Again, it's important that buyers believe they're getting the best deal possible. If they think something is negotiable and they don't get it in the deal, it's very upsetting to them.
SOLUTION SELLING NEGOTIATING PRINCIPLES
If You're Not Ready to Walk, You're Not Ready to Sell This means that you have to be able to withstand the pressure and walk away from business you want when your buyer is demanding too much. You may think that's easier said than done, particularly when you're below quota. The best advice I can give salespeople is to keep a full pipeline. Having enough other opportunities to work on is the best position a salesperson and his or her company can be in. A full pipeline gives salespeople the strongest position from which to negotiate—the ability to say no.
Don't Close Before It's Closeable Don't get caught pushing a string uphill . Unless your buyer (and your buyer's negotiator ) has the power to buy, the payback (ROI) is agreed to, legal and technical and administrative approvals are in place, the Evaluation Plan is completed, and the costs are known, it is not closeable. Any one of those items can stop a deal from closing. If you can think of a reason why the opportunity is not closeable, you can bet the buyer can too. Reaching the final agreement is hard work for both sides. Buyers want to achieve their objectives, and salespeople want to do the same thing. Each side has an emotional hurdle to clear: the buyer must believe he or she is getting the best deal possible, and the salesperson must be willing to walk away. It's important for salespeople to know this and plan around both issues.
Plan Before You Begin Negotiations
Ask yourself at least three questions: (1) Is it closeable? This means checking that all technical, legal, and administrative requirements are known and in place. (2) What will you accept? It's useful to review what you will minimally accept. (3) What are you willing to give? Prepare a Give/Get List, one that analyzes your and the buyer's positions . The list outlines each party's interests and priorities. It aids the negotiation process, helps achieve successful outcomes , and helps you look professional. Figure 13.1 is our template for a Give/Get List to help you prepare for negotiating.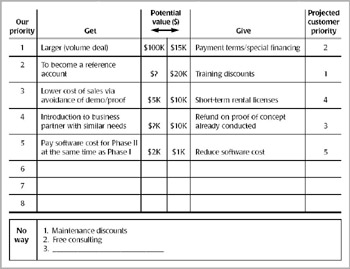 Figure 13.1: Give/Get List—Example
There are four things you want to plan for before you negotiate: (1) what you want to get, (2) what you're willing to give, (3) what you definitely will not give during the negotiation, and (4) the values behind your gets and gives. You should attempt to associate value with each get and give, as well as determine the ranking of importance for each give to the buyer and each get for you. I think it's important here to be flexible and try to understand the interests behind the issues to be negotiated. Naturally, each party will try to maximize its own self-interest.
For several years , I dealt with a software buyer who oversaw the implementation of new software applications. His tolerance for risk was very low because he had lived through several failed implementations with other suppliers. Minimizing risk was more important to this buyer than getting the lowest price. I knew that he had a good relationship with one of our implementation specialists, Roger Owens.
Because of the software buyer's concerns over implementation, I planned ahead before each negotiation with this buyer. I checked into Roger Owens's schedule to make sure that he would be available when the implementation was scheduled to occur. This is one of the gives that I was preparing to possibly use. I figured that it would be one of the buyer's interests. I also calculated how many hours of Roger Owens's time would be required, so that I would be prepared to share the value of his time with the buyer. I developed other gives too, but I ranked implementation risk as the highest priority.
Remember the principle don't give without getting. Don't give up something without getting something in return when making concessions . For instance, you might want an earlier close date or to combine multiple phases of the project, or you might want to add to the project and increase the amount of the sale.
Give Reluctantly and Slowly (If Necessary)
This is easier said than done. However, it's easier if you know the real value your solution brings to the customer. That knowledge is very powerful.
Be Prepared to Resist Buyer Squeezes Anticipate at least four squeezes by the negotiator. In turn , be prepared to make four stands. I suggest that your stands center around four of the five variables in the formula that helps win sales: pain, vision, value, and control (P x V x V x C).
Don't Give Without Getting I've already discussed this, but just as a reminder: get something of equivalent value for what you're being asked to give up and learn to say, "The only way I can do something for you is if you can do something for me first." Buyers almost automatically reply, "Like what?" The psychology has changed. Now the salesperson gets to put forth the gets before anything is conceded.
Be Willing to Walk Away In the same way buyers are trained to take away a potential sale from salespeople, salespeople too must learn sometimes to walk away. The better your Value Proposition, the easier it is for you to do this.
For salespeople who are below quota, this isn't so easy. In such cases, I suggest that sales managers go along and help out. Desperate salespeople can't negotiate from a position of strength.
Risk Assessment
Risk is a bigger factor in buying decisions and negotiations than most salespeople realize. I know a retired bank CEO whose bank grew past its computer systems capabilities. He was in the market for a mainframe-based system. The bank asked four suppliers to pitch their wares, one of which was IBM. After all was said and done, the bank's buying committee, chaired by the CEO, ranked the four suppliers and IBM ranked third.
However, the CEO started having nightmares, and it was always the same bad dream: he dreamed of banknotes (what else?), except that the banknotes had legs, and every time he reached for the banknotes, they ran away out of his reach. Then he would wake up. Eventually, he began to wonder what bad thing would happen to him if the winning supplier went bankrupt or important technical personnel changed jobs. To make a long story short, IBM won the contract—not with the best price or the best technology, but with risk management. For the CEO in my story, value was for him personal job risk management.
Find out what is the highest priority in your power buyer's mind. If you were to flip back to Figure 2.4 (page 24) you'd see Shifting Buyer Concerns. Keep in mind that in Phase III, price is not the most important concern, risk is. So what is the message? As salespeople, we should first recognize that risk is normal, and second, that mitigating it can be one of our strongest negotiating tactics versus focusing on price concessions. Sometimes dropping price can even scare a buyer and throw him or her into further risk.
The Negotiation Worksheet
In Solution Selling, we've developed a Negotiation Worksheet to help salespeople anticipate buyer demands and to help them withstand their buyers' demands for concessions. When I first saw this worksheet being developed, I asked, "Will experienced salespeople use this job aid? Why do they need it?"
The answer to the first question has been a resounding yes. And the answer to the second question is that the deals are too big and too important to wing it. As salespeople, we have good intentions to stand our ground, but in the heat of negotiations, we often lose our intention to battle for our positions. A prepared, written document is harder to dismiss when the going gets tough (see Figure 13.2).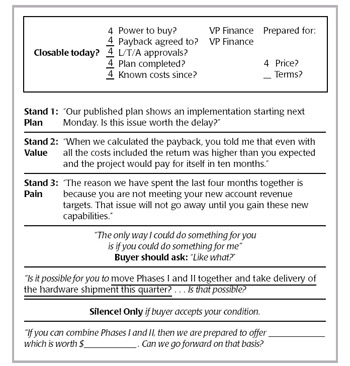 Figure 13.2: Negotiation Worksheet—Example
For example, the dialogue during negotiation could sound something like the following:
Salesperson: Are you ready to sign the contract and get started with this implementation?
Buyer: I am, but I do think you need to come down on price. You don't expect us to pay full price for software and hardware.
Salesperson: [Using Stand 1: Plan Stand] I don't understand. Our published plan shows an implementation starting next Monday. Is this issue worth the delay?
Buyer: Look, I don't want to delay the project, but I don't pay full price to anyone .
Salesperson: [Using Stand 2: Value Stand] When we calculated the payback, you told me that even with all the costs included, the return was higher than you expected and the project would pay for itself in ten months.
Buyer: We're now looking at next year's budgets , and I need to save a little more this year to carry over.
Salesperson: [Using Stand 3: Pain Stand] We've spent the last four months together because you're not meeting your new account revenue targets. That issue will not go away until you gain these new capabilities. Don't you think solving that problem is well worth the investment?
Buyer: I need you to do something here so I can go back to my committee and tell them I got something out of this negotiation.
Taking stands, or drawing lines in the sand, are psychological messages to the buyer that you're not giving easily—at least not without getting something of equivalent value in return. It's important to follow up your stands with a conditional offer.
Salesperson: [Realizing a conditional offer will need to be made] The only way I could do something for you is if you could do something for me.
Buyer: Like what?
Salesperson: [The salesperson's first Get] Is it possible for you to move Phases I and II of this project together and take delivery of the hardware shipment this quarter?
Buyer: Yes, that's possible.
Salesperson: [Only if the buyer accepts your conditional offer] If you'll combine Phases I and II, then we're prepared to offer two hundred extra implementation support hours of Roger Owens's time, which is worth ,000. Can we go forward on that basis?
This dialogue is meant only to give you an introduction to strategies and tactics involved in negotiating. In our example, the salesperson traded services (which usually have lower markups in technology markets) for bottom-line advantages.
In closing (not a pun), when it comes time to reach a final agreement, I encourage you to: (1) Prepare and use Evaluation Plans that incorporate the event of closing. (2) Build a Give/Get List—know what you're empowered to give, know what you want, and know the values of each. (3) Think through your negotiating stands and your conditional offer. (4) Build strong pipelines—have enough sales opportunities in the pipeline to allow you to negotiate from a position of strength rather than one of weakness.

Authors: Eades K. M.
Published year: 2003


Pages: 75-76/106