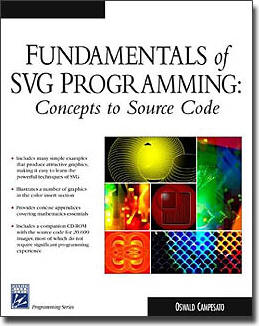 [Next]
---
Fundamentals of SVG Programming: Concepts to Source Code

by Oswald Campesato

 

ISBN:1584502983

Charles River Media

© 2004

(512 pages)

This guide features many examples that produce attractive graphics, making it easy to learn the powerful techniques of SVG. The concepts of SVG are integrated with mathematics to show how simple equations can be used to create and manipulate SVG graphics.

 CD Content
Table of Contents
Fundamentals of SVG Programming—Concepts to Source Code
Introduction
Chapter 1
-
SVG Coordinate System, Simple Shapes, and Colors
Chapter 2
-
Color Gradients and Style
Chapter 3
-
Circles, Ellipses, and

path

Elements
Chapter 4
-
SVG

pattern

, Grid Patterns, and

clipPath

Chapter 5
-
Quadratic and Cubic Bezier Curves
Chapter 6
-
SVG Transformations
Chapter 7
-
SVG Filters
Chapter 8
-
Displaying Text
Chapter 9
-
Simple SVG Animation
Chapter 10
-
SVG for Bar Charts and Line Graphs
Chapter 11
-
HTML, ECMAScript, and SVG DOM
Chapter 12
-
Interactive SVG and ECMAScript
Chapter 13
-
ECMAScript and SVG Animation
Chapter 14
-
ECMAScript and Polar Equations
Chapter 15
-
SVG and Pie Charts
Chapter 16
-
ECMAScript, Recursion, and SVG
Chapter 17
-
Generating SVG Documents
Chapter 18
-
Supplemental Patterns
Appendix A
-
XSL Basics
Appendix B
-
Introduction to XML*
Appendix C
-
Perl Basics
Appendix D
-
About the CD-ROM
Color Section
Index
List of Figures
List of Code Examples
CD Content
---
---
Fundamentals of SVG Programming-Concepts to Source Code
Oswald Campesato
CHARLES RIVER MEDIA, INC.
Hingham, Massachusetts
Copyright 2004 by CHARLES RIVER MEDIA, INC.
All rights reserved.
No part of this publication may be reproduced in any way, stored in a retrieval system of any type, or transmitted by any means or media, electronic or mechanical, including, but not limited to, photocopy, recording, or scanning, without prior permission in writing from the publisher.
Acquisitions Editor: James Walsh
Production: Data Page
Cover Design: The Printed Image
CHARLES RIVER MEDIA, INC.
10 Downer Avenue
Hingham, Massachusetts 02043
781-740-0400
781-740-8816 (FAX)
info@charlesriver.com
www.charlesriver.com
This book is printed on acid-free paper.
Oswald Campesato. Fundamentals of SVG Programming: Concepts to Source Code.
ISBN: 1-58450-298-3
All brand names and product names mentioned in this book are trademarks or service marks of their respective companies. Any omission or misuse (of any kind) of service marks or trademarks should not be regarded as intent to infringe on the property of others. The publisher recognizes and respects all marks used by companies, manufacturers, and developers as a means to distinguish their products.
Library of Congress Cataloging-in-Publication Data
Campesato, Oswald.
Fundamentals of SVG programming : concepts to source code / Oswald
Campesato.- 1st ed.
p. cm.
Includes bibliographical references and index.
ISBN 1-58450-298-3
1. Computer graphics. 2. SVG (Document markup language) 3. Web
sites-Design. I. Title.
T385.C356 2003
006.6'6-dc22
2003015353
Printed in the United States of America
03 7 6 5 4 3 2 First Edition
CHARLES RIVER MEDIA titles are available for site license or bulk purchase by institutions, user groups, corporations, etc. For additional information, please contact the Special Sales Department at 781-740-0400. Requests for replacement of a defective CD-ROM must be accompanied by the original disc, your mailing address, telephone number, date of purchase and purchase price. Please state the nature of the problem, and send the information to CHARLES RIVER MEDIA, INC., 10 Downer Avenue, Hingham, Massachusetts 02043. CRM's sole obligation to the purchaser is to replace the disc, based on defective materials or faulty workmanship, but not on the operation or functionality of the product.
---