Summation
This is one of the most important parts of being in a band . Your playing and singing are it . Well, your playing and singing and the songwriting and the people are it . This is way more important than what brand of guitar you use or any of that crap. And anyone who spends more time talking about that crap than the real stuff probably ain't really a musician, at least not in the $30 Way.
Chapter 10.

Finding, Playing, and

Putting On Gigs
Playing shows is what being in a band is about. Here's how to get out into the clubs, book shows, play shows, and what to expect.
Want to call your own shots and bypass the hassles of begging to play in bars? Want to play to all ages in your shows? Want to be able to choose your opening band? Want to keep all the money and not just exist to sell booze for someone else? Here's how to find a space to book your own shows and how to promote them and run them smoothly without wanting to give up after the first try. Logistics and legalities . Insurance. Flyers.
Booking Shows
When you are booking a show, you are fundamentally selling yourself . You have to somehow convince the booker (sometimes literally called the "talent buyer") that they should pick you out of the hundreds of bands that approach them each week wanting to play in their venue .
This can feel like begging, but just remember, you're asking on behalf of the art, not for yourself. That makes it easier. It's easier to fight for the art, I've found.
Basically, there are two kinds of bookers, and they have slightly different criteria for what makes them want to book a band . There are professional bookers who work for a club or hall and want to get groups who will draw a crowd , make people dance , and ultimately sell drinks. It's all about the drinks for them. That's what bars are in the business of doing. They do not (usually) exist to promote art, enrich people's lives, or change the world. They exist to sell large quantities of a legal depressant to affluent young people with a lot of disposable income. And when those people are dancing , they drink more.
The other kind of booker is someone who just loves music and likes to promote art. They are usually called promoters rather than bookers. Some people who are called promoters are only into money, not art. Some are even evil. But they are the minority. Promoters are usually independent and put on shows in different bars and in venues that do not serve alcohol. They book bands based on whether they like the band, and sometimes on whether they think the band has an integrity that they respect. They will be more likely than a bar to book someone with cool music but no draw. If they like you, they can form a long relationship and help you build your career. (And don't forget them later if you get bigger!)
Figure 10.1.
Pumped crowd at an Insecto show in Las Vegas.

All Insecto pix courtesy The Insecto News Group , Inc.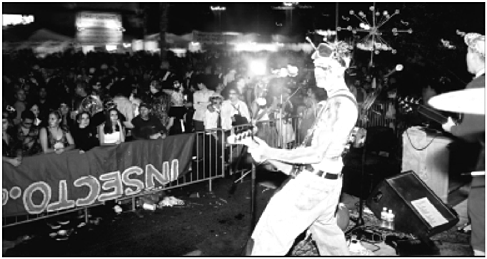 Figure 10.2.
Another shot of the pumped crowd at an Insecto show in Las Vegas.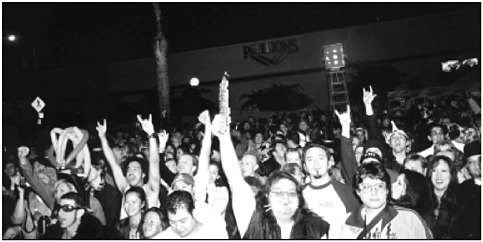 NOTE
Sometimes both bar bookers and independent bar promoters, male and female , will also try to get dates with people in bands. I'll just mention that and you can do with it what you want. I know some band members who will flirt with bookers to get a show and will have a sexy promo photo, but I don't know anyone who will date a booker for a show.