What's Next
In the next chapter, we'll walk through the design stage of a project to learn about Project 2002 components, such as activities and resources, in more detail. Chapter 3 will focus on the project management tasks of the development stage.
Chapter 2:

Understanding Project Management
Overview
When you have completed the problem identification and definition stages (see Chapter 1), you're ready to begin designing your project. In this chapter, we'll use a training project scenario to illustrate project design, and cover these topics:
Analyzing project activities

Breaking down activities into work packages

Identifying tasks and times

Estimating project costs

Scheduling a project

Using performance standards

Communicating project information

Managing project security
Scenario
Train2K, Inc. is a software training company with 10 trainers. Most of the company's training is conducted within 200 miles of its Georgia office. XYZ Corporation, one of Train2K's clients, is creating software templates and applications for use throughout the company to replace paper-based forms. Many of the 120 employees at XYZ's four branch offices (Detroit, Kansas City, San Francisco, and Dallas) are expected to resist using the software templates and applications; however, they want to continue using the paper-based forms that XYZ wants to phase out.
Problem Identification and Definition In their first meeting about the training project, the Train2K and XYZ Corporation managers examined the problem and created the following definition:
It is difficult for branch office employees to embrace the software tools developed at corporate headquarters in Atlanta. The problem isn't software or hardware—it's training. There are frequent training opportunities for Atlanta-based staff that focus on the skills that XYZ employees are expected to have. Compared to the employees at headquarters, branch office employees receive less training, and the training they receive from local companies is less focused.
XYZ managers talked to employees at the corporate Help desk and branch offices. These employees agreed with the problem definition.
Project Objectives and Deliverables At the second meeting, XYZ and Train2K managers agree on a plan. Training will be held near each branch office, with each branch office employee encouraged to attend a total of 20 hours of training in Windows, Word, and Excel—similar to the training provided at the Atlanta offices. Employees will take a pretest and a posttest to be developed by Train2K. Pretest results will be used to schedule employees for classes. Posttest results will be used to measure training effectiveness. The Train2K managers have agreed to create a training proposal for XYZ Corporation, and implement the training proposal if it is accepted.
Project Constraints All training must be completed by the end of the budget year, three months away. Train2K maintains a trainer-to-trainee ratio of 1:12 or fewer in applications courses.
Analyzing Project Activities
A project includes a series of activities. To analyze project activities, begin by creating a comprehensive sequential list of the major activities that the project deliverables require. Some of the major activities for the XYZ Branch Office Training project (which is shortened to the "XYZ-BOT project") are shown in Table 2.1.
Table 2.1:

XYZ-BOT Project Activities

| | |
| --- | --- |
| 1. | Develop proposal |
| 2. | Get approval for project |
| 3. | Develop pretest |
| 4. | Set training schedule for each branch office |
| | Continued on next page |
| 5. | Make trainer travel arrangements |
| 6. | Reserve training facilities |
| 7. | Pretest branch employees |
| 8. | Prepare course materials |
| 9. | Deliver training at each office |
| 10. | Posttest branch employees |
| 11. | Evaluate the project |
Just as the only way to eat an elephant is one bite at a time, the only way to confidently determine the resources and costs for a project is to separate the project activities into bite-sized pieces. Work Breakdown Structure, or WBS, is a method for analyzing activities. With WBS, you break each activity into subactivities and work packages (the lower-level activities that are required to complete the activity). You then create estimates for the work packages, and roll up the costs into the subactivities and activities. In the WBS, the total program for the enterprise is the highest level of the structure. The XYZ-BOT project and other Train2K projects are at the second level—the project level. Activities, subactivities, and work packages follow at levels 3, 4, and 5, as shown in Figure 2.1.
| | | |
| --- | --- | --- |
| | Note | Although it's convenient to think about activities in the order they will most likely occur, the Work Breakdown Structure is not designed to show the sequence of activities nor the relationships between activities. You'll use Calendar and Gantt Chart reports from Microsoft Project to illustrate the activity schedule, sequence, and linkages. |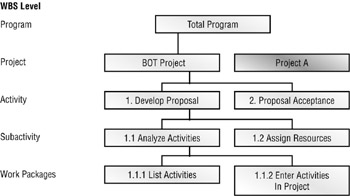 Figure 2.1: The WBS structure organizes activities within a project.
Begin by breaking down each activity into its logical work packages. Here's one way to break down Activity 8, Prepare Course Materials:
| | |
| --- | --- |
| 8 | Prepare course materials |
| 8.1 | Modify course materials |
| 8.1.1 | Identify current materials |
| 8.1.2 | Compare current materials to XYZ skill list |
| 8.1.3 | Prepare list of modifications |
| 8.1.4 | Edit materials |
| 8.2 | Publish materials |
| 8.3 | Print materials |
| 8.3.1 | Duplicate materials |
| 8.3.2 | Bind materials |
| 8.4 | Ship materials to sites |
| 8.4.1 | Package materials |
| 8.4.2 | Address packages |
| 8.4.3 | Schedule delivery |
The breakdown doesn't need to have the same level of detail for each activity. For example, Subactivity 8.2 has no work packages, but 8.3 has two.
| | | |
| --- | --- | --- |
| | Note | Many organizations assign project numbers and have a WBS numbering standard. More-complex projects require more WBS levels—10 or 12 are common, particularly in durable goods manufacturing. |
Ideally, a work package is small enough that you can hand the package to a person or team for completion, and the assignees will understand the work included in the package. Each work package can be further broken down into one or more tasks. Work package 8.2, for example, may require a series of steps that include identifying artwork, design and layout, desktop publishing, and printing. The best source for information about tasks as well as the time that each task is estimated to take is usually the department, person, or vendor who performs the task.
The XYZ-BOT project involves shipping materials to the XYZ client sites—an easy enough task that could probably be completed in less than an hour by anyone who can fill out a shipping form. (Imagine a project that includes a direct mailing to XYZ Company's 3,500 current customers!) The project manager (PM) at XYZ Company hasn't done many bulk mailings, so she talks to the manager of the shipping department (SM). The project manager's purpose is not to become an expert on shipping, but to understand direct mailing processes in her organization. The following dialogue might ensue.
Project Manager (PM): "My project involves a direct mailing to our current customers. I need to know what's involved so I can create the budget and schedule."

Shipping Manager (SM): "How many pieces?"

PM: "Between 3,500 and 4,000."

SM: "What kind of pieces?"

PM: "Eight-and-a-half by eleven-inch catalogs. We think they'll be about 40 pages total."

SM: "Are we using envelopes or addressing directly on the catalog?"

PM: "I'm planning on envelopes."

SM: "Simple enough. It will take us a day to get the mailing out. We'll bill the costs back to your department. I can send you an estimate next week."
Although you may now have a sense of what's required to plan for the mailing, overlooked activities that "crop up" later can delay the project and increase costs. In our example, what activities has the shipping manager included in the estimate of one day? What activities are not included but are critical to the completion of the mailing? The project manager needs to ask questions to identify process inputs: in this example, the activities that are completed outside the shipping department that the shipping manager doesn't reflect in his estimate. Consider the following dialogue.
PM: "I know we need to provide the catalogs, but what else do you expect me to provide? Do I need to provide the envelopes?"

SM: "Oh, you need us to stuff them, too? We can order envelopes, but we'll need extra time to put your catalogs in the envelopes, and we need a week's lead time to guarantee that the envelopes will get here. Normally, I contract assembly work to a local vendor. If we do it, it's done manually. They can turn around 5,000 pieces pretty quickly, but we need to get in their schedule."

PM: "And where do you get the address labels?"

SM: "From you. You might want to talk to Customer Service to see if they can provide them for you."
You and the shipping manager now have a much better idea of what's expected. You can create a project plan that includes these activities, although you'll still need to conduct some additional research to find out about obtaining labels. A numbered list is a common way to present activities, subactivities, and work packages. In this stage of the project, don't hesitate to provide information in a variety of formats to enhance communication about the activities that the project encompasses, and participate in the planning process. The list is one communication tool, but some people find a flowchart or workflow diagram more accessible. You can create flowcharts such as the one shown in Figure 2.2 by using the Drawing tools in Word or Excel.
The workflow diagram shown in Figure 2.3 was created by using a popular business diagramming software product called Visio, published by Microsoft. You can find out more about Visio by visiting www.microsoft.com/office/visio/.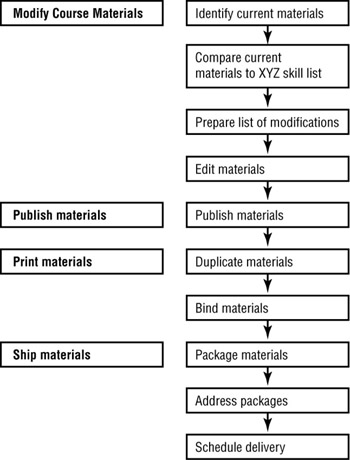 Figure 2.2: You can create simple flowcharts by using the Office drawing tools.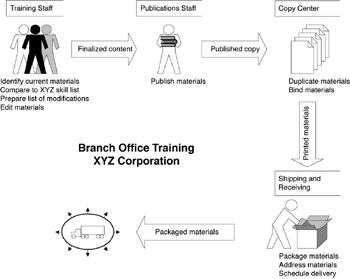 Figure 2.3: A workflow diagram helps project participants envision the steps in a project.
| | | |
| --- | --- | --- |
| | Note | Figure 2.3 also includes information about the project's human resources, which we'll discuss later in this chapter. |
These diagrams aren't a replacement for the charts and reports you'll create later in Project. Rather, they are tools to communicate with stakeholders and resource people while you're gathering information for design and development. As you'll see in Chapter 4, activities, subactivities, and work packages can be pasted or imported from another application such as Excel or created directly in Project. Figure 2.4 shows a list of the previously listed project activities in Project's Gantt Chart view, which you'll be using in Chapter 4.
| | | |
| --- | --- | --- |
| | Note | Stakeholders are any people who have an interest in the project including project team members, clients, funders, contractors, customers, higher-level managers, and other interested parties. |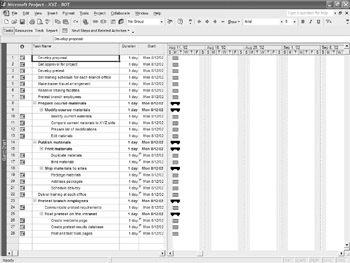 Figure 2.4: You can use the Gantt Chart view to view and enter activity information about the project.