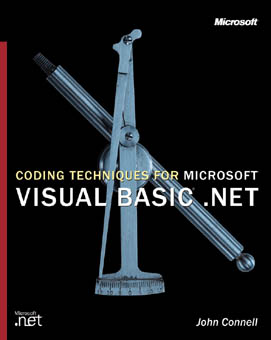 Copyright © 2002 by Microsoft Corporation
PUBLISHED BY
Microsoft Press
A Division of Microsoft Corporation
One Microsoft Way
Redmond, Washington 98052-6399

Copyright © 2002 by John Connell

All rights reserved. No part of the contents of this book may be reproduced or transmitted in any form or by any means without the written permission of the publisher.

Library of Congress Cataloging-in-Publication Data

Connell, John.

Coding Techniques for Microsoft Visual Basic .NET / John Connell.

p. cm.

ISBN 0-7356-1254-4

1. Microsoft Visual BASIC. 2. BASIC (Computer program language) I. Title.

QA76.73.B3 C659 2001

005.2'762--dc21 2001051181

Printed and bound in the United States of America.

1 2 3 4 5 6 7 8 9 QWE 6 5 4 3 2 1

Distributed in Canada by Penguin Books Canada Limited.

A CIP catalogue record for this book is available from the British Library.

Microsoft Press books are available through booksellers and distributors worldwide. For further information about international editions, contact your local Microsoft Corporation office or contact Microsoft Press International directly at fax (425) 936-7329. Visit our Web site at www.microsoft.com/mspress. Send comments to mspinput@microsoft.com.

Active Directory, ActiveX, BizTalk, FrontPage, IntelliSense, JScript, Microsoft, Microsoft Press, MSDOS, the .NET logo, Visual Basic, the Visual Basic logo, Visual C++, Visual C#, Visual Studio, Win32, Windows, and Windows NT are either registered trademarks or trademarks of Microsoft Corporation in the United States and/or other countries. Other product and company names mentioned herein may be the trademarks of their respective owners.

The example companies, organizations, products, domain names, e-mail addresses, logos, people, places, and events depicted herein are fictitious. No association with any real company, organization, product, domain name, e-mail address, logo, person, place, or event is intended or should be inferred.

Acquisitions Editor: Danielle Bird
Project Editor: John Pierce
Technical Editor: Jim Fuchs
Dedication
This book is dedicated to my mom and dad, Mercedes and John W. Connell. They provided me with unwavering support during this project, as they have in all my pursuits. My two sons, Garrett and Grady, of whom I am immeasurably proud, as well as my baby sister, Patricia, were also there to provide moral support and humor during the long hours. Thanks, guys, I couldn't have done it without you.
Acknowledgements
Special thanks to Keith D. Adams, childhood friend and Renaissance man; Mr. Morgan Gasior and his computer-scientist wife, Darlene, who provided an endless supply of visionary ideas and showed me the sky; John Dilenschneider, gentleman and computer scientist extraordinaire, for his guidance and friendship; my long-time mentors—Dean Helmut Epp, Ph.D., Dr. Martin Kalin, and Dr. David Miller—for their wit, intelligence, and vision; and Jeff Optholt for seeing things as they really are.
Extra special thanks to John Pierce and Jim Fuchs of Microsoft Press. These two gentlemen worked tirelessly and with impeccable professionalism to make this book into something special. Thanks, John and Jim. In spite of the hard work, you both made this project fun and never lost patience.
Introduction
Over the years, I've been fortunate to design and write production programs with Microsoft Visual Basic that are currently in use at several Fortune 500 companies in the United States. I also teach, hire, and manage technical professionals, which has given me insight into the minds of many Visual Basic programmers. In my university classes, I have seen over and over those aspects of programming with Visual Basic that make sense to programmers, as well as areas such as object-oriented programming that some programmers find a bit confusing. Coding Techniques for Microsoft Visual Basic .NET will take you to the next level of programming, lifting the veils from the areas of programming you're unsure of while enhancing your knowledge of the areas that you already work with every day.