History Box
Steinberg introduced the offline processing concept with SX/SL 1.0 as a way of offering multiple undo levels. This comes in especially handy when working with audio processing, since sometimes you have to process an audio file in order to free up some memory. But what happens if you change your mind about the effect you applied 15 steps down the road? Read on to find out.
Edit History
The Edit History dialog box (see Figure 2.34) views, selects, and undoes steps you have performed, giving you some piece of mind when you want to experiment a bit with your current project.
Figure 2.34. The Edit History dialog box.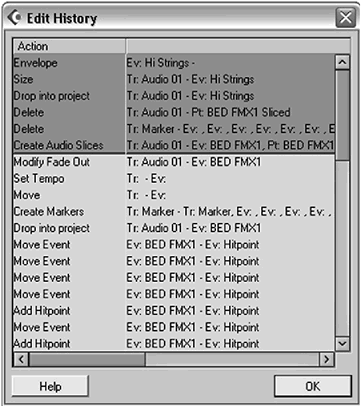 How To
To view the Edit History dialog box:
Offline Process History
If undoing every step you made is not what you had in mind, maybe the Offline Process History dialog box will help you with going back in time. The history, in this case, corresponds to the processing steps applied on a digital audio event. Furthermore, every digital audio event in your pool that has been, at one point or another, edited through offline processing will keep track of what has been done to it. So for example, in Figure 2.35, we can see that three processes have been applied to an audio file. If you wanted to restore the file as it was before you applied any process in that list, you could simply select it and remove it from this list to go back to where you were.
Figure 2.35. The Offline Process History dialog box.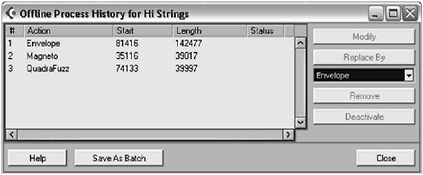 How To
To view the Offline Process History dialog box:
VST Effects and Instruments
Steinberg introduced the VST (Virtual Studio Technology) system in 1996, allowing Cubase users to include virtual effect processing to audio tracks in their projects, such as equalizers, compressors, and so on. Since 1999, VST instruments allow Cubase users to insert software synthesizers as sound modules inside the Cubase environment. Cubase SX/SL comes with built-in VST effects and instruments, but also plays host to third-party applications that have been developed to run under this system. As a result, Cubase not only offers tremendous flexibility in music creation, but it also offers an open platform for future expansion.
For example, the new Q (see Figure 2.36) VST effect (SX version only) offers a high-quality stereo four- band parametric EQ. The Multiband Compressor (SX version only) seen in Figure 2.37 compresses the dynamic of an audio signal by using up to five user -defined bands. This is very useful when you want to compress certain areas of a frequency bandwidth more than others or to enhance a range of frequency while applying heavy compression on others.
Figure 2.36. The Q VST effect processor.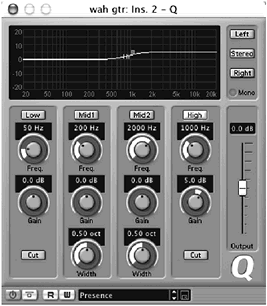 Figure 2.37. The Multiband Compressor VST effect processor.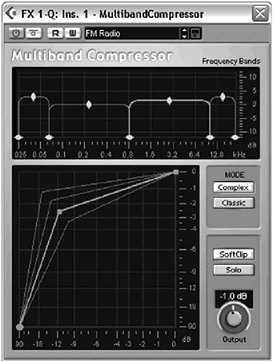 Steinberg also redesigned and renamed the TrueTape tape saturation simulator plug-in introduced in an earlier version, which now comes under the name Magneto (see Figure 2.38).
Figure 2.38. The Magneto VST effect processor.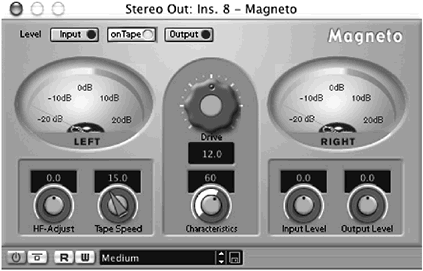 Chapter 3.
Getting Started
Preparing your computer for Cubase means that your operating system, sound card, and MIDI interface are installed properly and configured for optimal audio operations. Running an application such as Cubase requires a stable computer environment and lots of available computer resources, especially when using effects and software instruments. Making these resources available to Cubase will help you get the most out of your working session. Operation systems are designed to look good and do many things. In most cases, you will need to change your computer's configuration to emphasize performance rather than looks.
Here's a summary of what you will learn in this chapter:
How to choose the right driver for your sound card when working in Cubase.

The difference between dedicated, DirectX, and multimedia ASIO drivers.

How to set up your sound card driver and default MIDI ports in Cubase.

How and when to use Direct Monitoring.

What you should consider when running audio applications simultaneously with Cubase.

Different connection scenarios between Cubase and your studio equipment.

How to create a new project and configure it for your needs.