Create a Visual Management Plan
Now that you have completed the design, it's time to design the visual management items for the kanban. The visual management plan will explain the kanban to everyone and visually instruct/ remind everyone how the kanban operates. The basic goal of your visual aids should be to answer the questions that pop up on a daily basis: Where do I get this from, where do I move that, which color buggy contains which part, is there a color scheme, do we have any-more of this part?
From experience, we know that you cannot overcommunicate with signs, colors, arrows, lines, etc. Essentially, think about the questions someone could have about the kanban, then develop visual answers to these questions. Also, consider when and where people will be when they have these questions, then place the answers in those locations.
Make your visual aids colorful and easy to read. Use these tips when developing visual aids:
Keep the colors consistent with existing color schemes

Avoid red "typically associated with safety or quality

Avoid yellow "typically associated with safety

Use large print for hanging signs and wall signs

Avoid excessive words on your signs "people don't read signs, they glance at them
Make forms and signs easy to update. To give homemade signs a professional look, use a word processing program to create the signs and hang them in Plexiglass holders, such as the one shown in Figure 5-20. Whenever you create signs or forms, don't forget to determine who will update them and under what circumstances.

Figure 5-20: Kanban Rules for the Ten-Part Number Example from Chapters 3 and 4.
Also, don't forget to consider ISO 9000 implications of the signs and forms. To make sure you don't run astray of these requirements, keep the people responsible for compliance in the loop. Work with them to achieve your desired outcome while still meeting their requirements.
If you plan to mark out your staging areas with lines, then consider using tape to mark the lines initially. Once you're happy with the layout of the staging areas, flow lanes , etc., paint permanent lines.
The same advice applies to floor markings . Initially, temporarily laminate paper signs and tape them on the floor. When you're certain that the signs are the ones you want and in the right location, make them into permanent signs.
Develop an Implementation Schedule
Complete the design process by developing an implementation schedule. This schedule, which documents the steps required to transform your design into reality, must allow enough time to:
Coordinate the final plan

Purchase materials

Install kanban signals and visual management

Make the transformation from the current scheduling system to the kanban scheduling system

Conduct training
The implementation plan is where the rubber hits the road. Assign members of your team to purchase the needed materials and to fabricate the necessary items to set up the kanban. Make sure that someone writes the required workorders, gets signs or boards hung, gets stands fabricated, and so forth, to support the schedule. Also, make sure to record all these plans so that you can track implementation progress.
Figures 5-21 and 5-22 show the same draft implementation schedule, but use different formats. These two formats illustrate a basic point: get decisions documented and don't get hung up on style.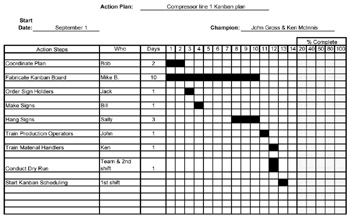 Figure 5-21: Draft Implementation Schedule in Gantt Chart Format.
Action

Who

How Long (In Days)

When

Coordinate Plan

Bob

2

Sept 1 "2

Fabricate Kanban Board

Mike

10

Sept 1 "10

Order Sign Holders

Jack

1

Sept 3

Make Signs

Bill

1

Sept 4

Hang Signs

Sally

3

Sept 8 "10

Train Production Operators

John

1

Sept 11

Train Material Handlers

Ken

1

Sept 12

Conduct Dry Run

Team's 2nd shift

1

Sept 12

Start Kanban Scheduling

1st shift

Sept 13
Figure 5-22:

Draft Implementation Schedule in Table Format.