References
References
[Back 1992] Back, T. ( 1992 ). The Interaction of Mutation Rate, Selection, and Self-Adaption within a Genetic Algorithm . Germany: University of Dortmund.
[Holland 1962] Holland, J. ( 1962 ). "Concerning efficient adaptive systems." Self-Organizing Systems , (pp. 215 "230). Washington, D.C.: Spartan Books.
[Hollstein 1971] Hollstein, R. ( 1971 ). "Artificial Genetic Adaption in Computer Control Systems." Ph.D diss., University of Michigan.
[Koza 1992] Koza, J. ( 1992 ). Genetic Programming: On the Programming of Computers by Means of Natural Selection . Cambridge, Mass.: MIT Press.
[Shaffer 1993] Shaffer, R. ( 1993 ). "Practical Guide to Genetic Algorithms," available online at http://chemdiv-www.nrl.navy.mil/6110/6112/sensors/chemometrics/practga.html ( accessed January 17, 2003 )
Resources
Holland, J. 1975 . Adaption in Natural and Artificial Systems . Ann Arbor: The University of Michigan Press.
Koza, J. "Genetic Programming, Inc. Home Page," available online at http://www.genetic-programming.com
Chapter 7:

Artificial Life

Download CD Content
Artificial life, or Alife is a term coined by Chris Langton [Langton] to describe a wide variety of computational mechanisms used to model natural systems. Artificial life has been used to model agents trading resources in artificial economies, ecologies of insects , the behavior of animals, and entities negotiating with one another to study models in game theory. In this chapter, we'll investigate artificial life and then implement a simulation that demonstrates agents within a food chain competing in an artificial environment.
Introduction
While artificial life is a large discipline with a variety of concerns, we'll focus here on what is called synthetic ethology. This is defined most succinctly by Bruce MacLennan:
Synthetic ethology is an approach to the study of animal behavior in which simple, synthetic organisms are allowed to behave and evolve in a synthetic world. Because both the organisms and their worlds are synthetic, they can be constructed for specific purposes, particularly for testing specific hypotheses. [MacLennan]
Artificial life can then be described as the theory and practice for biological system modeling and simulation. One hope of researchers working with artificial life is that by modeling biological systems, we can come to a better understanding of why and how they work. Through the models, researchers can manipulate their environments to play "what if" games to understand how systems and environments respond to change.
Simulating Food Chains
A food chain describes the hierarchy of living organisms within an ecosystem. For instance, consider a very simple abstracted food chain made up of three entities. At the bottom of the food chain is the plant. It derives its energy from the environment (rain, soil, and the sun). The next level is herbivores "a herbivore consumes plant life to survive. Finally, at the top are carnivores. Carnivores, within this simulation, consume herbivores in order to survive. Ignoring the effect of dead herbivores and carnivores on the environment, the food chain can be illustrated as shown in Figure 7.1.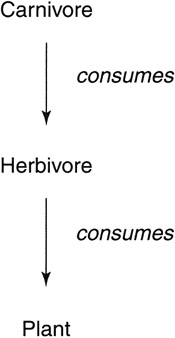 Figure 7.1: Simple food chain.
By viewing Figure 7.1 as a dependency graph, it should be very clear that a delicate balance exists between the entities. What happens if the abundance of plant life diminishes through a drought or other natural or artificial event? The lack of plant life affects the sustainability of herbivores within the environment, which results in a decrease in their population. This effect cascades up through the food chain, ultimately affecting the carnivore population at the top. This balance can be modeled and studied within the domain of artificial life and synthetic ethology.