Desktop RSS Readers
Most RSS readers are designed to run on your computer. These desktop readers often come packed with all kinds of features, such as importing and exporting lists of RSS feeds, marking items as read or not, filtering item titles by keyword, grouping feeds, configuring looks, integrating with online RSS feed directories that let you browse for RSS feeds, and more.
Tip
How do the desktop RSS readers stack up? There aren't many recent comparisons available, but here is one: Mediathink.com compares the capabilities of 12 readers and can be found at www.mediathink.com/rss/mediathink_rss_white_paper.pdf.
Want to see the various RSS readers rated? Go to www.tucows.com, a popular software repository site, and search for RSS readers. More than 100 RSS readers for just about every operating system are available for download, all rated and listed by popularity. The next section examines some of the most popular desktop RSS readers.
A Good Choice: RSSReader
You've already seen RSSReader, available at www.rssreader.com/, at work in the beginning of this chapter (see Figure 2.1). It has a good balance of features and powernot overwhelmingbut enough to make it easy to use. And it's free.
RSSReader is the reader I personally use most often, and while it doesn't have all the features some of the most powerful readers sport, its ease of use and well-designed interface makes it a good one. RSSReader works with any RSS or Atom feed. And another great featureusing the File > Add feeds from directory menulets you see a large directory of feeds that you can choose from (not all RSS readers tie into directories of RSS feeds this way).
Getting Sharp with SharpReader
SharpReader, available at www.sharpreader.com and mentioned toward the beginning of this chapter (see Figure 2.8), is also free. To use this reader, you need the .NET Framework, version 1.1 SP1 (which you probably have if you're running Windows XPand if not, the SharpReader site tells you how to get it).
Like RSSReader, SharpReader works with any RSS or Atom feed. This reader is a lot like RSSReader, but the absence of navigation buttons such as forward or back buttons makes it harder to use.
Crawling for News with NewzCrawler
NewzCrawler is a full-featured RSS reader that lets you read news posts from usenet and browser Web pages like a Web browser (Figure 2.26). It's not freeit costs $24.95 as of this writingbut you can use it for a free 14-day evaluation trial period.
Figure 2.26. Unread items are displayed in bold in NewzCrawler's channel tree.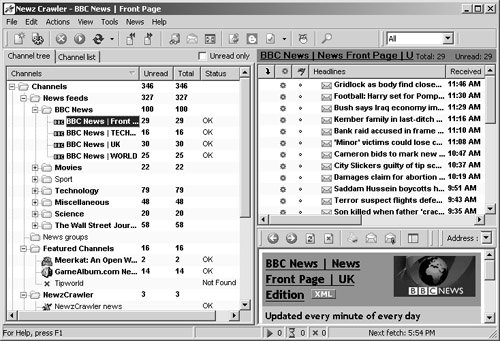 NewzCrawler works with any RSS or Atom feed. It's packed with features, but test it out using the free trial period to see if it's for you (www.newzcrawler.com).
Accelerating with AmphetaDesk
The AmphetaDesk RSS reader is a hybrid reader: It installs a mini Web server on your computer and lets you browse RSS feeds using your browser (Figure 2.27). It's free at www.disobey.com/amphetadesk. A hybrid reader is a clever idea, but the interface is very basic and lacks most of the functionality of dedicated desktop RSS readers.
Figure 2.27. AmphetaDesk is cross platform and has versions for Windows, Mac OS X, and Linux.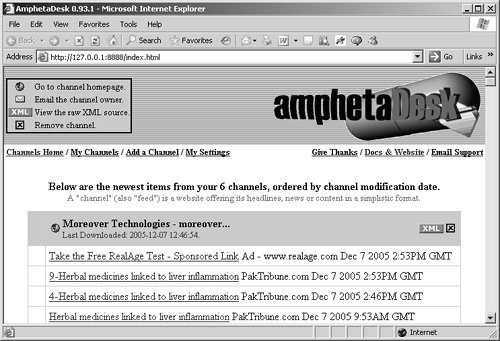 AmphetaDesk is an older RSS reader, and as of this writing it doesn't support Atom feeds. It is one of the few cross-platform RSS readers, supporting versions for Windows, Mac, and Linux.
Getting your News with FeedDemon
FeedDemon is a full-featured RSS reader that costs $29.95 as of this writing. You can download this reader at www.feeddemon.com and use it for a 20-day trial period for free.
FeedDemon supports a newspaper display of feeds, special "watches" that let you gather RSS news from keyword searches, a news bin to store news for later reading, a podcast receiver, and more (Figure 2.28).
Figure 2.28. FeedDemon is preconfigured so you can start reading RSS feeds right away.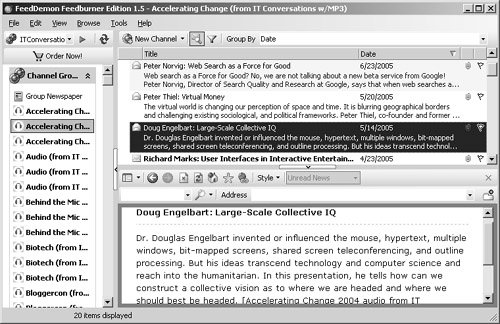 FeedDemon can handle RSS and Atom. It comes preconfigured with dozens of popular feeds, and you can schedule your RSS downloads to happen overnight.
Getting Plucky with Pluck
The Pluck RSS reader is free at www.pluck.com and has three editions: an online version, a plug-in for Internet Explorer, and a plug-in for Firefox. You need Internet Explorer or Firefox installed to run this reader on your desktop.
Like other readers that use browsers for their interface, some users might not like the basic nature of the interface, and the toolbars full of buttons. Pluck also inserts ads in the display.
Other Desktop Readers
There are dozens and dozens more desktop RSS readers to choose from. For a good selection, take a look at www.tucows.com for readers for all operating systems; here are some favorites:
Optimal Desktop www.tucows.com/preview/231866

FleetNews www.tucows.com/preview/400274

My RSS Toolbar www.tucows.com/preview/405414

Feed Scout www.tucows.com/preview/405416

RSSPoint www.tucows.com/preview/405867

Active Web Reader www.tucows.com/preview/352545

Omea Reader www.tucows.com/preview/373485
You can find other good listings of RSS readers at www.rssreaders.net and http://directory.google.com/Top/Reference/Libraries/Library_and_Information_Science/Technical_Services/Cataloguing/Metadata/RDF/Applications/RSS/News_Readers/.