Click the Graphical greeter tab at the top of the window. You will then see a list of the greeters that are included by default in your system, and you can click each one to see a thumbnail preview.
You can add the greeters you just downloaded to this list, but, unfortunately , you cannot install them by just dragging them here. Instead, you have to click the Install new theme button, but that is hardly a gargantuan task.
Once you click Install new theme , a window will open up from which you can locate your new file. Remember, the file should be located in /home/username/ Thematics . After you've selected your file, click OK , and it will immediately appear in the list of greeters.
To select the greeter you wish to use, just click its name in the list in the Login Screen Setup window, and then click the Close button. Of course, to see your greeter in action, you will have to log out first so you can log back in, but you needn't restart or shut down the machine.
---
---
Choosing a Screensaver
Used to be that screensavers were a must-have (and must-use) item for computer users so as to prevent damage (burn-in) to your monitor. Video display technology, however, has now advanced to the point that screensavers are no longer necessary. Nevertheless, screensavers are cool to look at, and one very nice thing about Fedora is that it comes with an unusually extensive collection of screensaver modules — nearly 200 of them! There are so many that you are sure to find at least a few you like. The screensaver settings are preconfigured to switch between modules randomly , changing the current module every few minutes. You can change these settings by going to your Main menu and selecting Preferences > Screensaver .
The Screensaver Preferences window, shown in Figure 5-15, allows you to do a variety of things, such as set the length of time between module changes and the length of idle time before the screensaver starts up. You can also opt to use only one screensaver module or no screensaver at all. In random mode, you can also omit the modules that you don't like by unchecking the boxes next to the undesired modules' names .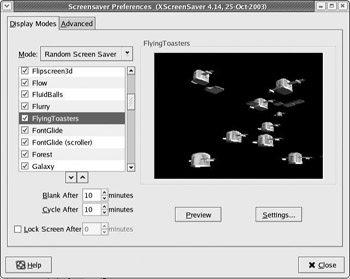 Figure 5-15: Setting screensaver preferences
---