8.4 Examples
8.4.1 Introduction
While many people believe that the future lies in mobile computing, we present here some examples that are not mobile particularly, but still fit the me-centric computing paradigm, because these appliances are intelligent and work on behalf of the user . PDAs and smart phones may be the most prominent examples, but they will be only a very small percentage of intelligent appliances in the future.
8.4.2 Margherita 2000
While the market is still small, several companies have started building smart appliances. One of them is Merloni Elettrodomestici of Fabriano [4] , Europe's third-largest appliance maker. Last year, the Italian firm sold more than 1 million networked appliancesmost of them washing machines. Merloni's Margherita 2000 [5] washing machine looks no different from standard washing machines except that it is more gentle on delicate clothes and can be controlled through the Internet.
[4] http://www.merloni.com/
[5] http://www.margherita2000.com/
The washing machine uses a capacitor to measure whether water and detergent have soaked into clothing. The machine can then perfectly time its washing cycles, wasting less water and not damaging delicate clothing. While it can be controlled over the net, the "smart" thing about the machine is that it " knows " not to damage clothing.
8.4.3 Screenfridge
Electrolux [6] , a Swedish company probably best known for its vacuum cleaners, has developed the Screenfridge [7] (see Figure 8.2), an Internet refrigerator that manages your pantry, among other things. It can e-mail a shopping list to your supermarket and coordinate a convenient delivery time with your schedule.
[6] http://www.electrolux.se/
[7] http://www.electrolux.se/screenfridge/
Figure 8.2. The Screenfridge Solution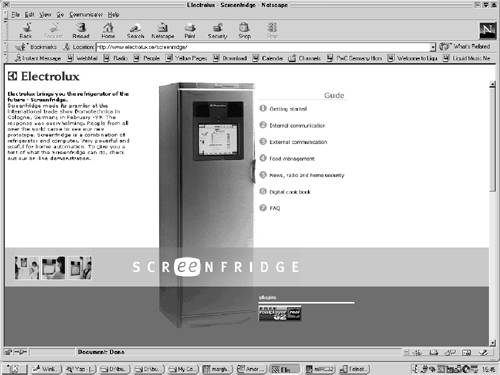 The idea behind Screenfridge is that the fridge is considered to be one of the natural places for communication in every family. Many people post notes, postcards, and other messages on the refrigerator door. Screenfridge supports not only post-it notes (for which there is still a place) but also video-messaging between family members , as well as e-mail, on-line shopping, TV, and radio.
A touch of a button is all it takes to record a video message and post it to another family member. There is no traditional keyboard attached to the fridge, but members of the family are able to use a virtual keyboard that is displayed on-screen, similar to the virtual keyboards seen on PDAs. This means that the screen is a touch screen that accepts all entries by tapping the screen with a finger. As video- mails are possible, it can be expected that only a few people will use the text-mail option.
The virtual keyboard probably will be used more for traditional e-mail that can also be received and sent from the Screenfridge. Family members have their own mailboxes where both e-mail and video messages are stored. It creates a convenient environment, especially for people who are unfamiliar with e-mail programs, operating systems, and computers in general. The interface also allows family members to surf the Web.
Although these additional features are great, another feature directly related to the use of the fridge is called food management. This feature deals with how to store, handle and prepare food. Screenfridge can make food management easier. Not only does it provide a powerful cookbook with hundreds of recipes suitable for food stored in the fridge and tips on how to store food correctly, but you also gain valuable information on how to best handle your foodstuffs. You are even able to reorder directly from the grocery store certain foods you've used.
Screenfridge is also equipped with a TV and radio receiver. This enables you to get rid of the bulky television set in the kitchen and watch the news on the refrigerator instead. The TV can be connected to a DVD player, to a surveillance camera that watches your garden, or to a baby-cam that looks after your little baby in the crib.
8.4.4 E-Espressopoint
Another company that has already introduced intelligence into their products is Lavazza [8] , the world's biggest maker of espresso machines. The Italian company has already manufactured more than 10,000 of their E-Espressopoint machines and shipped them to their largest customers. This first generation is only able to send e-mails back to Lavazza providing information about servicing and reordering of espresso coffee. By having this regular feedback, Lavazza is able to learn more about the use of the coffee machines. These results are used by Lavazza to create machines that serve coffee drinkers even better in the future. The next generation of espresso machines will contain not only feedback e-mails to Lavazza, but also a full Internet connection and a touch screen to allow the users to go online. The idea was actually developed by E-Device [9] , a small startup company that worked with Lavazza to realize it.
[8] http://www.lavazza.it/
[9] http://www.edevice.com/
8.4.5 Intello@chef
LG Electronics [10] sells a microwave called Intello@chef, which uses a modem and a touchscreen to connect to the Internet. This allows the consumer to download information about cooking and the usage of the microwave. In addition to this, the system allows the user to download upgrades to the operating system and applications installed on the microwave. Applications in this case are recipes, cooking times, and the control of the microwave power. LG Electronics plans to cooperate with big supermarkets to allow online ordering through the microwave.
[10] http://www.lge.com/
8.4.6 MIT
MIT's Media Lab [11] has some working prototypes of smart appliances. We will just mention two of them here. First, they have designed and built an oven mitt that can tell whether food is still cold, is hot but not cooked, or has cooked all the way through. It will also tell the wearer either to put the casserole back in the oven, to serve the meal already, or to pull out the fire extinguisher. Second, they have created a refrigerator named Minerva that can tell what's sitting on the shelf with 80 percent accuracy. If you have a few tomatoes, an onion, and some pasta, Minerva might suggest that you make spaghetti for dinner.
[11] http://www.media.mit.edu/