The Common Unix Printing System (CUPS), which is bundled with Mac OS X, is free open source software provided by Easy Software Products under the GNU General Public License and the GNU Lesser General Public License. It is a portable and extensible printing system for Unix based on the Internet Printing Protocol (IPP/1.1).
| | |
| --- | --- |
| | Extensive documentation and source code is available at http://www.cups.org. As noted in online documentation, the goal of CUPS is "to provide a complete, modern printing system for Unix that can be used to support new printers, devices, and protocols while providing compatibility with existing Unix applications." |
CUPS provides System V- and Berkeley-compatible command-line interfaces and a web-based interface to extensive documentation, status monitoring, and administration. This web-based administration interface is available only if Printer Sharing has been enabled in System Preferences

Sharing. To access it, point your web browser to http://127.0.0.1:631 . The main page of the web-based administrative interface is shown in Figure 4-3.
Figure 4-3. CUPS' web-based interface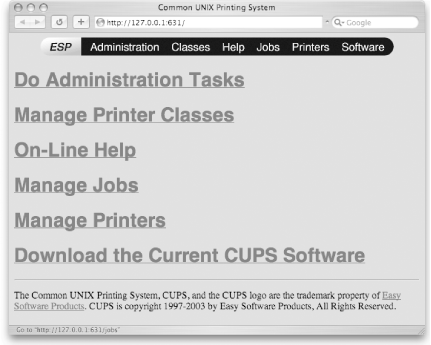 4.2.1 Printing from Remote Systems
CUPS is available on a wide variety of Unix-based systems and makes both the administration and use of shared printers easy. For example, a shared USB printer connected to your Mac will immediately be visible to a Solaris-based SUN workstation running CUPS, provided the Solaris machine is on the same subnet (if not, remote users can connect to the printer by supplying your Mac's IP address or hostname). To connect to your Mac's printer from Mandrake Linux (other flavors of Linux will follow similar procedures), launch the Mandrake Control Center and select PrinterDrake. Next, select the tab labeled "Configured on other machines" (see Figure 4-4).
Figure 4-4. Using Mandrake Linux to browse printers hosted on other machines

If your Macintosh does not appear in this list, follow these steps:
Click Configure CUPS.

Select Additional CUPS Servers.

To add your Macintosh, click Add Server.

Specify your Mac's IP address and CUPS port (normally 631) as shown in Figure 4-5.
Figure 4-5. Specifying the IP address and port of your Macintosh's CUPS server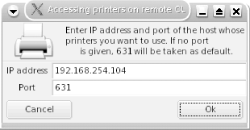 After you get your Mac and its printer to appear in the list, you don't need to do any further configuration. To print from an application such as Konqueror (the KDE web browser), select the Print option from the application's main menu. Your Mac's printer should appear in the Print dialog, as shown in Figure 4-6.
Figure 4-6. Printing to your Macintosh's shared printer from Mandrake Linux