Film Look "Soft Bloom
On several occasions, there has been a crazy notion passed around that Digital Video signals can be somehow manipulated (mangled) into a film-look. While we don't subscribe to this belief, it is quite possible to achieve a nicer look for your flat video images.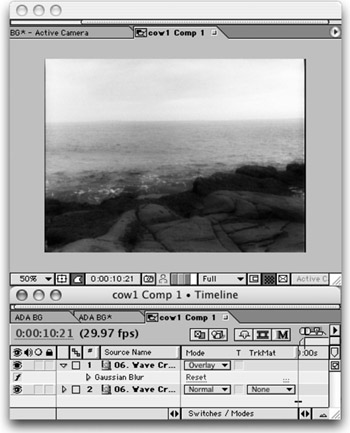 The trait that people often are trying to achieve with their "film-look" filters, or recipes, is an increase in Saturation (or intensity of color ). This look can be easily accomplished in After Effects.
Select the clip that you'd like to process using the "film-look."

Press Cmd+D (Ctrl+D) to duplicate the shot

With the clone highlighted, apply a Gaussian Blur effect. Crank the filter up between a radius of 15 and 90 pixels. Don't worry if it looks over-done.

Switch to modes and try different blending modes such as Overlay, Soft Light, or Multiply. In fact you may want to try all of the different modes to see which one you like. Depending on your source, you may need to use different modes,

Adjust the opacity of the top clip to taste.

If you plan to animate or move the shot, pre-compose it first.

In After Effects 6.5 be sure to check out the new Add Grain effect to complete the ˜look.