Manufactured items are designated by the replenishment system policy (with a value of production order) that determines whether planning and costing calculations recognize an item s bill and routing. Information about a manufactured item can be segmented into company-wide and location-specific.
The previous chapter explained company-wide information for material (such as item numbering, quality data, and sales data) as well as location-specific information (such as planning data). The same considerations apply to manufactured material and will not be repeated here. However, there are several unique characteristics of manufactured items. These unique characteristics are summarized in Figure 3.1 and explained below in terms of company-wide and location-specific information.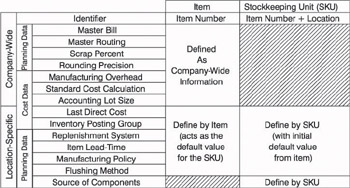 Figure 3.1:

Company-Wide vs. Location-Specific Manufacturing
Company-Wide Information for a Manufactured Item
The company-wide information includes the item number and several fields related to planning and cost data that are unique to manufactured items.
Further explanation covers the significance of each field.
Item Number The item number provides a unique internal identifier for each manufactured item, up to 20 characters in length. Any stage in the manufacturing process that can be stocked (or sold or purchased complete) requires an item number. While routing operations are generally used to reflect various steps in the manufacturing process, the stocking level consideration may mandate a separate item (with its own bill of material) for a given step. A production environment requiring an outside operation, for example, often defines one item number for each unfinished item sent to the subcontractor and a separate item number for the completed item The approach to defining a phantom component (using a master bill identifier as the component) does not require a separate item number for a phantom, but many firms assign an item number to the phantom to support item-related information.
Manufactured items may involve other considerations, such as the significance of revision levels and engineering drawing numbers , and units of measure for components and master bills.
Significance of Revision Level . An item s revision level generally represents a level of documentation, and several terms (such as engineering change level) refer to the same concept. The significance of an item s revision level differs among manufacturers, especially in terms of a change in form, fit, or function and the impact on interchangeability. One viewpoint treats revision levels as interchangeable, and revision level can be treated as an item or bill attribute for reference purposes. A slight variation considers revision level to be different versions of a bill or routing, but the item s revision levels are still interchangeable. A second viewpoint considers revision level as part of the item s unique identifier, such as embedding it in the item number.

Significance of Drawing Number . An item s drawing number often serves as the basis for the item number. It sometimes represents an attribute of the item. It may serve as the identifier for the item s master bill, especially when the same drawing (master bill) applies to multiple items.

UM Considerations for Manufactured Items . Unit of measure considerations apply to component quantities , since a component quantity can be defined for a component-specific UM. The typical examples involve process manufacturing, such as an ingredient with a base UM of kilogram but a component quantity expressed in grams or milligrams. An additional UM consideration includes the specified UM for a master bill.
Master Bill of Material A master bill of material defines the components to produce an item. Planning and costing calculations, and the creation of order-dependent bills, are based on the master bill assigned to an item. The master bill identifies material components for building the item at any location.
Master Routing A master routing defines the routing operations to produce an item. Planning and costing calculations, and the creation of order-dependent routings, are based on the master routing assigned to an item. The master routing identifies work centers for building the item at a given location.
Scrap Percent A manufactured item s scrap percentage represents the additional requirements for components and routing operation time to produce the item.
Rounding Precision A component s rounding precision can help avoid confusion when a fractional quantity in the bill results in a fractional quantity in a production order pick list. For example, a component with a fractional quantity per of .33333, and a production order quantity of 100 would result in a requirement to issue 33.333 units. The rounding precision should be 0 when the component s base UM is pieces (so that 34 pieces should be issued in the example), or it might be 2 when the component s base UM is kilograms (so that 33.34 kg should be issued).
Manufacturing Overhead Item-related overhead costs are expressed as an amount or percentage or both, and provide the basis for calculating manufacturing overhead for a manufactured item.
Standard Cost Calculation The standard costs for a manufactured item are calculated based on the master bill and routing data, the item s scrap percentage and overhead factors, and the item s accounting lot size . A manufacturing setup policy determines whether setup costs should be included or excluded from costing calculations.
Accounting Lot Size Cost roll-up calculations use an item s accounting lot size (termed lot size) to amortize routing-related fixed costs, such as an operation s setup time and fixed scrap quantity. The SKU s lot size is ignored in cost roll-up calculations, but it is used for suppressing suggested action messages about insignificant quantity changes (based on a percent of lot size quantity).
Location-Specific Information for a Manufactured Item
The authorized locations for building and stocking a manufactured item are identified as SKUs. Each SKU defines location-specific information that includes several fields unique to a manufactured item (such as manufacturing policy). It also includes several fields that have a different significance (such as item lead-time ) for a manufactured item. These fields have been grouped into planning and costing data in Figure 3.1, and further explanation covers the significance of each field.
[1] The concept of an authorized location only affects the ability to have location-specific information such as planning data. It does not affect the ability to create a production order for the item at other locations.
Replenishment System The SKU s replenishment system indicates the item is manufactured at the location or transferred to the location from another site. Note that the item s replenishment system (a company-wide policy) determines whether standard cost roll-up calculations recognize an item s bill and routing.
Lead-Time The SKU s lead-time provides a fixed production lead-time (when routing data does not exist) for manufacturing product at the location. This chapter s section, Planning Data for Suggested Production Orders, describes how routing data can be used to calculate a variable production lead-time.
Manufacturing Policy An SKU s manufacturing policy "either make-to-stock or make-to-order "determines how the system creates production orders for the location. Production orders for a make-to-order SKU, for example, are typically linked to a sales order. This chapter s section, Planning Data for Suggested Production Orders, provides further explanation of the manufacturing policy.
Flushing Method A flushing method applies to reporting item usage as a component: it can be manually issued or auto-deducted from stock. This chapter s section, Methods for Reporting Component Usage, provides further explanation of flushing methods .
Last Direct Cost The SKU s last direct cost gets updated after the status of a production order (at the location) has been changed to finished.
Inventory Posting Group The inventory posting group assigned to an item reflects several location-specific account numbers critical for a manufactured item, such as the accounts for production order variances and work-in-process inventory.
Source of Components The source of components (termed the components at location field) only applies to certain multisite operations but it is explained here for continuity s sake. Components are normally located at the same location as the production order for the parent item, but some multisite operations require an exception to this rule. Two examples will help clarify this exception. One example involves a manufacturing plant and a separate service parts location, where production orders in the service parts location use components stocked at the manufacturing plant. A second example involves a manufacturing plant with an adjoining raw material warehouse treated as a separate location; components for production orders are issued directly from the adjoining warehouse. These two examples could be modeled using the SKU s components at location field to indicate the alternate source of components. Alternatively, a company-wide setup policy could define the source of components. In either case, the specified source of components enables planning calculations to correctly interpret requirements for replenishing inventory.