The stage is where you can actually see your creation coming to life. You can place art (when you have some available) on the stage and move it around. You can color the stage, resize it, and manipulate it in many ways, as you will see soon. For now, we have nothing to place on the stage, so we'll leave it alone. As soon as we have created some art for our movie, we'll place it on the stage. Then we can watch the magic happen.
There is a gray area surrounding the stage that represents an off-stage area. You can place objects here, but they will not be displayed in your final movie. Sometimes it's convenient to place an object offstage and then slide it in when it's time for its appearance. We'll see how to do both of these tasks very soon.
The Tools Panel
Another important panel is called the Tools panel, or Toolbox. Use the Windows pull-down menu to open this panel if it's not already visible. It's usually on the left side of the authoring tool and can be seen in Figure 1.4.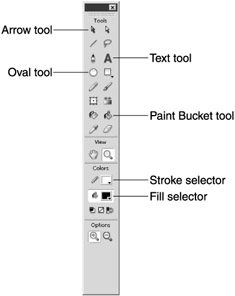 Figure 1.4: The Tools panel allows you to select and manipulate objects on the stage as well as create original art.
The Tools panel is useful for creating art within Flash, but before we do that, we need to create a new object to hold our art. Use the Insert pull-down menu and select New Symbol. You should see a dialog box as in Figure 1.5, with the name of the symbol already set to Symbol 1 and the behavior set to Movie Clip.


Figure 1.5: The Create New Symbol dialog box is used to create new objects and art assets.
Change the name from Symbol 1 to ball and click OK. This action has created a new movie clip and opened it for editing. Now it's time to draw some stuff.
Look back at the Tools panel and click on the white circle with the black outline. This is the Oval tool, and it is labeled in Figure 1.4. If you move your mouse over the stage, you'll see that your pointer has turned into a crosshair. Click and drag with the mouse and create a small circle. When you release the mouse button, the circle is drawn on the stage. Now look at the top of the stage. You should see two icons with text that look like Figure 1.6.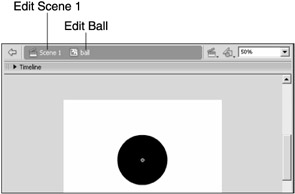 Figure 1.6: The top of the stage has icons that represent different timelines you have open for editing "in this case, Scene 1 and ball.
The word ball is in bold because you are editing it. Now click on the Scene 1 icon. This tells Flash that you want to stop editing your ball movie clip and return to the main movie, where you were before you created the ball movie clip.
You've created a movie clip called ball that contains a black oval on a white background. The new clip has been saved for you and exists as a symbol in your library.