Only the Shadows Know
Our eyes have the amazing ability to see a dynamic range of about eleven f-stops. That's why, in a high-contrast situation, such as viewing the magnificent ceiling of this cathedral , we can see details in the shadow areas without the highlight areas being washed out ( Figure 2.51 ).
Figure 2.51.
Tech info : Canon EOS 1Ds Mark II, Canon 17-40mm lens @ 17mm. Exposure: 1/60 sec. @ f/4. ISO 200.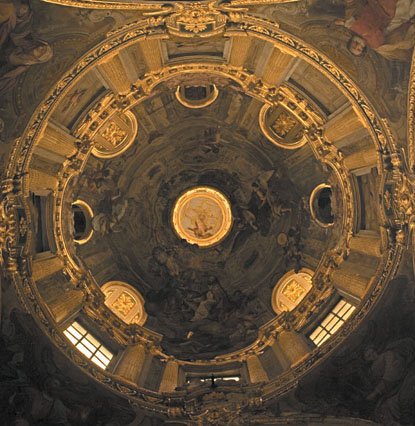 However, images that are straight out of the cameraeven raw filesdon't reveal the same dynamic range that our eyes can see. When I opened the raw file of my picture in Photoshop, the scene looked like this: It had virtually no shadow detail and had overexposed highlights (the windows ) ( Figure 2.52 ).
Figure 2.52.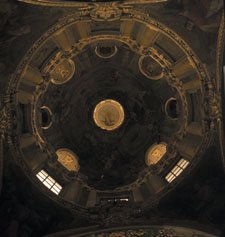 I knew the image would look like that, because I had exposed mostly for the highlights in order to preserve as much of the detail in the windows as possible. Sure, I could have underexposed the scene a bit more to preserve all the detail in the windows, but doing so would have resulted in a severely underexposed image, which, in turn , would have meant too much noise (grain) in the shadow areas.
Shadow/Highlight to the rescue!
Selecting Shadow/Highlight (Image > Adjustments > Shadow/Highlight) opens, that's right, the Shadow/Highlight dialog box. You'll need to click Show More Options at the bottom left in the window to see all the controls, as shown ( Figure 2.53 ).
Figure 2.53.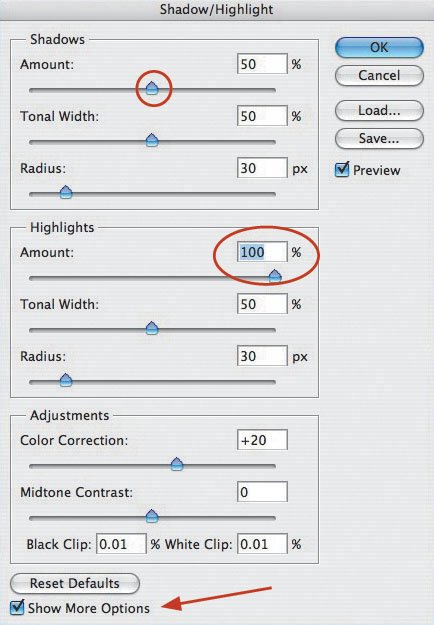 To adjust the image, I moved the Shadows Amount slider to 50% (which opened up the shadows) and the Highlights Amount slider to 100% (which toned down the highlights). These aren't magic numbers ; you should gradually move the sliders to find the results you like best.
After making the Shadow/Highlight adjustment, my image looked like thisbetter, but still a bit flat ( Figure 2.54 ).
Figure 2.54.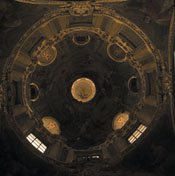 To boost the contrast, I went to Layer > New Adjustment Layer > Brightness/Contrast and moved the Contrast slider in a positive direction until I saw something that looked good ( Figure 2.55 ).
Figure 2.55.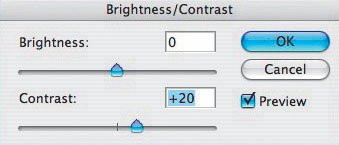 The picture still looked a little flat. So, I went to Filter > Sharpen > Unsharp Mask and increased the Amount to 102% ( Figure 2.56 ). To see the successful result of this process, check out the opening picture in this lesson again. (In case you're wondering, I'm saving Photoshop's Smart Sharpen feature for my next book. It offers more control over sharpening, but for this example, Unsharp Mask is OK.)
Figure 2.56.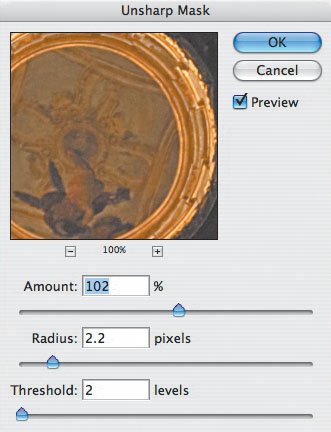 You can also use Shadow/Highlight on your outdoor pictures. Here's a before-and-after example of how I used this adjustment to open up the shadows in the beach scene on the next page ( Figures 2.57 and 2.58 ).
Figure 2.57.
Tech info : Canon EOS 1Ds Mark II, 15mm lens. Exposure: 1/125 sec. @ f/16. ISO 100.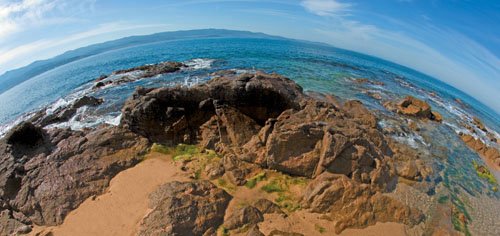 Figure 2.58.
Tech info : Canon EOS 1Ds Mark II, 15mm lens. Exposure: 1/125 sec. @ f/16. ISO 100.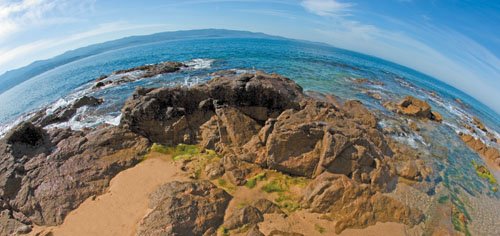 When you're looking at a scene that has strong shadows, keep Photoshop's Shadow/Highlight adjustment in mind, and expose the scene accordingly .
Color negative film can capture about seven f-stops, and color slide film can capture about three f-stops. Digital imaging rules, because you can save so much in the highlight areas and rescue so much in the shadow areas, especially if you shoot using your camera's raw format.
Note
If you didn't get the title of this lesson, it's a play on the famous line "Only the Shadow knows " from the old-time (19301954) mystery radio show, "The Shadow."
In this book, I talk about using Curves, Levels, Hue/Saturation, and other image adjustments. To save time in the lessons, I don't always remind you that in each instance, you must apply the adjustment using an Adjustment Layer.
However, you should always use an Adjustment Layer, because doing so is a nondestructive technique for applying adjustments. If you make adjustments directly on an image file, you arethat's rightusing a destructive editing technique. I don't know about you, but if I have a once-in-a-lifetime photograph, such as this sunset picture of an elephant that I took in Botswana ( Figure 2.59 ), I want to maintain as much image data as possible.
Figure 2.59.
Tech info : Canon EOS 1D Mark II, Canon 100-400mm IS lens with Canon 1.4X converter @ 400mm. Exposure: 1/250 sec. @ f/8. ISO 400.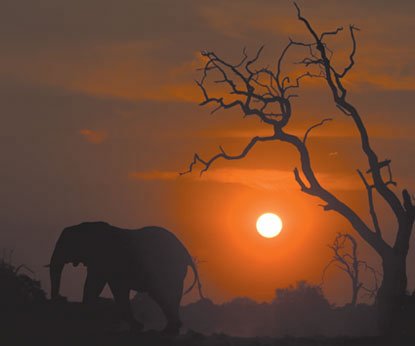 What's more, when you save your file as a layered TIFF or Photoshop (PSD) file, you save all the Adjustment Layers. If you change your mind later about an adjustment you made, you can trash the Adjustment Layer and start over.
The easiest and fastest way to create an Adjustment Layer is to click the Adjustment Layer icon at the bottom of the Layers palette ( Figure 2.60 ). Doing so opens the Adjustment Layer list. You can also create an Adjustment Layer by going to Layer > New Adjustment Layer. However, because your Layers palette will most likely be open when you're enhancing your images, it's faster to click the Adjustment Layer icon in that palette.
Figure 2.60.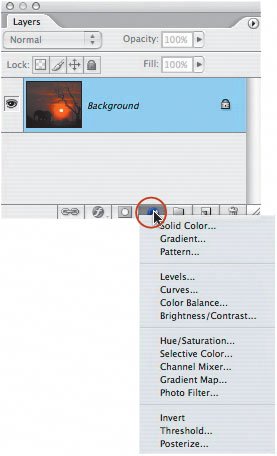 Click the type of Adjustment Layer you want, and a new Adjustment Layer is created above your image in the Layers palette ( Figure 2.61 ). Your adjustments are made on that layer, not on your image. You can create multiple Adjustment Layers for additional creative enhancements.
Figure 2.61.