Licensing and Activating Windows Server 2003
As with earlier versions of Microsoft operating systems, the installation of a Windows Server 2003 server requires a product license key. The product key that is entered as part of the server installation depends on the type of license purchased. Depending on the type of license purchased, there might also be a process by which the operating system software must be activated in order to continue working past a grace period. This section will provide some help in determining licensing modes and activating Windows Server 2003.
Providing a Product Key
For those who have installed a Windows 2000 server product, the product key is a familiar concept. Usually found on a label stuck to the back of retail CD media, the product key is a unique combination of numbers and letters that is used during the product installation to "unlock" or open the product.
There are two types of keys that can be used during the installation process:
Retail Media Activation Key. If the operating system software is purchased by a retail source, each key is unique to that specific installation of Windows Server 2003. Using this type of key will require the installer to activate the product after each installation.

Volume Licensing Activation Key. If the operating system is purchased as part of a Microsoft volume licensing program (such as Open, Select, or Subscription), a single key can be used to unlock all installations. Using this method also satisfies the activation requirement.
Choosing a Licensing Mode
As with Windows NT and 2000, Windows Server 2003 can be licensed in either a Per Server or Per Device mode.
Choosing Per Server mode essentially means that the server will need to have enough client access licenses (CALs) purchased to support the maximum number of concurrent client connections to the server. If the number of concurrent connections exceeds the number of configured CALs, clients might be denied access to the server's resources. Choose Per Server mode for small organizations that only have a single server. This mode also makes sense for Web and Remote Access Service (RAS) servers where the maximum number of concurrent connections is configured. By setting the maximum number of concurrent connections, the licensing mode can be maintained .
Choose Per Server
If it is not clear which licensing mode to choose at the time of installation, choose Per Server. The licensing mode can be changed at a later time from Per Server to Per Device, but cannot be changed from Per Device to Per Server.
Choosing Per Device mode, on the other hand, means that a CAL is required for each client machine that accesses any licensed server. In this scenario, the licensed client machines are allowed to access any server within a Windows network. This is the common licensing mode because most companies have more than one server. A CAL is more costly than a Per Server license, but the client license buys access to an unlimited number of servers.
Activating Windows Server 2003
If you install Windows Server 2003 from a retail media source, the operating system will need to be activated. Product activation takes place after the operating system is installed. The activation process can be initiated by either clicking the icon in the system tray that looks like a pair of keys, or by choosing Activate Windows from the Programs folder.
Windows Server 2003 can be activated over the Internet or by telephone. To activate over the Internet, select that option, and then click Next. An option to register the product with Microsoft is then provided. This step is optional and not required to activate the product. If the installer chooses to register at this time, the Collecting Registration Data screen will appear, as shown in Figure 11.2.
Figure 11.2. Windows registration data collection screen.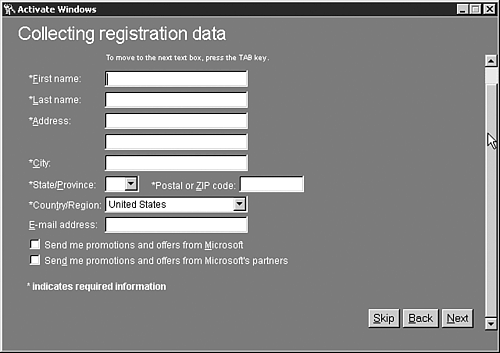 Fill out the required information and then click Next to continue. After connectivity to the Internet is verified , a window confirming the product activation is displayed. Click OK to finalize the process.
To activate Windows Server 2003 by telephone, select the option that reads: Yes, I Want to Telephone a Customer Service Representative to Activate Windows. Click Next to continue.
The wizard then generates a new installation and the Activate Windows screen shown in Figure 11.3 appears.
Figure 11.3. Activating Windows Server 2003 by phone.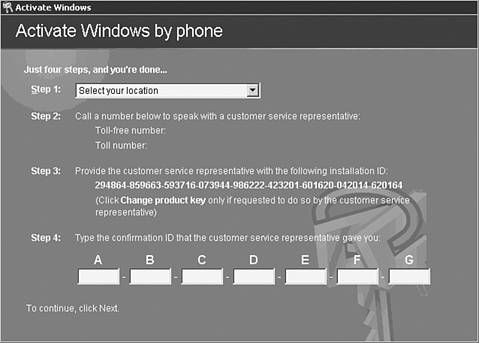 Providing a location exposes a phone number to call. After the customer representative is reached by phone, provide her with the new installation ID on the screen. The representative will then give a confirmation ID that can be entered in step 4. Entering the confirmation ID concludes the activation process.