18.2. Phone-to-Phone Plans
If having to make calls from the computer sounds limitingand it ispaying a little more buys you more freedom. The increasingly popular phone-to-phone VoIP plans don't require a computer at all. You just pick up your telephone and dial normally, secure in the knowledge that you're going to save a lot of money by avoiding the phone company's wiring.
When you sign up for a phone-to-phone plan, you get a little box called an analog telephone adapter (ATA), like the one shown in Figure 18-6. You plug your cable modem or DSL box into one side, and your ordinary telephone into the other side. Then you're ready to make unlimited local and long-distance calls, all for a low fixed monthly fee.
Figure 18-6. An analog telephone adapter, like the D-Link VTA-VR shown here, links your telephones to your broadband network so you can use them with your VoIP service. This particular D-Link box works with the Vonage service (Section 18.2.2).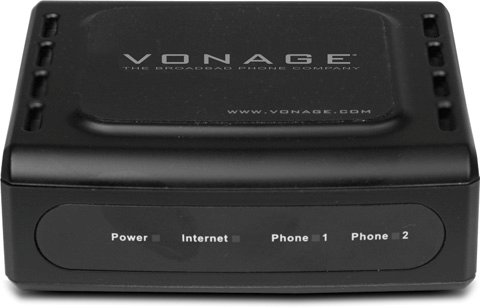 Pros . Calls may be free to other customers of the same service (depending on which one you've chosen ). In general, you get to keep your existing phone number, too.

The monthly fee includes every digital phone feature known to man: voicemail, call waiting, caller ID, and three-way calling. It does not include any motley assortment of tacked-on fees, either; voice-over-Internet service is exempt from FCC line charges, state 911 surcharges, number-portability service charges, and so on.

Many Internet phone services use the power of the Web to enhance the standard calling features. To listen to your voicemail, for example, you can dial a code on your phone, visit a Web page, or even receive the voice messages as sound attachments sent by email (which you can save forever).

Once you get everything set up, it's just like using any old telephone you've ever used in terms of dialing, talking, and hanging up on telemarketers . Some companies offer software phones (programs you can install on your computer to use your same VoIP service from your PC), so you can use your computer or your handset at home.

Wildest of all, your phone number no longer requires any relationship to your physical location. You can choose almost any area code as your phone number, even if it's not where you live.

A related perk: you can travel with your little VoIP box. You can plug a telephone into it anywhere you find broadband Internet service. Your home phone number will make the phone ring whether you're in Thailand, Tibet, or Tallahasseeand there's no such thing as a roaming charge.

Travelers also enjoy the freedom to stop at any Internet-connected computer to check their Web-based voicemail.

Cons . You need broadband Internet service to use VoIP for high-quality audio. And if you have multiple phone jacks around the house, connecting them all to the VoIP adapter box can be a technically tricky prospect.

Then there's the power issue. Traditional phones (not including cordless models) keep working during power outages and New York City blackouts because they aren't connected to the main power grid. VoIP hardware, however, needs power, so when you lose electricity, you lose your phone service as well. (Most people who have VoIP service also have cellphones for this very reason.)

Call quality can be an issue, too. VoIP relies on the Internetpart of which still uses a patchwork system of old wires, satellites , and cableswhich isn't always reliable. That means the voice conversation occasionally becomes garbled or drops out, like a wireless phone sometimes does, especially when you're downloading big files on your computer simultaneously .

Finally, note that if you ditch the phone company, it will also ditch you. You'll no longer have access to the company's 411 and 911 services, though most VoIP companies now offer their own similar services. You may not be able to get a listing in the phone book, either. Also, because VoIP doesn't use a physical, wired connection in a permanent place like a phone jack, operators may have trouble pinpointing your location electronically .
Thanks to its price, convenience, and flexibility, VoIP is catching on fast. Millions of people already use the system, and millions more are looking into it each time they get a hefty phone bill for long-distance charges. If you think you want to make the jump to VoIP, it's time to find a company or service that fits your needs.
18.2.1. Questions to Ask About VoIP Service
When shopping for VoIP service, consult this checklist:
What do I get for my monthly fee ? Most big VoIP providers offer an array of plans catering to different calling habits. For example, BroadVoice (Section 18.2.2) tiers its pricing: a month for unlimited in-state calling, a month for unlimited international calls to 21 countries (including most of Europe, China, Chile, and all around the U.S.), or a month for unlimited international calls to all those countries and 14 more like Japan, South Korea, Brazil, Argentina, and New Zealand. Figure out where you call the most and look for a plan that fits your patterns.

What kind of VoIP number can I get ? Will this company offer a home phone number in your area code? Conversely, what if you don't want that? What if you live in Mississippi but your entire family's in Missourican you get a Missouri number so your folks can make "local calls" to you in Mississippi?

Or, if you want to keep your existing telephone number, can you?

How much does it really cost ? The monthly bill may be , but what are the activation fees, hardware installation costs, or penalties for canceling the service before the end of the first year? A few companies actually charge more for calls to cellphones; ask before you sign up.
18.2.2. Choosing a VoIP Service
There are plenty of VoIPs in the sea, so finding a provider isn't hard. If you already have broadband service, your cable or DSL provider may have slipped a few colorful ads for their Internet phone service into your monthly bill. Several smaller companies have also started up; while they may not be able to offer you a big combo package of broadband access and 800 channels of digital TV programming, they can cost a lot less.
AT&T CallVantage . AT&T's roots go back to 1875. Even though the company has switched its focus from telephones to global networking services, you can still reach out and touch someone with its CallVantage VoIP plan: a month for unlimited calls around the U.S. and Canada, or for unlimited local calls. International rates vary, but calls to France and Germany are 5 cents a minute. CallVantage offers some of the best features in the business, including a Web-based call log that shows not just the numbers you've called (or received calls from), but the actual names of the people. And you can just click the person's name to call someone back. As shown in Figure 18-7, you can even see your voicemail calls displayed in the log. (www.att.com/voip)

Figure 18-7. With the AT&T CallVantage call log feature, you can see your voicemail as well as hear it. The call log gives you a complete, clickable record of all your phone activity.

Verizon VoiceWing . If you already have Verizon's DSL service, you can probably get a small discount on your first year of VoiceWing VoIP; the unlimited monthly plan is for calls to the U.S., Canada, and Puerto Rico. The package includes all the usual phone-plan features, plus email notification if you receive a voicemail, and address book integration with Outlook. If you aren't a big talker, you can get 500 minutes a month for . (www.verizon.com/voicewing)

Vonage . Vonage was among the very first VoIP companies and is still one of the largest.

With Vonage, you can check your voicemail on the phone, the Web, or by email. The Click-2-Call feature lets you click a phone number in your computer's address book or Outlook contact list to dial it, saving you time and possible misdials. Vonage offers phone software that lets you dial from your PC, too.

There's a wide range of pricing plans. Unlimited calls to the U.S., Canada, and Puerto Rico are a month. If you want to pay for a block of time, a 500-minute plan costs . International calls average about 5 cents a minute to London, Paris, and other major cities. (www.vonage.com)

Time Warner Digital Phone, Comcast, CableVision . If you get cable TV, you may be able to add digital phone service to your TV and broadband packages, thereby cutting down on the amount of paper plugging up the mailbox each month.

The phone service alone may seem expensive ( a month for unlimited Time Warner calling, for example). But combo packages for all the company's services can cost less than 0 a month. (www.timewarnercable.com, www.comcast.com , www.cablevision.com )

BroadVoice . As mentioned in the previous section, BroadVoice offers four different calling plans. All plans include call waiting, caller ID, speed dial, voicemail, and more. (www.broadvoice.com)

Lingo . Lingo, one of the newer companies, offers a -a-month plan for unlimited calls to numbers in the U.S., Canada, and Western Europe (not including cellphone numbers). You can keep your old phone number or get a new one, and you get the usual redial, speed dial, call waiting, and voicemail features. (www.lingo.com)

Packet 8 . With both Internet phone and Internet videophone plans available ( a month for unlimited calls to the U.S. and Canada), Packet8 provides an inexpensive option for those who'd like to see as well as hear the people they're chatting with. (The videophone option, however, works only with other Packet8 videophones; each videophone costs 0.) Its -a-month Freedom Global Unlimited Plan gives you unlimited calls to landlines in 40 countries spread out over Europe, Asia, and Latin America. (www.packet8.net)

Broadvox Direct . You get unlimited local, regional, and national calling anywhere in the U.S. and Canada for a month. International rates for calling landlines and cellphones range from pennies to quarters per minute. (www.broadvoxdirect.com)
Once you sign up with a service, you'll be told what equipment you need. In many cases, you can just use your old phone with the company's adapter box.
UP TO SPEED
VoIP Acronym Fun
When you're shopping for Internet phone services, VoIP isn't the only acronym you may encounter. Here's a glossary, for your clip-n-save pleasure :
SIP (session initiated protocol) is an Internet standard for establishing audio conferences and call forwarding over computer networks; some VoIP enabled handsets are called SIP phones.
PSTN stands for public switched telephone network , the technology that carries traditional telephone calls.
Finally, if you just have ordinary copper phone wiring and no digital high-speed lines, you've got POTS ( plain old telephone service ). Cute, huh?
All together, now: POTS uses PSTN, and you can use a SIP phone to cheaply call a PSTN phone, and some VoIP services make SIP-to-SIP totally free.
18.2.3. Setting Up VoIP
Setting up VoIP phone-to-phone service entails plugging the adapter box into your cable modem or DSL, and then plugging your phone into that . (The bigname telecom companies may even send a technician to your house to do this for you.)
No matter how you use your digital telephone connection, it's certainly cheaper than most standard telephone plans. The costs for using VoIP range from " absolutely free" to "way cheaper than using my regular long-distance calling plan."
18.2.4. Using VOIP
Pick up your phone and dial a number. Think you can handle it?
BUYERS' GUIDE
More VoIP Gear
In general, a telephone is all you need to use a VoIP service. But adding additional gear offers more flexibility.
For example, Linksys (www.linksys.com) makes a wireless router (Figure 18-8) that has built-in VoIP ports for phones. (Models are also available for the Vonage and AT&T CallVantage services.) The advantage here is that you have only one box to plug into your cable modem instead of two (router and phone adapter box). Netgear also has a wireless router with an integrated VoIP phone adapter.
Many small offices looking to save big bucks are switching to VoIP systems like Linksys Voice System, which can support up to 16 phone lines and centers around a network device that performs more than 100 telephone-operator chores like automatically routing calls to the right person and piping in cheery music for people on hold.
Linksys also sells phones that go with its Voice System. VoIP business phones with programmable keys and big display screens are popping up from several other manufacturers, too, including Grandstream (www. grandstream .com) and Uniden (www. uniden .com); prices range from about to 0.
New VoIP products and services are whizzing onto shelves faster than kangaroos bounding across open terrain. VoIP-News (www.voip-news.com) is a great place to keep up with new developments.
Figure 18-8. If you're adding or upgrading a home wireless network, plenty of companies now make network routers that include ports to plug in VoIP phones. The memorably named Linksys WRT54GP2A-AT wireless broadband router here serves as an access point to beam your network signal all over the houseand gives you two ports to plug in VoIP phones for the AT&T CallVantage service (Section 18.2.1).