Teamwork is not a new idea. The basic concepts of organizing and managing teams go back in history to biblical times. In fact, work teams have long been considered an effective device to enhance organizational effectiveness. Since the discovery of important social phenomena in the classic Hawthorne studies (Roethlingsberger and Dickinson 1939), management theorists and practitioners have tried to enhance group identity and cohesion in the workplace (Dyer 1977). Indeed, much of the human relations movement that followed Hawthorne, is based on the group concept. McGregor's (1960) theory Y, for example, spells out the criteria for an effective work group, and Likert (1961) called his highest form of management the participating group or system 4. However, the process of team building becomes more complex and requires more specialized management skills as bureaucratic hierarchies decline and horizontally oriented teams and work units evolve .
Redefining the Process
In today's more complex multinational and technologically sophisticated environment, the group has reemerged in importance as the project team (Wellins, Byham, and Wilson 1991; Fisher 1993; Nurick 1993; Shonk 1996; Thamhain and Wilemon 1999). Team building can be defined as the process of taking a collection of individuals with different needs, backgrounds, and expertise and transforming them into an integrated, effective work unit. In this transformation process, the goals and energies of individual contributors merge and focus on specific objectives. When describing an effective project team, managers stress consistently that high-performance, although ultimately reflected by producing desired results, on time and within budget, is a derivative of many factors which are graphically shown in Figure 1. Team building is an ongoing process that requires leadership skills and an understanding of the organization, its interfaces, authority, power structures, and motivational factors. This process is particularly crucial in environments where complex multidisciplinary or transnational activities require the skillful integration of many functional specialties and support groups with diverse organizational cultures, values, and intricacies (Oderwald 1996). Typical examples of such multidisciplinary activities requiring unified teamwork for successful integration include:
Establishing a new program

Transferring technology

Improving project-client relationships

Organizing for a bid proposal

Integrating new project personnel

Resolving inter-functional problems

Working toward major milestones

Reorganizing mergers and acquisitions

Transitioning the project into a new activity phase

Revitalizing an organization.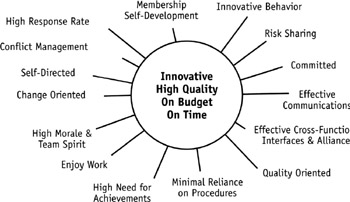 Figure 1: Traits of High-Performing Project Team
Because of their potential for producing economic advantages, work teams and their development have been researched by many. Starting with the evolution of formal project organizations in the 1960s, managers in various organizational settings have expressed increasing concern with and interest in the concepts and practices of multidisciplinary team building. As a result, many field studies have been conducted , investigating work group dynamics and criteria for building effective, high-performing project teams. These studies have contributed to the theoretical and practical understanding of team building and form the fundamental concepts discussed in this chapter. Prior to 1980, most of these studies focused just on the behavior of the team members , with limited attention given to the organizational environment and team leadership. While the qualities of the individuals and their interaction within the team are crucial elements in the teamwork process, they represent only part of the overall organization and management system which influences team performance, as was recognized by Bennis and Shepard as early as 1956. Since 1980 an increasing number of studies have broadened the understanding of the teamwork process (Tichy and Urlich 1984; Walton 1985; Dumaine 1991). These more recent studies show the enormous breadth and depth of subsystems and variables involved in the organization, development, and management of a high-performing work team (Gupta and Wilemon 1996). These variables include planning, organizing, training, organizational structure, nature and complexity of task, senior management support, leadership, and socioeconomic variables , just to name the most popular ones (Shaw, Fisher, and Randolph 1991; Thamhain and Wilemon 1983, 1987, 1991, 1993). Even further, researchers such as Dumaine (1991), Drucker (1996), Peters and Waterman (1987, 1997), Moss Kanter (1989), and Thamhain (1990, 1993) have emphasized the nonlinear, intricate , often chaotic , and random nature of teamwork, which involves all facets of the organization, its members, and environment. These teams became the conduit for transferring information, technology, and work concepts across functional lines quickly, predictably, and within given resource restraints.
Toward Self-Direction and Virtual Teams
Especially with the evolution of contemporary organizations, such as the matrix, traditional bureaucratic hierarchies have declined and horizontally oriented teams and work units became increasingly important to effective project management (Fisher 1993; Marshall 1995); the role of supervisor has been diminished in favor of more empowerment and self-direction of the team, as defined in Table 1. In addition, advances in information technology made it feasible and effective to link team members over the Internet or other media, creating a virtual team environment, as described in Table 2. Virtual teams and virtual project organizations are powerful managerial tools, especially for companies with geographically dispersed project operations, including contractors, customers, and regulators.

Table 1:

Characteristics of Self-Directed Teams
Definition: A group of people chartered with specific responsibilities for managing themselves and their work, with minimal reliance on group-external supervision, bureaucracy, and control. Team structure, task responsibilities, work plans, and team leadership often evolve based on needs and situational dynamics.
Benefits: Ability to handle complex assignments, requiring evolving and innovative solutions that cannot be easily directed via top-down supervision. Widely shared goals, values, information, and risks. Flexibility toward needed changes. Capacity for conflict resolution, team building, and self-development. Effective cross-functional communications and work integration. High degree of self-control, accountability, ownership, and commitment toward established objectives.
Challenges: A unified, mature team does not just happen, but must be carefully organized and developed by management. A high degree of self-motivation and sufficient job, administrative, and people skills must exist among the team members. Empowerment and self-control might lead to unintended results and consequences. Self-directed teams are not necessary self-managed , they often require more sophisticated external guidance and leadership than conventionally structured teams.


Table 2:

Characteristics of Virtual Teams
Definition: A group of project team members, linked via the Internet or media channels to each other and various project partners , such as contractors, customers, and regulators. Although physically separated, technology links these individuals so they can share information and operate as a unified project team. The number of elements in a virtual team and their permanency can vary, depending on need and feasibility. An example of a virtual team is a project review conducted among the team members, contractors, and customer over an Internet website.
Benefits: Ability to share information and communicate among team members and organizational entities of geographically dispersed projects. Ability to share and communicate information in a synchronous and asynchronous mode (application: communication across time-zones, holidays, and shared work spaces). Creating unified visibility of project status and performance. Virtual teams, to some degree, bridge and neutralize the culture and value differences that exist among different task teams of project organizations.
Challenges: The effectiveness of the virtual team depends on the team members' ability to work with the given technology. Information flow and access is not necessarily equal for all team members. Information may not be processed uniformly throughout the team. The virtual team concept does not fit the culture and value system of all members and organizations. Project tracking, performance assessment, and managerial control of project activities are often very difficult. Risks, contingencies, and problems are difficult to detect and assess. Virtual organizations often do not provide effective methods for dealing with conflict, power, candor, feedback, and resource issues. Because of the many limitations, more traditional team processes and communications are often needed to augment virtual teams.

Teams of this contemporary nature exist in virtually all of our organizations, ranging from dedicated venture groups, often called skunk works , to product development teams, process action teams, and focus groups. These team concepts are being applied to different forms of project activities in areas of products, services, acquisition efforts, political election campaigns , and foreign assistance programs. For these kinds of highly multifunctional and nonlinear processes, researchers stress the need for strong integration and orchestration of cross-functional activities, linking the various work groups into a unified project team that focuses energy and integrates all subtasks toward desired results. Further, the life cycle of these teams often spans across the complete project, not just the phase of primary engagement. For example, the primary mission of the product development team may focus on the engineering phase, but the team also supports activities ranging from recognition of an opportunity, feasibility analysis, bid proposals, licensing, subcontracting , and transferring technology to manufacturing, distribution, and field service. While these realities hold for most team efforts in today's work environment, they are especially pronounced for efforts that are associated with risk, uncertainty, creativity, and team diversity such as high technology and/or multinational projects. These are also the work environments that first departed from traditional hierarchical team structures and tried more self-directed and network-based virtual concepts (Fisher 1993; Ouchi 1993).