Introducing AutoCAD 2008 - page 87
Summary
Creating and editing text are tasks that nearly everyone has to tackle at some point. If your job is to just update the text in a drawing, all you have to do is double-click the text and make your changes in the Text panel that appears. Format changes are a little more involved, but if you're familiar with most text editors, you'll find that AutoCAD's text-editing features follow methods used in most other word processors. Creating text requires some familiarity with methods for scaling your text properly to make it the correct size . Also, placing the text in the Model tab or a layout tab affects how you deal with text scaling.
Another type of annotation you'll want to know about is dimensioning. In the next chapter, you'll learn about the tools for creating dimensions in AutoCAD and how you can change dimensions as your drawings change.
Chapter 10:

Using Dimensions
Overview
Dimensions are a key part of technical drawing and drafting. You could almost say that dimensions are the reason we produce CAD drawings in the first place, since they convey critical information about our designs. Before the days of AutoCAD, we used dimensions to communicate specific proportions of a design. But now we can use dimensions to help keep track of critical measurements in a drawing. We can use temporary dimensions to help in this effort.
Adding dimensions to your drawing is fairly easy. In this chapter, I'll discuss the types of dimensions available and how to apply them to your drawing. One of the trickier aspects of dimensioning in AutoCAD is understanding scale factors. Just as with text, you have to apply a scale factor to your dimensions before they appear properly in the Model tab of your drawing.
Finally, since many standards and styles of dimensioning exist, AutoCAD provides many options that let you set up dimensions in just the way you want. But with so many settings, you might feel just a bit lost when you want to fine-tune the appearance of your dimensions. This chapter will help you out.
Understanding the Parts of an AutoCAD Dimension
If you were drawing dimensions by hand, you would not need to know the names of the dimension's components . Now that you're using CAD and reading this book, it will help to know these names so you can better understand the discussions that follow in this chapter.
Figure 10.1 shows a typical dimension along with the names of its parts. Not all these parts appear in all styles of dimensions. For example, the dimension line extension is used only in architectural drawings. Also, architectural drawings do not use arrows when dimensioning straight lengths. Instead, a "tick" mark is used, which looks like a diagonal line.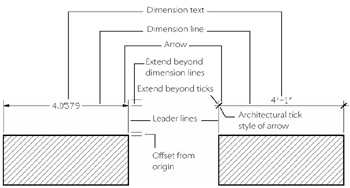 Figure 10.1: The components of a dimension for two common styles
Besides the components of a dimension, you'll want to know about the standards that govern the placement and style of dimensions in a drawing. Each industry has a different set of standards for text size , text style, arrow style, dimension placement, and general dimensioning methods . These issues are beyond the scope of this book; however, I urge you to become familiar with the standards associated with your industry. Many resources are available to you if you want to find out more about dimension standards. Here are just a few resources on the subject:
For mechanical drafting in the United States, check the American Society of Mechanical Engineers (ASME) website at http://www.asme.org .

For European standards, see the Organization for International Standards (ISO) website at http://www.iso.org .

For architectural standards in the United States, see the American Institute of Architects (AIA) website at http://www.aia.org .
As you read this chapter, you might want to refer to Figure 10.1 when you need clarification about the names of the dimension components. Toward the end of this chapter, you'll find a section called "Setting Up the Dimension's Appearance" that describes how to change the appearance of your dimensions to suit your style of drawing. You'll learn more about the dimension components in that section.