Chapter 4. Assessment of the Enterprise
One thing that I learned in actually doing Windows 2000 AD design projects was the importance of the assessment phase. The assessment of the enterprise is often assumed to be simply a list of physical assets "network hardware, workstations, servers, and so forth. On the contrary, the assessment must give an accurate picture of the total environment "a summary of the enterprise. This must include not only the physical components, but the business components as well. Many organizations look at the assessment as a "get well plan," a chance to resolve issues that hinder the business and day-to-day operations. This includes common help desk issues, legacy applications, upgrades of hardware and software, and administration issues. The assessment is not a trivial step in migration. In fact, the assessment is the foundation upon which the migration, its cost effectiveness, and its success depend.
It is important for you to consider all the aspects of the enterprise, depicted in Figure 4.1. The examples shown in this chapter should give you a good idea of the entities that must be included in building this foundation, including the role of a "management sponsor." This chapter also identifies key components of the assessment, provides examples and case studies of actual assessments, and gives you actual forms and checklists to help you assess your enterprise.
Figure 4.1. The assessment encompasses all aspects of the enterprise.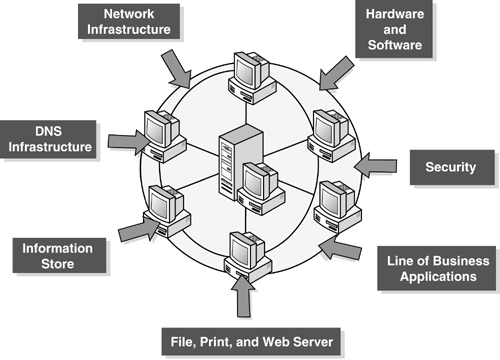 I have completed assessments for small companies in a few days and for large companies in several weeks. One assessment, although it was a fairly small enterprise, took more than a year to complete. The important point, again, is to take the time you need and be thorough, as this is the foundation of the entire migration. Miss something on the assessment and it can have disastrous and expensive repercussions later on.
note
Keep in mind that this chapter will not rehash the basics on how to do an assessment. There are certainly plenty of resources for that, including Gary Olsen's Windows 2000 Active Directory Design and Deployment (New Riders, 2000). This chapter focuses on what we learned by doing Windows 2000 migration over the past several years and how that will change with Windows 2003