A Mixed Topology of Loops and Switches
The interconnecting mesh topology created by a fibre switched network can be complex, but this complexity can provide redundancy should an emergency occur. Using multiple paths through the network helps keep any single device from becoming a single point of failure. If sufficient paths exist through the SAN network, the failure of more than one device can be bypassed with only minimal impact to the network.
Although switch technology is more expensive than that used for Arbitrated Loops, you don't have to throw out your existing loop technology to begin incorporating switches into the SAN.
Newer switches provide a large variety of features that can be used to connect Arbitrated Loops to the switch. You can connect multiple loops and allow communication paths to be established from a member of one loop to a member of another loop, or to a fabric-enabled device that is connected to a switch and is not part of a loop (see Figure 11.5). By allowing for this backward compatibility, switches can be introduced as you need them, and this will provide a minimal disruption of your existing SAN.
Figure 11.5. Arbitrated Loops can be joined using one or more switches.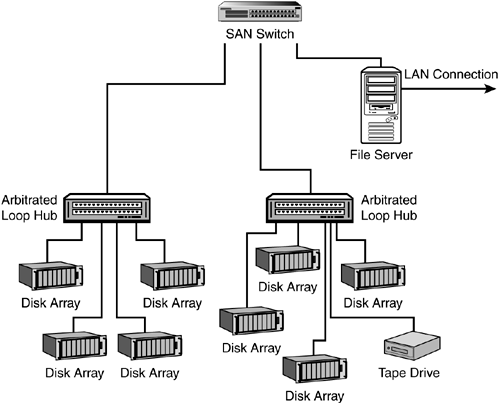 Tip
Because fabric switches can be used to connect more than one Arbitrated Loop, consider them to be a useful tool to join together multiple loop-based SANs. If you have several departmental Arbitrated Loop SANs, each requiring separate staff members to manage these networks, then by connecting all the separate loops to a switch you can centralize control of your SAN devices. In addition to hardware compatibility issues, it is important to select a management application that can be used for the hardware used on each loop that is connected to a switch.
When using switches to connect Arbitrated Loops to a larger SAN, you should consider where to locate data on the SAN to minimize overall bandwidth. For example, if you have several loops that each serve a specific business unit, then the resources, such as file servers and tape drives , should be located on the same loop. In this manner the file server can make these resources available to its clients on the LAN.
At the same time, if you have data that needs to be available to a large number of clients spread out over a large network, put the file servers for that data on the same switch as the data, or use a series of high-speed interconnects between switches to make the data highly available to remote network nodes.
Using some SAN management applications, it is also possible to create duplicates of data (mirroring) so that more than one data storage unit stores the same data as another. This is a good method for providing a hot backup of data across a large geographical area, as well as making data that doesn't frequently change available to multiple destinations while reducing the overall bandwidth for the SAN. Remote copies also allow for redundancy in a disaster recovery plan. Backups are performed on data at frequent intervals. However, due to the time necessary to create a backup of a large amount of data, the data that is "exposed" to corruption between the backups might be considerable. If so, using a SAN that mirrors data with another SAN can provide you a backup that is 99.99% up-to-date with your production SAN. SANs separated by just a few kilometers can be connected using a fiber- optic network. To expand the distance between SANs (or between SANs and clients), you can tunnel Fibre Channel frames through other high-bandwidth technologies, such as ATM.
Switches enable your SAN to be stretched to its limits. You can connect Arbitrated Loops to more than a single switch in the SAN network, and thus enable communication between members of distant loops. The connections do not have to be made to the same switch. As you purchase new equipment, you can buy devices that can be connected directly to a switch, and provide an upgrade path for your SAN.