Access Points and Ad Hoc Networks
Before getting into the specifics about IEEE standards and how data is transmitted on radio frequencies, you first should look at the topology a wireless network can take. In Chapter 2, "Overview of Network Topologies," you learned that a wireless network doesn't use a bus topology. Wireless networks that use a WAP use an infrastructure network. The WAP transmits data between stations . If a single WAP is used, the network has a star topology; if multiple WAPs are used, the network has a tree topology. Many WAPs also include a router for Internet access. Another type of wireless network is the ad-hoc network, in which all nodes connect directly with each other. This is a mesh network topology.
Ad Hoc Networks
A simple peer-to-peer network, composed of computers that have compatible wireless network adapter cards, can be used to quickly set up a small network on-the-fly . This kind of workgroup LAN can be useful when only a few stations need to communicate in a small geographical area (see Figure 18.1). You can set up your own individual network at a trade show, in a conference room, or even for an entire small-business enterprise. Wireless bridges, which you'll learn about in Chapter 24, can extend the distance between wireless Access Points so that in a business you can create a network without having to pull cables at all. For a home office, where you probably don't want to drill holes in your walls and pull cables, wireless products can be the best solution possible.
Figure 18.1. All you need to create a network on-the-fly are a few computers, each with a wireless network adapter.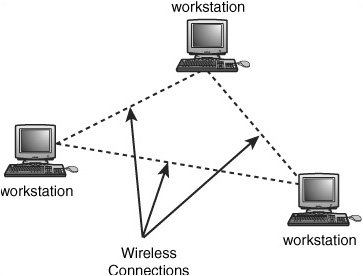 This network is referred to as an ad hoc network because it involves simple peer-to-peer connections in a wireless environment. No central hub or switch coordinates the communications that occur. Instead, any computer equipped with a compatible wireless adapter can join the ad-hoc network, provided that the appropriate security mechanisms have been implemented. For example, if you are using a Windows operating system and a simple workgroup setup for network communications, any computer that uses that same workgroup name can join your small ad hoc network. If any file or print shares are offered by members of this ad hoc network, you can protect them by using a password. This is not a great way to protect files, because anyone who needs to map to a resource share will use the same password.
Tip
In a very small network, using simple file shares is a good compromise considering the administrative overhead involved in managing a more sophisticated security system, such as that offered by the NTFS file system used by Windows NT/2000/XP and Windows Server. If you need to segregate users who need access to some, but not all, of the same files, then divide those files into a directory (and share it on the network), and then create separate file shares for other files needed by different groups of users. Folders can be configured for read-only or full access as needed.
If you use more secure methods , such as a Unix or Linux system with each workstation requiring a username/password, you can create a more secure wireless ad hoc network. The same goes for using a Windows domain. The only difference is that the network is wirelessthere are no cablesand the same security mechanisms you'd use for a wired network should be used for this simple peer-to-peer network.
Tip
Although the term ad hoc network is usually used for a quick setup of wireless stations, another term you'll hear when reading the literature is Basic Service Set (BSS) . A BSS is nothing more than two or more wireless computers that have established communications among themselves . The simplest BSS, consisting of just wireless computers described in this section, is also called an Independent Basic Service Set (IBSS) because it doesn't have an AP to coordinate the communications between the wireless computers.
Using an Access Point to Mediate Wireless Communications
You also can use a wireless Access Point (AP) to create a small wireless network. This device can also be attached to a wired network, which is discussed next , or as a standalone device that can effectively double the distance of the wireless network. As you can see in Figure 18.2, if the Access Point device is placed in the center of the network, each computer equipped with a wireless network adapter can be placed farther away from other computers. This is because each computer only needs to be able to communicate with the AP, which in turn relays the signals to other computers that participate in the wireless LAN. Essentially, an AP performs the same function as a switch in a traditional wired Ethernet network.
Figure 18.2. As you can see, an AP can double the range of a wireless network.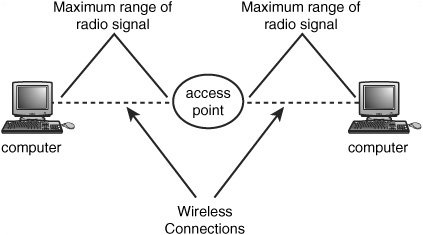 You can add APs to a traditional wired network as well, enabling a mix-and-match network with both wired and wireless clients . The AP coordinates communications to and from the wireless computers and the rest of the network, whether the destination resides on copper or fiber- optic cables (see Figure 18.3) or within the range of another wireless Access Point.
Figure 18.3. APs provide the connection to the wired network for mobile users.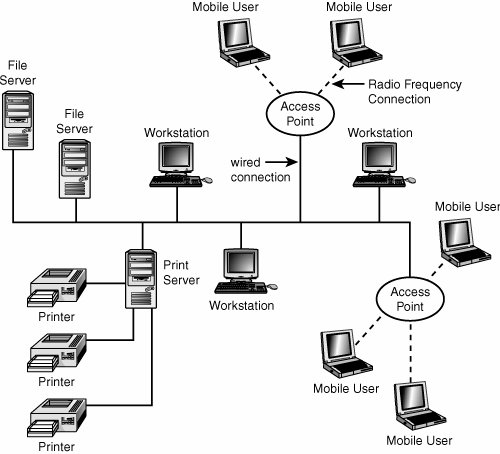 Because multiple APs can be placed throughout the network, this topology allows for a wider geographical range for mobile users. An AP is a simple and very inexpensive device that can connect to the wired network and provide a transmitter/receiver that can be used to communicate with mobile users' workstations. In addition to providing the wireless communications service, an AP typically is responsible for buffering data between the wireless clients and the wired network. Unlike an ad hoc wireless setup, the AP also is responsible for mediating communications between wireless clients that operate within range of the same AP.
Note
Wireless Access Points are used for devices based on the 802.11a, 802.11b, and 802.11g standards. Some work with only one particular technology, whereas others operate in a "dual mode" and can operate with two or all three standards. Of course, such an Access Point will not increase the bandwidth for a computer that uses a lower-bandwidth wireless network card. The AP will, however, buffer data between that laptop and other faster devices, such as those based on 802.11a or 802.11g.
Many APs made for SOHO or home networks incorporate a 10/100 Ethernet switch, enabling a single device to connect wired and wireless clients into a single network. Most of these APs also contain routers, enabling the device to connect the clients to the Internet.
Most of the consumer devices on the market today support 1160 wireless clients on a single AP at any given time. However, your mileage can vary depending on the manufacturer. For example, Cisco offers APs that can scale up to 200 or more wireless devices. Many tests by magazine labs, as well as others, indicate that you will not get the full bandwidth, much less close to it, when using wireless transmissions. The ballpark figure, based on several examples, is about one-third to one-half of the bandwidth the technology specifies. You may indeed get close to 90% throughput under ideal conditions. However, all wireless technologies suffer from the fact that barriers (such as large buildings ) do exist. Keep this in mind when deciding what kind of network traffic to use in the wireless part of your network. In an outdoor environment, you will probably get a much greater distance between client and AP before the bandwidth begins to degrade.
Caution
Another cause of bandwidth degradation is enabling wireless security. However, don't let the slowdowns inherent in the use of wireless security persuade you that you don't need it. The phenomenon of wardriving , in which computer hackers armed with laptops, wireless network adapters, and high-gain antennas look for unsecured wireless networks, is a very real threat to an unprotected wireless network, its data, and your privacy. In my informal tests, I found a dismayingly large number of unsecured wireless networks when I was driving through a neighborhood and when I was walking through an office building. For more details about effective wireless security, see Chapter 23.
APs come in all sizes and shapes . Most use two or more antennas, although some vendors prefer a single antenna. Most APs use a horizontal form factor, although a few vendors prefer a vertical form factor. Most vendors' standard AP supports 802.11g and 802.11b, but many also produce models that also support 802.11a, and often produce versions that support proprietary extensions designed to improve range and speed. Some of the major vendors for SOHO and small-business wireless networks include Buffalo ( www.buffalotech.com ), Belkin ( www.belkin.com ), D-Link ( www.d-link.com ), Linksys ( www.linksys.com ; owned by Cisco Systems), and NETGEAR ( www.netgear.com ).
| | |
| --- | --- |
| | For more information about important AP features, see "What to Look for in an Access Point," p. 294. |
For enterprise networks where a large number of APs will be needed, and for which greater security is required, networking hardware is generally purchased from an existing vendor. This might result in using one or several vendors for all networking products. Enterprise-level wireless network hardware generally offers stronger encryption, better management, and a greater number of clients per AP than SOHO hardware. Some of the leading enterprise wireless network vendors include Cisco Systems (Aironet; www.cisco.com ), 3Com (OfficeConnect; www.3com.com ), Symbol ( www.symbol.com ), Apple (AirPort; www.apple.com ), and SonicWALL ( www.sonicwall.com ).