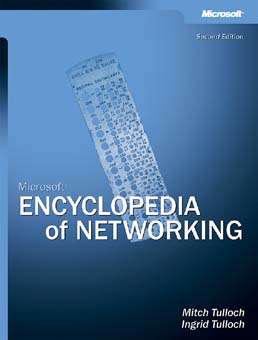 Copyright © 2002 by Microsoft Corporation
PUBLISHED BY
Microsoft Press
A Division of Microsoft Corporation
One Microsoft Way
Redmond, Washington 98052-6399
Copyright © 2002 by Microsoft Corporation
All rights reserved. No part of the contents of this book may be reproduced or transmitted in any form or by any means without the written permission of the publisher.
Library of Congress Cataloging-in-Publication Data
Tulloch, Mitch.
Microsoft Encyclopedia of Networking, Second Edition / Mitch Tulloch, Ingrid Tulloch.--2nd ed.
p. cm.
Includes index.
ISBN 0-7356-1378-8
1. Computer networks--Encyclopedias. I. Tulloch, Ingrid. II. Title.

TK5102 .T85 2002
004.6'03--dc2 2002020190
Printed and bound in the United States of America.
1  2  3  4  5  6  7  8  9    QWT    7  6  5  4  3  2
Distributed in Canada by Penguin Books Canada Limited.
A CIP catalogue record for this book is available from the British Library.
Microsoft Press books are available through booksellers and distributors worldwide. For further information about international editions, contact your local Microsoft Corporation office or contact Microsoft Press International directly at fax (425) 936-7329. Visit our Web site at www.microsoft.com/mspress. Send comments to mspinput@microsoft.com.
ActiveSync, FrontPage, Hotmail, MapPoint, Microsoft, Microsoft Press, MSN, NetMeeting, Outlook, PowerPoint, SharePoint, Visio, and Windows are either registered trademarks or trademarks of Microsoft Corporation in the United States and/or other countries. Other product and company names mentioned herein may be the trademarks of their respective owners.
The example companies, organizations, products, domain names, e-mail addresses, logos, people, places, and events depicted herein are fictitious. No association with any real company, organization, product, domain name, e-mail address, logo, person, place, or event is intended or should be inferred.
Acquisitions Editor: Juliana Aldous Atkinson
Project Editor: Maureen Williams Zimmerman
Dedication
Dedicated to our dear friends
Ken and Bonnie Lewis, who have
stuck by us through difficult times
Acknowledgments
I would like to welcome and acknowledge my wife, Ingrid Tulloch , as co-author for this second edition of the Microsoft Encyclopedia of Networking. Ingrid is a skilled researcher whose research has contributed extensively to both this edition and the previous one, and I thank Microsoft Press for their willingness to recognize her contribution to this project by adding her name next to mine.
My thanks also to the terrific team at Microsoft Press, including Juliana Aldous (Acquisions Editor) and Maureen Zimmerman (Project Editor), and at nSight, especially Susan McClung (Project Manager), Ari Globerman and John Panzarella (Technical Editors), and Joseph Gustaitis (Copy Editor).
Thanks to David L. Rogelberg and Neil Salkind, my agents at Studio B Literary Agency, and to all the other wonderful people there.
Finally, thanks to my many readers and friends whose suggestions and comments regarding the first edition have been incorporated into this new edition and have helped make it what it is--the BEST networking encylopedia EVER! :)
Mitch Tulloch
www.mtit.com