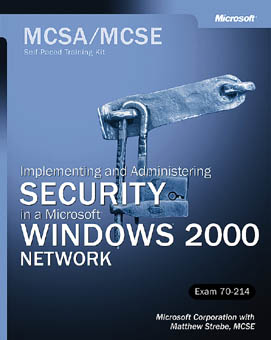 Copyright © 2003 by Microsoft Corporation
PUBLISHED BY
Microsoft Press
A Division of Microsoft Corporation
One Microsoft Way
Redmond, Washington 98052-6399
Copyright © 2003 by Microsoft Corporation
All rights reserved. No part of the contents of this book may be reproduced or transmitted in any form or by any means without the written permission of the publisher.
Library of Congress Cataloging-in-Publication Data

MCSA/MCSE Self-Paced Training Kit. Implementing and Administering Security in a
   Microsoft Windows 2000 Network: Exam 70-214 / Microsoft Corporation.
        p. cm.
     Includes index.
     ISBN 0-7356-1878-X
     1. Electronic data processing personnel--Certification. 2. Microsoft
   software--Examinations--Study guides. 3. Computer networks--Examinations--Study
   guides. I. Microsoft Corporation.

   QA76.3.M326575     2003
   005.8--dc21                                        2002044872
 
Printed and bound in the United States of America.
1 2 3 4 5 6 7 8 9 QWT 8 7 6 5 4 3
Distributed in Canada by H.B. Fenn and Company Ltd.
A CIP catalogue record for this book is available from the British Library.
Microsoft Press books are available through booksellers and distributors worldwide. For further information about international editions, contact your local Microsoft Corporation office or contact Microsoft Press International directly at fax (425) 936-7329. Visit our Web site at www.microsoft.com/mspress. Send comments to tkinput@microsoft.com.
Active Directory, ActiveX, Great Plains Software, Microsoft, Microsoft Press, MS-DOS, NetMeeting, Outlook, Visual Studio, Windows, and Windows NT are either registered trademarks or trademarks of Microsoft Corporation or Great Plains Software, Inc., in the United States and/or other countries. Other product and company names mentioned herein may be the trademarks of their respective owners.
The example companies, organizations, products, domain names, e-mail addresses, logos, people, places, and events depicted herein are fictitious. No association with any real company, organization, product, domain name, e-mail address, logo, person, place, or event is intended or should be inferred.
For Microsoft Press:
Acquisitions Editor: Kathy Harding
Project Editor: Karen Szall

For Studioserv:
Project Manager: Steve Sagman
Technical Editor: Jack Beaudry
Copyeditor: Gail Taylor
Desktop Publisher: Sharon Bell
Indexer: Julie Kawabata
About This Book
Welcome to the MCSA/MCSE Self-Paced Training Kit: Implementing and Administering Security in a Microsoft Windows 2000 Network, Exam 70-214. This book provides in-depth and detailed information about the major security services in Microsoft Windows 2000 networks, including securing desktops and servers using Group Policy, configuring and managing certificates and certificate authorities, implementing encrypted network connections using IPSec, properly securing public Internet servers and services, and keeping your systems up to date automatically.
For more information about becoming a Microsoft Certified Systems Administrator (MCSA) or Microsoft Certified Systems Engineer (MCSE), see the section titled "The Microsoft Certified Professional Program" later in this introduction.
Each chapter in this book is divided into lessons. Most lessons include hands-on procedures that allow you to practice or demonstrate a particular concept or skill. Each lesson ends with a set of review questions to test your knowledge of the lesson material and a short summary of the major points covered in the lesson.
The "Getting Started" section of this introduction provides important setup instructions that describe the hardware and software requirements to complete the procedures in this course. It also provides information about the networking configuration necessary to complete some of the hands-on procedures. Read through this section thoroughly before you start the lessons.