Hack 79 Communicate in a Foreign Country


A picture is worth a thousand words, especially if you don't speak the language .
A while back I ran a photo-tips contest via my weblog on the O'Reilly Network (http://www.oreillynet.com), and one of the winning entries caught my eye as a creative hack for this book.
The entrant, Phil Calvert, submitted this tip:
While traveling in Japan, I found a novel use for a digital camera. Most of the restaurants there have lifelike plastic displays of the food they serve. Since I couldn't speak Japanese, I just took a picture of what I wanted to eat and showed it to the waiter. He thought it was very funny , but I did get what I ordered.
Phil got me thinking. While traveling in a country where you don't speak or read the language, or at least not very well, why not use your camera phone for a variety of communication needs? You could even store a few standard icons in your phone's memory for when the occasion arises.
For example, a picture of a taxicab, as shown in Figure 7-11, could be quite useful when you'd like the restaurant's maitre d' to call for one to get you back to your hotel.
Figure 7-11. A handy photo of a taxi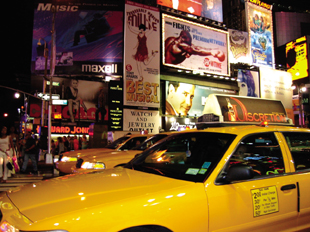 Perhaps you could add a shot of money to ask "How much?" or an image of a plane to communicate airport , and don't forget a picture of your hotel, just in case you forget how to find it after a day's touring. The possibilities are endless. The main thing to remember is that pointing to a picture on your phone is much easier than fumbling with a language you don't know at all.