[Next]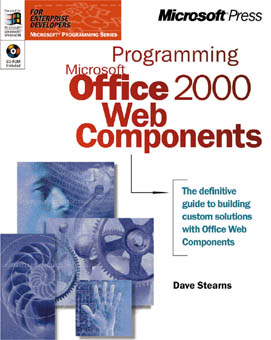 Copyright© 1999 by Microsoft Corporation
[Previous] [Next]
PUBLISHED BY
Microsoft Press
A Division of Microsoft Corporation
One Microsoft Way
Redmond, Washington 98052-6399
Copyright © 1999 by Microsoft Corporation
All rights reserved. No part of the contents of this book may be reproduced or transmitted in any form or by any means without the written permission of the publisher.

 

Library of Congress Cataloging-in-Publication Data
 
Stearns, Dave.
 
        Programming Microsoft Office 2000 Web Components / Dave Stearns.
 
              p.   cm.
 
        Includes index.
 
        ISBN 0-7356-0794-X
 
        1. Internet programming. 2. Microsoft Office. 3. Web site
 
    development.
 
    QA76.625.S74  1999
 
    005.2'76--dc21                                                           99-36327
 
                                                                                            CIP
 
Printed and bound in the United States of America.
1 2 3 4 5 6 7 8 9 WCWC 4 3 2 1 0 9
Distributed in Canada by Penguin Books Canada Limited.
A CIP catalogue record for this book is available from the British Library.
Microsoft Press books are available through booksellers and distributors worldwide. For further information about international editions, contact your local Microsoft Corporation office or contact Microsoft Press International directly at fax (425) 936-7329. Visit our Web site at mspress.microsoft.com.
TrueType fonts is a registered trademark of Apple Computer, Inc. ActiveX, FrontPage, JScript, Microsoft, Microsoft Press, MSDN, Outlook, PivotTable, PowerPoint, Visual Basic, Visual C++, Visual FoxPro, Visual InterDev, Visual J++, Windows, and Windows NT are either registered trade-marks or trademarks of Microsoft Corporation in the United States and/or other countries. Other product and company names mentioned herein may be the trademarks of their respective owners.
The names of example companies, products, people, characters, and/or data mentioned herein are fictitious and are in no way intended to represent any real individual, company, product, or event, unless otherwise noted.
Acquisitions Editor: Eric Stroo
Project Editor: Michelle Goodman
Technical Editor: Steve Perry
[Previous] [Next]
"...that book would be, like my heart and me, dedicated to you..."
from "If I Should Write a Book" by Cahn-Chaplin,
recorded by John Coltrane and Johnny Hartman

To my one and only love, Chelle.

And to the memory of Arlene Myers, the magical grandmother of
Microsoft Press and a dear friend.

Soli Deo Gloria!
[Previous] [Next]
Acknowledgments
This book is not solely the product of my own work. A number of people contributed information, helpful tips, review comments, and even some source code. Although the full list of people I would like to thank is longer than this book, I do want to recognize the following people and their contributions to its creation.
My coworkers on the Office Web Components program management team—Jason Cahill, Mark Igra, Kent Lowry, Jay Massena, Peter Hussey, Paul Davies, and George Snelling—all provided volumes of information and review comments. Jason also developed some of the scriptlets and ancillary controls used in Part II of the book.
I can't thank the OWC development team enough, both for their hard work in creating the Office Web Components and for the constant technical and debugging help they provided while I developed the solutions. Amit Dekate, Andy Milton, David Wortendyke, Eric Matteson, Jason Allen, Jeff Couckuyt, Kevin Grealish, Matt Reynolds, Matt Androski, Mike Coulson, Randy Davis, Wes Cherry, Anatoly Grabar, Matt Bellew, Chris Brown, Will Pugh, Andrew Miller, Less Wright, and Cesar Alvarez made up this team, and they are by far the best developers on the face of the Earth.
Special thanks goes to Erik Christensen for his explanation of how Microsoft Visual Basic implements IPropertyNotifySink, as well as all the other great help he's given me over the years. Erik is the brainchild behind most of Visual Basic's most successful features.
I would also like to thank the OWC testers that assisted me in reviewing the chapters: Chad Foley, Dan Ricker, and our esteemed and ever-capable test lead Aaron Bregel.
Thanks also to Corey Salka, Amir Netz, Ariel Netz, Eric Jacobsen, and the whole SQL Server OLAP Services team for their assistance and for their permission to include the Foodmart sample cube on the book's companion CD. The OLAP Services team is one of the best at Microsoft (second to the OWC team of course…

).
Special thanks to George Snelling, Richard McAnnif, and Steve Sinofsky for giving me permission to work on the book. It didn't affect my job performance—I promise.
Many thanks to Jen Hoffey for taking my picture for the book.
Of course, many thanks have to go to Eric Stroo, Michelle Goodman, Linda Harmony, and Steve Perry, my editors at Microsoft Press. Without them, this project would certainly never have come to fruition.
Lastly, no amount of thanks to my wife Chelle and all my friends could be enough. Without their support and encouragement, I would have never embarked on this hefty endeavor, nor ever completed it. Luckily, my wife and friends are the most patient people in the universe and don't hate me for the many times I ignored them while finishing a chapter!
Dave Stearns
Seattle, Washington
June 1999