Testing Power Supplies with a Multimeter
How can you find out that a defective power supply is really defective? How can you make sure that a cable has the right pinouts? Use a multimeter . A multimeter is one of the most flexible diagnostic tools around. It is covered in this chapter because of its usefulness in testing power supplies, but it also can be used to test coaxial, serial, and parallel cables, as well as fuses , resistors, and batteries (see Table 5.1).
Multimeters are designed to perform many different types of electrical tests, including
DC voltage and polarity

AC voltage and polarity

Resistance (Ohms)

Diodes

Continuity

Amperage
All multimeters are equipped with red and black test leads. When used for voltage tests, the red is attached to the power source to be measured, and the black is attached to ground.
Multimeters use two different readout styles: digital and analog. Digital multimeters are usually autoranging , which means they automatically adjust to the correct range for the test selected and the voltage present. Analog multimeters , or non "autoranging digital meters , must be set manually to the correct range and can be damaged more easily by overvoltage. Figure 5.12 compares typical analog and digital multimeters.
Figure 5.12. Typical analog (left) and digital (right) multimeters. Photos courtesy of Colacino Electric Supply, www.colacino.com.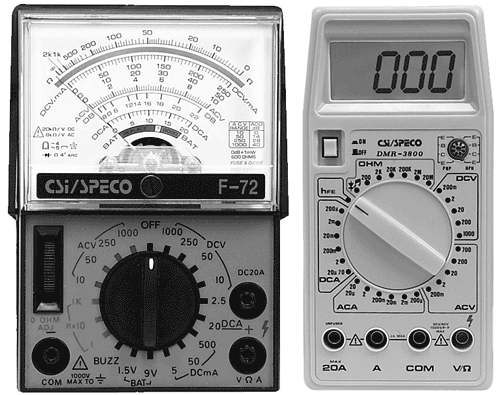 Multimeters are designed to perform tests in two ways: in series and in parallel. Most tests are performed in parallel mode, in which the multimeter is not part of the circuit but runs parallel to it. On the other hand, amperage tests require that the multimeter be part of the circuit, so these tests are performed in series mode. Many low-cost multimeters do not include the ammeter feature for testing amperage (current), but you might be able to add it as an option.
Figure 5.13 shows a typical parallel mode test (DC voltage for a motherboard CMOS battery) and the current (amperage) test, which is a serial-mode test.
Figure 5.13. A parallel-mode (DC current) test setup (left) and an amperage (current) serial-mode test setup (right).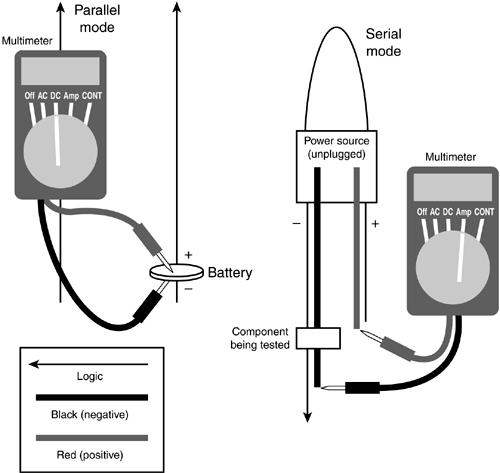 Table 5.1. Using a Multimeter
Test to Perform

Multimeter Setting

Probe Positions

Procedure

AC voltage (wall outlet)

AC

Red to hot, black to ground.

Read voltage from meter; should be near 115V in North America.

DC voltage (power supply outputs to motherboard, drives , batteries)

DC

Red to hot, black to ground (see next section for details).

Read voltage from meter; compare to default values.

Continuity (cables, fuses)

CONT

Red to lead at one end of cable; black to corresponding lead at other end.

No CONT signal indicates bad cable or bad fuse.

For a straight-through cable, check the same pin at each end. For other types of cables, consult a cable pinout to select the correct leads.

Double-check leads and retest to be sure.

Resistance (Ohms)

Ohms

Connect one lead to each end of resistor.

Check reading; compare to rating for resistor.

A fuse should have no resistance.

Amperage (Ammeter)

Ammeter

Red probe to positive lead of circuit (power disconnected!); black lead to negative lead running through component to be tested .

Check reading; compare to rating for component tested.
The following section covers the procedure for using a multimeter to diagnose a defective power supply.