Authors: Minoli D.
Published year: 2005


Pages: 34-35/88
Chapter 5:

IEEE 802.11
Overview
This chapter is a partial redux of the IEEE standard "IEEE Standard for Information Technology — Telecommunications and information exchange between systems — Local and metropolitan area networks — Specific requirements — Part 11: Wireless LAN Medium Access Control (MAC) and Physical Layer (PHY) specifications, which was adopted by the ISO/IEC and redesignated as ISO/IEC 8802-11:1999(E)." [1] This material is for pedagogical , advocacy , and educational purposes. It is meant to acquaint the reader with the major concepts of the most important protocol for hotspot networking. Developers and readers interested in the complete specification and subtending details should refer directly to the full standard from IEEE.
The standard defines the protocol and compatible interconnection of data communication equipment via the air, radio, or infrared in a local area network (LAN) using the carrier sense multiple access with collision avoidance (CSMA/CA) medium-sharing mechanism. The MAC supports operation under control of an access point (AP) as well as between independent stations . The protocol includes authentication, association, and reassociation services, an optional encryption/decryption procedure, power management, [2] and a point coordination function (PCF) for the time-bounded transfer of data. The infrared (IR) implementation of the PHY supports 1 Mbps data rate with an optional 2 Mbps extension. The radio implementations of the PHY specify either a frequency- hopping spread spectrum (FHSS) supporting 1 Mbps and an optional 2 Mbps data rate or a direct sequence spread spectrum (DSSS) supporting both 1 and 2 Mbps data rates. For the basic protocol model, see Figure 5-1.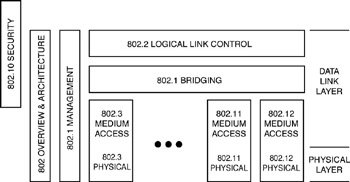 Figure 5-1: Basic protocol model, IEEE 802.11
Specifically, the IEEE 802.11 standard
Describes the functions and services required by an IEEE-802.11-compliant device to operate within ad hoc and infrastructure networks as well as the aspects of station mobility (transition) within those networks

Defines the MAC procedures to support the asynchronous MAC service data unit (MSDU) delivery services

Defines several PHY signaling techniques and interface functions that are controlled by the IEEE 802.11 MAC

Permits the operation of an IEEE-802.11-conformant device within a wireless local area network (WLAN) that may coexist with multiple overlapping IEEE 802.11 WLANs

Describes the requirements and procedures to provide privacy of user information being transferred over the wireless medium (WM) and authentication of IEEE 802.11 conformant devices
IEEE 802.11 uses an abstract architecture to describe functional components of an IEEE 802.11 LAN. The architectural descriptions are not intended to represent any specific physical implementation of IEEE 802.11.
802.11b and 802.11a are extensions of the basic standard and aim at supporting higher speeds. These are not further discussed here.
[1] The ANSI/IEEE Std 802.11, 1999 Edition [ISO/IEC 8802-11: 1999] standard is a revision of IEEE Std 802.11-1997. The management information base (MIB) according to Open Systems Interconnection (OSI) rules has been removed, redundant management items have been removed, and Annex D has been completed with the MIB according to Simple Network Management Protocol (SNMP).
[2] This reduces power consumption in mobile stations.
How WLAN Systems Are Different
Wireless networks have fundamental characteristics that make them significantly different from traditional wired LANs. Some countries impose specific requirements for radio equipment in addition to those specified in the 802.11 standard.
Destination Address Does Not Equal Destination Location
In wired LANs, an address is equivalent to a physical location. This is implicitly assumed in the design of wired LANs. In IEEE 802.11, the addressable unit is a station (STA). The STA is a message destination, but not generally a fixed location.
The Media Impact of the Design
The physical layers used in IEEE 802.11 are fundamentally different from wired media. Thus, IEEE 802.11 PHYs
Use a medium that has neither absolute nor readily observable boundaries outside of which stations with conformant PHY transceivers are known to be unable to receive network frames .

Are unprotected from outside signals.

Communicate over a medium significantly less reliable than wired PHYs.

Have dynamic topologies.

Lack full connectivity, and therefore the assumption normally made that every STA can hear every other STA is invalid (that is, STAs may be hidden from each other).

Have time-varying and asymmetric propagation properties.
Because of limitations on wireless PHY ranges, WLANs intended to cover reasonable geographic distances may be built from basic coverage building blocks.
The Impact of Handling Mobile Stations
One of the requirements of IEEE 802.11 is to handle mobile as well as portable stations. A portable station is one that is moved from location to location, but that is only used while at a fixed location. Mobile stations actually access the LAN while in motion.
For technical reasons, it is not sufficient to handle only portable stations. Propagation effects blur the distinction between portable and mobile stations; stationary stations often appear to be mobile due to propagation effects. Another aspect of mobile stations is that they may often be battery powered . Hence, power management is an important consideration. For example, it cannot be presumed that a station's receiver will always be powered on.
Interaction with Other IEEE 802 Layers
IEEE 802.11 is required to appear to higher layers (Logical Link Control [LLC]) as a current style IEEE 802 LAN. This requires that the IEEE 802.11 network handle station mobility within the MAC sublayer. To meet reliability assumptions (that LLC makes about lower layers), it is necessary for IEEE 802.11 to incorporate functionality that is untraditional for MAC sublayers .

Authors: Minoli D.
Published year: 2005


Pages: 34-35/88