4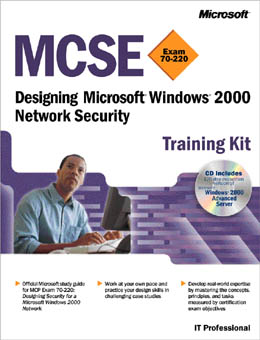 Copyright © 2001 by Microsoft Corporation
PUBLISHED BY
Microsoft Press
A Division of Microsoft Corporation
One Microsoft Way
Redmond, Washington 98052-6399
Copyright © 2001 by Microsoft Corporation
All rights reserved. No part of the contents of this book may be reproduced or transmitted in any form or by any means without the written permission of the publisher.

 

Library of Congress Cataloging-in-Publication Data
 
        MCSE Training KitóDesigning Microsoft Windows 2000 Network Security / Microsoft Corporation.
 
              p.   cm.
 
        Includes index.
 
        ISBN 0-7356-1134-3
 
        1. Computer networks--Security measures.  2. Microsoft Windows NT.  I. Microsoft
 
    Corporation.
 
    TK5105.59 .M485  2001
 
    005.8--dc21                                                           00-053301
 
Printed and bound in the United States of America.
1 2 3 4 5 6 7 8 9 QWT 6 5 4 3 2 1
Distributed in Canada by Penguin Books Canada Limited.
A CIP catalogue record for this book is available from the British Library.
Microsoft Press books are available through booksellers and distributors worldwide. For further information about international editions, contact your local Microsoft Corporation office or contact Microsoft Press International directly at fax (425) 936-7329. Visit our Web site at mspress.microsoft.com. Send comments to tkinput@microsoft.com.
Active Directory, ActiveX, FrontPage, Hotmail, IntelliMirror, JScript, Microsoft, Microsoft Press, MS-DOS, NetMeeting, NetShow, Outlook, Visual Basic, Visual C++, Visual J++, Win32, Windows, and Windows NT are either registered trademarks or trademarks of Microsoft Corporation in the United States and/or other countries. Other product and company names mentioned herein may be the trademarks of their respective owners.
Unless otherwise noted, the example companies, organizations, products, people, and events depicted herein are fictitious. No association with any real company, organization, product, person, or event is intended or should be inferred.
For Microsoft Press
Acquisitions Editor: Thomas Pohlmann
Project Editor: Julie Miller

Author: Brian Komar
For nSight, Inc.
Project Manager: Susan H. McClung
Copy Editor: Joseph Gustaitis
Desktop Publisher: Joanna Zito
Technical Editor: John M. Panzarella

About This Book
Welcome to the MCSE Training Kit—Designing Microsoft Windows 2000 Network Security. This kit prepares you to analyze an organization's business and technical requirements and design security for a Windows 2000 network. You will learn how to design security for all aspects of Windows 2000, from authentication strategies to Demilitarized Zones to protecting Internet-accessible resources.
This course supports the Microsoft Certified Systems Engineer program.
NOTE

---

For more information on becoming a Microsoft Certified Systems Engineer, see the section of this chapter entitled "The Microsoft Certified Professional Program."
Most of the chapters in this book are divided into lessons, activities, labs, and reviews. Lessons include discussions of the key design objectives and then provide evaluations of possible decisions to be made within each design objective, and each lesson ends with a lesson summary. The activities and labs are designed to allow you to practice or demonstrate your understanding of the design objectives discussed within a chapter. Each chapter ends with a set of review questions to test your knowledge of the chapter material. Within each chapter a common scenario will be used to illustrate the design decisions you face when designing Windows 2000 security.