Documenting Resources
Documenting Resources
You might recall from Chapter 2, "Creating a Task List," that you can record any additional information about a task, resource, or assignment in a note . For example, if a resource has flexible skills that can help the project, it is a good idea to record this in a note. In that way, the note resides in the project plan and can be easily viewed or printed.
In this exercise, you enter resource notes to document that a resource can assume multiple roles in the TV commercial project.
1. In the Resource Name column, click Garrett R.Vargas .
2. On the Project menu, click Resource Notes .
| | | |
| --- | --- | --- |
| | Tip | You can also click the Resource Notes button on the Standard toolbar. |
Project displays the Resource Information dialog box with the Notes tab visible.
3. In the Notes box, type Garrett is trained on camera and lights and then click OK .
A note icon appears in the Indicators column.
4. Point to the note icon.

The note appears in a ScreenTip. For notes that are too long to appear in a ScreenTip, you can double-click the note icon to display the full text of the note.
Close the Wingtip Toys Commercial 3 file.
Key Points
Recording resource information in your project plans helps you better control who does what work when and at what cost.

People and equipment resources perform the work in a project.

Cost resources account for types of expenses across a project.

Material resources are consumed during a project.
Chapter 4:

Assigning Resources to Tasks

Chapter at a Glance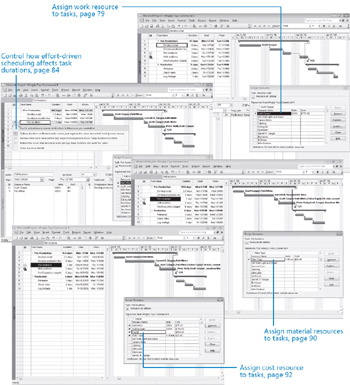 Assign work resource to tasks, page 79. Control how effort-driven scheduling affects task durations, page 84. Assign material resources to tasks, page 90. Assign cost resource to tasks, page 92.
In This Chapter, You will Learn How to:
Assign work resources to tasks.

Control how Project schedules additional resource assignments.

Assign material and cost resources to tasks.
| | | |
| --- | --- | --- |
| | Tip | Do you need only a quick refresher on the topics in this chapter? See the Quick Reference entries on pages xxv–xlviii. |
If you completed Chapter 2, "Creating a Task List," and Chapter 3, "Setting Up Resources," you have already created tasks and resources. You are now ready to assign resources to tasks. An assignment is the matching of a resource to a task to do work. From the perspective of tasks, you might call the process of assigning a resource a task assignment; from the perspective of resources, you might call it a resource assignment. It is the same thing in either case: a task plus a resource equals an assignment.
| | | |
| --- | --- | --- |
| | Important | When we talk about resources throughout this chapter, we are talking about work resources (people and equipment) unless we specify material or cost resources. For a refresher on resource types, see Chapter 3. |
You do not have to assign resources to tasks in Microsoft Office Project 2007; you could work with only tasks. Yet there are several good reasons for assigning resources in your project plan. If you assign resources to tasks, you can answer questions such as
Who should be working on what tasks and when?

Do you have the correct number of resources to accomplish the scope of work your project requires?

Are you expecting a resource to work on a task at a time when that resource will not be available to work (for example, when the resource will be on vacation)?

Have you assigned a resource to so many tasks that you have exceeded the capacity of the resource to work-in other words, have you overallocated the resource?
In this chapter, you assign resources to tasks. You assign work resources (people and equipment) as well as material and cost resources to tasks, and you observe where work resource assignments should affect task duration and where they should not.
| | | |
| --- | --- | --- |
| | Important | Before you can use the practice files provided for this chapter, you need to install them from the book's companion CD to their default locations. See "Using the Book's CD" on page xix for more information. |