89. Apple.com
Apple.com (shown in Figure 38) is a glossy corporate showcase where visitors browse hardware, download software, and soak up the latest Apple ads. It's also the sign-in point for the .Mac service (www.mac.com), providing web-based access to personal email, contacts, iDisk files, and more.
Figure 38. In addition to showcasing customizable hardware and "Made4Mac" software, Apple.com provides access to .Mac's web-based email and information-sharing services.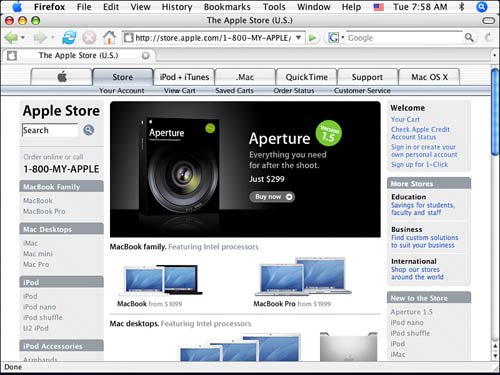 For those without a local Apple Store, Apple.com is the next best thing. Although retailers sell Apple hardware, they may offer only one or two popular configurations. At Apple.com, you can customize to your heart's content: adding more memory to your iMac, wedging a fatter hard drive into your MacBook, or engraving your shiny new iPod with a personal message.
90. AppleInsider.com
AppleInsider.com is a news site dedicated to all things Apple, with multiple daily updates and the occasional rumor thrown in for flavor. Its user forums claim more than 30,000 members. Inside, the largest categoriessome of which contain hundreds of thousands of postsprovide exhaustive coverage of hardware, software, and usability tips.
The site's most intriguing feature is a form for anonymous tip submission, presumably provided to encourage "insiders" to leak juicy tips without fear of being sued for breaking nondisclosure agreements. More than once, Apple has ordered the site to take down sensitive info and reveal its sources, enhancing the site's edgy appeal in the process.
91. 43folders.com
At 43folders.com, prolific writer and productivity guru Merlin Mann claims 100,000 unique visitors per montha level of traffic that, according to Technorati, places the site in the Web's top 100 blogs. (For a quick orientation, read the "First Time Here" post at the top of the site's home page.)
Posts here include time management tips, "life hacks" (like the decidedly low-tech Hipster PDA), and features of interest to fans of Getting Things Done (a productivity program designed by David Allen). Although not exclusively Mac focused, the site's features constantly point to Mac hardware and software solutions for the efficiency minded.
92. HawkWings.net
As a Mac user who manages his entire life via email, I'm hooked on HawkWings.net, Tim Gaden's blog (seen in Figure 39) focused on the advantages of, add-ons for, and issues with Apple's Mail.app.
Figure 39. HawkWings.net points readers to plug-ins, add-ons, and innovative uses of Apple Mail.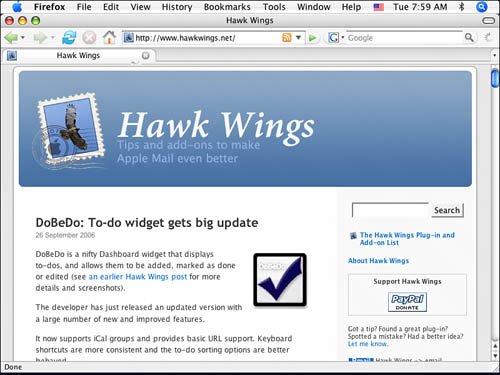 Tim's good-natured posts (and his comprehensive "Add-on and Plug-in List") introduced me to MailTags, BuddyPop, NoteToSelf, and other email enhancements I now use daily. Many of these are low cost or free; all have the potential to make your Inbox a more pleasant place.
Reader comments add interactivity to the site, and Tim actively solicits tips, insights, and feedback. You'll feel right at homeand start getting more out of Apple Mailon your very first visit.
93. iLounge.com
iLounge.com is the one-stop shop for everything iPod. Editors here get first looks at all the latest gadgets and accessories before they hit the streets; with their help, you can decide whether the latest FM transmitter or faux leather iPod case is for you.
News and reviews dominate, but articles are wide ranging, including features such as "Ten Rules for Buying Apple Products," the best places to find free music and vintage radio shows for your iPod, and beginner's guides to podcasting.
Got an iPod problem? iLounge Forum members can't wait to share hacks, modifications, and fixes.