84. Watching Movies and TV Shows
Front Row (included with OS X when you buy a new Mac Mini or iMac) provides a slick, uncluttered environment for playing DVDs, videos, music, and photos. Using the Apple Remote, a six-button remote not much bigger than a matchbook, users can find and play all kinds of media: songs, movies, and even photos stored on other networked Macs. Videos play full screen, giving even home movies the benefit of a cinematic look and feel.
Put simply: Front Row offers a level of integration and performance no PC media interface can match, and it's easier to operate than a TiVo.
Looking for a basic, standalone media player? Try QuickTime (supplied with the Mac) or cross-platform open-source VLC (www.videolan.org, free).
85. Web Browsers
The bad news: when you switch, you'll have to abandon Internet Explorer. Even Microsoft abandoned Internet Explorer for the Mac, stating that Mac users should "migrate to more recent web browsing technologies."
The good news: modern, powerful browsers with none of Internet Explorer's weaknesses and security issues are available for the Mac. Safari, included with the Mac OS, incorporates a snazzy RSS feed reader, inline presentation of PDFs (with no need to launch an external viewer), parental controls, and a rendering engine Apple claims is faster than Internet Explorer or FireFox.
Camino (www.caminobrowser.org, shown in Figure 35), a Mac-only open-source browser, is also available. Its clean button bar and stripped-down interface can make it feel almost more "Mac-like" than Safari!
Figure 35. Camino, an open-source browser, embodies the clean, simple design of applications designed exclusively for the Mac.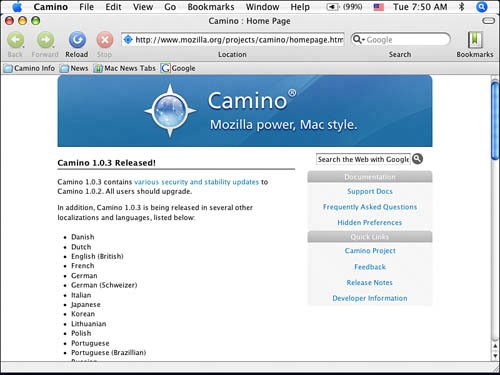 86. Web Design
With professionally designed templates and integration with iPhoto and .Mac, iWeb (part of Apple's iLife suite) quickly creates attractive personal web pages. Drag and drop photos, type in your text, click Publishand you're done.
Mac-only RapidWeaver (www.realmacsoftware.com, $39.95, shown in Figure 36) creates pristine and well-structured websites with everything from feedback forms to flashy menus. Enter your text and photos; with one click, you can see how your content looks in any of several RapidWeaver templates.
Figure 36. RapidWeaver pours your content into intelligent templates that handle everything from form creation to menus with animated rollovers.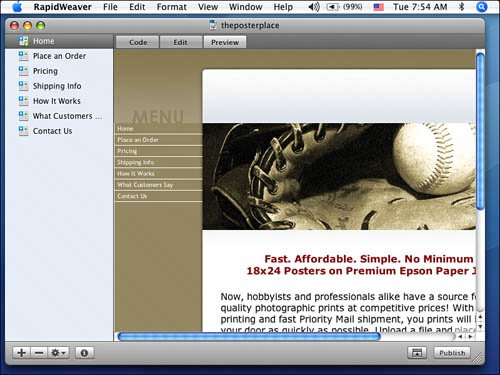 Web design powerhouse Adobe Dreamweaver (www.adobe.com, $399) and other pro design tools are available for the Mac. Looking for a FrontPage replacement? Switch to the free, powerful, and open-source Nvu (www.nvu.com).
87. Widgets
With OS X, Apple introduced Dashboard, a transparent full-screen window summoned by a hotkey, containing widgetssmall applications designed to retrieve and display information (weather forecasts, stock quotes, sports scores), control other apps (including iTunes and iCal), or perform simple tasks (such as screen captures and calculations).
Yahoo! and other companies made widgets available for the PC as wellbut on the Dashboard-free PC, widgets gobble up valuable desktop space.
Thousands of widgets are available from Apple's website. With the arrival of Mac OS X Leopard in early 2007, making custom widgets will be as simple as highlighting web info you want to monitor. When the page updates, your widget will, too.
88. Word Processing
Several Mac-only word processors read and write Microsoft Word files, but offer advantages and benefits even MS Word for Mac can't match.
Nisus Writer Express (www.nisus.com, $69.95) squelches distractions with its full-screen mode. Simplified controls reside in a pop-out drawer. Configuring and applying styles never require more than a click or two.
Mellell (www.redlers.com, $49.00) supports foreign and obscure languages, endearing it to academics and linguists. It also offers faster handling of long documents and tight integration with bibliography software.
Pages (in Apple's iWork suite, $79.00) makes short work of newsletters, posters, flyers, and other desktop publishing tasks (see Figure 37).
Figure 37. Pages provides templates that adapt themselves to your text and images, combining the power of a word processor with the flexibility of a desktop publishing application.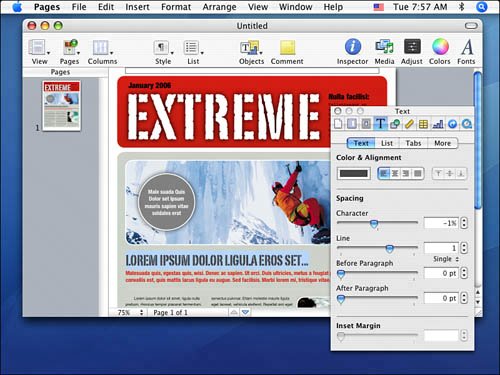 Mariner Write (www.marinersoftware.com, $49.95) strips away rarely used features and consumes less hard drive space than Word.