Can a Customer Move Up the Relationship Ladder?
Relationships may vary along the ladder. Salespeople may find themselves in different stages depending on the opportunity and the decision maker in an account (e.g., the business manager may view the salesperson as a Needs Satisfaction Seller while the procurement manager may view that person as a Price Seller). In general, however, it is rare for a client to grow a relationship from one that is highly transactional to one that is highly consultative. More commonly, if the progression occurs, it is gradual and the salesperson's requirements will shift as well. Research conducted by Beverland (2001) indicates that as relationships with clients grow, the balance of relationship-based (understanding client industry) and performance-based (closing sales calls) activities will shift toward the latter.
Caution should be exercised here, however. Clients may grow their relationship with you if you exceed performance expectations or perhaps if they are considering entering a new market in which your company has expertise. However, they may be content to maintain their status quo at a lower end of the ladder. Even if a customer is very large, they may forever view your relationship as transactional and you may never be able to move up the ladder with them to earn more than minimal revenues. In these cases, it makes sense to control the investment in sales instead of chasing the "big elephant"—even considering passing the opportunity to a channel with a lower cost of sale, such as an inside salesperson who will be able to meet client relationship expectations with less investment. On the other hand, it may make sense for an inside sales representative to hand off an account to a face-to-face sales team if the client prefers a deeper relationship and the account potential merits a higher cost of sale.
Best Practices and Lessons Learned
The focus of every sales organization we talked to was to fight off commoditization and meet the needs of an increasingly sophisticated customer base by leveraging a consultative selling approach executed through the face-to-face and (upon occasion) inside sales forces. This was true regardless of the sales model (business-to-business, business-to-consumer), solution set (e.g., cell phones, large outsourcing solutions), or industry (e.g., telecommunications, financial services, manufacturing). The key to success in each case was ensuring that the right resources have the right capabilities to execute on the right relationships. This may mean learning to look for ways to progress an account up the Sales Impact Ladder, being flexible enough to scale down a consultative approach for a less involved client, or even handing off a consultative opportunity to a different channel.
Our experiences working with clients who have embarked on this journey to consultative selling has yielded some critical success factors. These can be summarized by three major themes:
Use a holistic approach.

Put everything in the context of a formal sales process.

Make sure you have the support infrastructure in place.
A consistent success factor throughout our organizational studies has been the presence of a holistic approach. This starts with an executive vision and cascades throughout the organization—from managerial reinforcement down to consistent field execution. When asked why consultative selling had been so slow to achieve its potential, the majority of answers we got indicated a fragmented message to the sales force: managers weren't modeling consultative selling skills; different segments of the sales and service organizations were trained on differing skills and philosophy. Therefore, to truly expect any results from adopting a consultative selling approach, organizations need to view it as a strategic initiative—enlisting the necessary resources and conveying the essential communication across the organization to make it successful. Sometimes, the consultative philosophy lacks reinforcement in the field, other times it can even be directly contradicted. As one organization offered, "We had one sales manager, and after his people would come back from training, he would send them out to a used car dealership for three days—to show them how it's really done!"
Another point worth making is that a consultative sales approach should not be isolated within the sales organization. Customers deal with organizations through a number of contact points: marketing, customer service, and fulfillment, for example. Customer experiences throughout the relationship should be similar, whether they are dealing with their relationship manager or someone who is installing purchased equipment or researching an account transaction.
Once the philosophy is communicated across the organization, it must become actionable. For salespeople, this means that consultative selling must be part of their daily sales interactions; it must be embedded in a formally defined sales process. Although such processes will vary by organization, Figure 5.3 represents a typical example.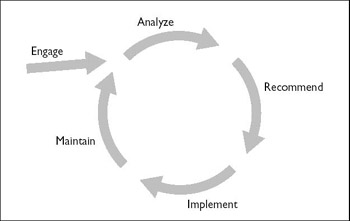 Figure 5.3: Consultative Sales Process
Defining a sales process is a complex project involving a cross-functional team comprised of marketing managers, salespeople, customer service representatives, operations, and customers themselves. Once assembled, this team analyzes customer touch points and determines the desired process for creating and maintaining customer relationships. While defining this process represents a huge milestone, the real value becomes defining the detail that supports it. Every phase must become actionable by defining what the customer expectations are, what the sales activities are, and how success will be measured. (See Figure 5.4.) From this, a salesperson is able to understand how consultative selling behaviors link to what he or she does for a living and how they assist in creating relationships with clients.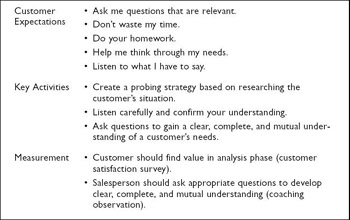 Figure 5.4: Dissecting the Analyze Phase
Perhaps the biggest temptation to overcome in these situations is what is known as "analysis paralysis." This means collecting so much data and conducting so much planning that the output is not actionable. Make sure to look at things in manageable pieces. For example, create parameters for the sales process—map out a process that starts when a prospect is first received as a lead and ends with post-sales activities conducted by the sales force (instead of extending into customer service or implementation activities).
Even if you have a holistic vision and an integrated sales process, you will need to enable execution through a support infrastructure.
In our observations, the biggest pitfall is when a disconnect between desired sales behavior and actual sales behavior occurs because of misalignment with the compensation and incentive system. All too frequently, we will work with sales organizations who are frustrated with the lack of consultative selling they witness in the field. Further investigation reveals that salespeople are being tasked with a consultative selling approach but being compensated for transactional behaviors. For example, a salesperson for a midsized services firm admitted, "I have a monthly quota. I may accept longer sales cycles at the beginning of the month, but when the end of the month comes around I give up on selling solutions—I'm back to selling units [of hardware]."
Therefore, once that sales process is developed, organizations need to take a step back and do a gap analysis. What is the difference between this process and the way selling occurs today? What needs to change? What support is needed? And of course, never forget to pay people for what you want them to do. As one organization confessed, "We want our salespeople to be better businesspeople and are looking at compensation based on profitability. Today, it's based on booked revenue; previously, it only was based on order amounts."