From Basic Trucking to Solving Customers' Problems
The transformation of Schneider National mirrors the changes in the larger economy. But while other older companies have risen, fallen, and been replaced by newer companies, Schneider has continuously transformed itself. Early on, Schneider was a classic trucking company—a unionized blue-collar firm, offering simple, well-delineated, undifferentiated trucking. In its present form, Schneider is a more knowledge-intensive, non-union, diversified services company that blurs traditional provider-customer and provider-competitor boundaries.
Current Structure of Schneider
Schneider National is a holding company with a set of eight internally-grown subsidiaries that are listed below. Three of the eight subsidiaries look like traditional trucking companies:
Schneider Van—Traditional low-cost trucking with 13,000 drivers, 12,000 tractors, and 35,000 trailers

Schneider Bulk—Shipment of liquids and chemicals with 700 tanker trailers

Schneider Specialized—Shipment of overweight, oversized, and fragile items.
The other five subsidiaries are units that provide new services Schneider has created during the 1980s and 1990s in response to customers:
Schneider Dedicated—Takes over the ownership and operations of private fleets

Schneider Finance—Full-service truck and trailer dealer, sales and leasing

Schneider Intermodal—Manages shipments that combine trucking with rail and water-borne shipping

Schneider Brokerage—Matches loads to trucks drawn from a network of over 1,000 pre-qualified carriers (including competitors as well as Schneider)

Schneider Logistics—Analyzes, designs, implements, and manages logistics systems for customers.
Schneider's New Relationships with Customers and Competitors
Schneider's transformation has blurred the traditional boundary separating a service provider from its customers and from its competitors. In the past, most shipping transactions were arm's-length—Company A put a load on a truck from Company B for movement to Company C. Now, Schneider enters into complex relationships and combinations of services that defy such traditional arm's-length arrangements. Many of these services would seem to divert revenues from Schneider to competitors or forgo them with customers.
Figure 7.3 arranges the eight subsidiaries of Schneider along two axes. The horizontal axis denotes the nature of the relationship of Schneider to its customers with the left-to-right axis moving from traditional to non-traditional relationships with customers. The vertical axis denotes the nature of the relationship of Schneider to its competitors, moving top-to-bottom from traditional to non-traditional relationships with competitors. At the extremes are the very traditional Schneider Van (which competes with other trucking companies for freight hauling jobs) and the most unusual Schneider Logistics (which does high-level consulting, logistics system design, and unbiased analyses of which carriers to use).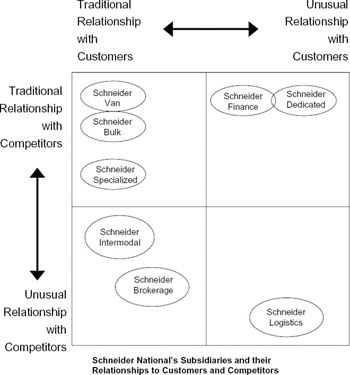 Figure 7.3: Schneider National's Subsidiaries and their Relationship to Customers and Competitors
Although inconsistent with the strategy of a pure trucking company, Schneider's behavior is consistent with A. J. Schneider's 60-year-old mission statement: "We have only one thing to sell, and that is service". In fulfilling this mission statement, Schneider has improved its traditional trucking operations and repackaged them to create new services and new subsidiaries. The following sections show how these new businesses work.
Schneider Dedicated: Blurring the Traditional Provider-Customer Line
Schneider Dedicated is an outsourcing service that takes over a customer company's private fleet. Rather than just adding the customer's loads to Schneider Van's workload, these arrangements blur the line between Schneider and the customer. For example:
the trucks are on Schneider's books but are painted in the customer's colors and only used for the customer's loads

the drivers are Schneider employees but wear the customer's livery and only drive the customer's loads

the managers use Schneider's software, but modify it to meet the customer's needs.
As John Lanigan, General Manager of the Dedicated division, describes it, "We really create a new trucking company for each new customer". Schneider's operations research Ph.D.s and experienced IT personnel work with the customer to meld customer and Schneider IT systems together. The outcome is less of a cookiecutter outsourcing service contract and more like a complex intertwining of Schneider and the customer company. Digitalization lets Schneider embed hardwon logistics knowledge into scalable, flexible IT systems and to track the complex interplay of assets, personnel and processes that each new Schneider Dedicated contract entails.
Schneider Finance: Blurring the Traditional Provider-Customer Line
Schneider Finance helps companies get their own new trucks and trailers, using Schneider's economies of scale to get good prices. Schneider Finance is essentially a full-service truck sales and leasing company—actively marketing a complete range of trucks, engines, and trailers.
Although one might think that this strategy could lead to a loss of long-term recurring revenue from shipping contracts, Schneider has a myriad of other opportunities to serve customers who buy or lease trucks through Schneider Finance. These include:
taking over or managing the customer's private fleet (Schneider Dedicated)

creating or managing the customer's logistics systems (Schneider Logistics)

providing supplementary shipping capacity (Schneider Van and Schneider Brokerage)
As an important side benefit, Schneider also obtains better price discounts on its own purchases because of the increased volume of trucks bought. Thus, Schneider Finance is another example of Schneider using a non-traditional, counterintuitive strategy to improve its competitive position.
Schneider Intermodal: Blurring the Traditional Company-Competitor Line
Schneider Intermodal handles shipments via rail and water, when such modes make the most sense. Rather than spurn these competing modes of transport, Schneider sees them as just one more way to provide good service to its customers.
The subsidiary uses Schneider's well-developed IT systems and processes to make intermodal shipments transparent to the customer. Schneider can pick up the load; truck the shipment to the rail yard or port; have it shipped by rail or water; pick up the trailer at the other end; and deliver it to the destination. The customer pays Schneider and Schneider pays the other carrier. The customer gets a lower total cost of shipping, no additional hassle, only sacrificing a little speed of delivery.
Schneider Brokerage: Blurring the Traditional Company-Competitor Line
Schneider Brokerage is matchmaking service that connects loads—which Schneider cannot or does not want to carry itself—with available trucks from a network of qualified trucking companies, all of whom are competitors. For Schneider's customers, the brokerage service is entirely transparent because of Schneider's IT systems. The customer tells Schneider about the load and Schneider makes sure it gets shipped. The customer does not have to worry about the details of finding and qualifying a carrier.
For Schneider, the benefits of putting loads on competitors' trucks are threefold. First, Schneider gets a transaction fee for brokerage service. Second, Schneider can accept many more shipping contracts than it might otherwise, and thus can say "yes" to more customers in more situations. Third, Schneider can off-load less profitable shipments, (e.g., ones for which it might have no truck nearby).
Schneider Logistics: Blurring All the Traditional Lines
Schneider Logistics blurs both the lines between Schneider-to-customers and between Schneider-to-competitors. A customer company can outsource the entire logistics function to Schneider Logistics. This includes a wide range of analysis, design and management services with solutions for warehousing, distribution and inventory management. Schneider Logistics builds onto Schneider's core technological base with in-house IT that creates decision support and optimization tools for logistics. In such situations, Schneider Logistics personnel reside at customer sites and often manage carriers that are competitors to Schneider's traditional shipping lines.
Schneider Logistics' relationship with competitors is so unusual that there is a "Chinese wall" between it and the rest of Schneider. This is because Schneider Logistics provides services like carrier selection, has access to confidential data on Schneider's competitors and is tasked with making impartial selection decisions about competitors. If Schneider Logistics is to succeed, both its customers and Schneider's competitors must view the subsidiary as an impartial provider of logistics services.
Growth by Meeting Emerging Customer Needs
Over the last two decades, the result of Schneider's pursuit of new opportunities is that the non-traditional divisions (Schneider Logistics, Dedicated, Brokerage, Intermodal, and Finance) now dominate the company. Schneider Dedicated and Schneider Logistics are the largest and second largest divisions of Schneider, respectively. In aggregate, the non-traditional divisions generate more than twice the revenues of the traditional shipping divisions (Schneider Van, Bulk, and Specialized). The rise to prominence in the firm of these new units is all the more impressive, given that Schneider's overall revenues doubled during the 1990s.
At the core of Schneider's ability to change is the company's willingness to accept and then leverage customers' challenges. When 3M wanted to outsource logistics in 1983, a decade before anyone else, Schneider agreed and created what became Schneider Logistics. When Case Corporation wanted logistics help in Europe in early 1998, Schneider said "yes" and formed its first international division, Schneider Logistics Europe. Accepting new challenges not only ensures that customers stay with Schneider, but also means that Schneider stays close to its customers as their needs evolve in a changing world.
Schneider's response to customer requests is not simply a "satisfy the customer at all costs" approach. Digitalization—in the form of information systems, extensive models, and reams of data on past shipments—helps Schneider to determine objectively what it can and cannot do. If a customer wants an overly aggressive shipping schedule on a route, then Schneider will negotiate a more feasible schedule or decline the job. The key is that Schneider has cultivated an ability to offer a wide range of services and to understand what it can do profitably without creating rules that limit flexibility.
Schneider's strategy of doing more for its customers is not just a matter of selfless devotion, nor is it a simple reactive strategy. Schneider could not effectively respond to novel customer requests without its investments in people, processes, and technology. Indeed, Schneider's most important and most hidden asset is its ability to learn the customer's situation and create a tailored solution in record time. This is especially important at Schneider Dedicated and Schneider Logistics, where solutions must meld Schneider's technology and processes with those of the client. Schneider's seemingly expensive asset base lets it take on new challenges that create new businesses, sustaining growth in an otherwise uncertain environment.