Collecting VOC: Surveys
Collecting VOC: Surveys
Purpose
To get quantitative data across an entire segment or group of segments on customer reactions to a product, service, or attribute
Why use surveys
To efficiently gather a considerable amount of information from a large population

To conduct analysis that will result in data with statistical validity and integrity (interviews and focus groups generate qualitative data only)
When to use surveys
When you need or want to contact many customers to get quantitative information

As prework for interviews or focus groups to identify target areas for more in-depth investigation

As follow-up to interviews or focus group to quantify relationships or patterns identified
How to conduct a survey
Develop survey objectives.

Determine the required sample size ( see p. 85).

Write draft questions and determine measurement scales .

Identify the specific information you need to collect

Numerical scales are easier to record and compare (such as rating items from 1 to 5 in importance) but qualitative scales are sometimes more appropriate ("not at all interested" to "very interested")

Determine how to code surveys so data can remain anonymous (if appropriate).

Design the survey.

Confirm that getting answers to the individual questions will meet your objectives (adjust, if not).

Conduct a pilot test.

Finalize the survey.

Send out survey (mail, fax, email attachment) to selected customers. Include a means for them to respond—SASE, return fax number, email reply. Or post on your website and give participants instructions on how to access the survey.

Compile and analyze the results.
Tips

As with other forms of customer contact, work with your sales or marketing department to identify and coordinate contact with customers.

Include a "not applicable " category where relevant so you aren' t forcing customers to give you bad data.
Kano analysis
Purpose
To better understand what value your customers place on the features of your product or service, which can reduce the risk of providing products or services that over- emphasize features of little importance or that miss critical-to-quality features/attributes.
Why use Kano analysis
Good "first cut" technique to evaluate relative importance of customer requirements

Allows you to identify segments by the type or level of quality that customers expect

Helps determine if there are requirements that:

were not explicitly stated by customers

were included in previous offerings and are still valued by the customer

To help shape your VOC data-gathering plans
When to use Kano analysis
Use in Define or Measure to understand scope and importance of project goals

Use in Improve to help redesign a product, service, or process

Use after interviews or focus groups to confirm that some needs spoken by the customer are truly critical requirements that will affect customer satisfaction or purchasing decisions
How to use Kano analysis
Collect VOC data through as many different means as you can

Identify known or presumed customer needs/requirements

For each potential need, ask the customer to assess:

How would they feel if the need WAS addressed? (Positive)

How would they feel if the need WAS NOT addressed? (Negative)

The customer has four choices in response to each question:

I' d like it

It is normally that way (that feature is expected)

I don' t care

I wouldn' t like it

Based on the answers to the "positive" and "negative" questions, use the table to determine the type of need

Answers to Negative Questions

Like

Normal

Don't Care

Don't Like

Answers to Positive Questions

Like

Delighter

Delighter

Satisfier

Normal

Dissatisfier

Don't Care

Dissatisfier

Don't Like

Based on customer responses, classify each need as a dissatisfier, satisfier, or delighter ( see definitions on next page)

Incorporate this information into product or service development efforts

You MUST deal with any basic requirements (dissatisfiers) that your product or service does not already deliver. If you don' t do a good job on these, it doesn' t matter how well you do on other features or options.

Do conjoint analysis or use another technique to evaluate how much of the "satisfiers" you can afford to include in your product/service.

If you already have delighters in your product or service, strengthen support for them. If you do not yet have delighters, work with management to launch a design or redesign effort to incorporate the new features you' ve identified ( after you' ve dealt with dissatisfiers and satisfiers).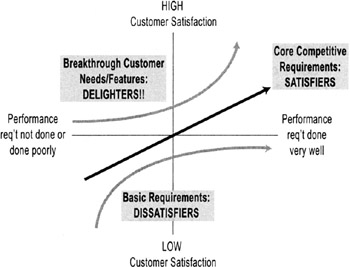 Definitions of Kano levels
Dissatisfiers—Basic requirements: Expected features or characteristics of a product or service. If these needs are not fulfilled, the customer will be extremely dissatisfied. Satisfying basic requirements is the entry point for getting into a market.

Customers will seldom name basic requirements when asked what' s important to them, because they take these features for granted (Ex: we expect every car to have a steering wheel). Because basic requirements are unspoken , don' t rely on interviews or surveys to identify them. Review past product/service designs and observe customers in action to see what features they use all the time.

Satisfiers—Performance requirements: Standard characteristics that increase or decrease satisfaction by their degree (cost/price, ease of use, speed). Satisfying performance requirements will allow you to remain in the market.

Delighters—Excitement requirements: Unexpected features or characteristics that impress customers and earn you extra credit. Satisfying excitement requirements opens the opportunity to excel, to be World Class.
Tip

Delighters often appear when someone recognizes a need that customers themselves aren' t aware of and links it to a technology that no one has thought of applying to that need. Since customers can' t articulate the need, you' re most likely to identify them through observation or interviews or focus groups with diverse people (early adapters, industry trend experts, process experts). Include engineers or technology/delivery-method specialists on your team to expose them to the customer experience.

Tools for Identifying Customer needs

Likely Satisfiers (known to and voiced by customers)

Likely Dissatisfiers (known to but not voiced by cusotmers)

Likely Delighters (customers unaware of needs or solutions)





Surveys via mail, phone, e-mail, other

Face-to-face, phone interviews

Market research

Focus groups, clinics

Existing company Information

Competitor ads & marketing efforts





One-on-one interviews

Functional requirements

Review industry standards trade literature, regulatory req' ts.

Review internal data on unhappy customers:

Switches to competitor

Refunds

Complaints

Personal experience





Carefully planned focus groups

Watch customers

Look for frustrations and delighters

Reduction of time-consuming activities

Self-evident operability

"Painstorming"

Innovations/Breakthroughs