Of all the types of persuasive technology tools in this chapter, surveillance technology is the most common in today's marketplace . There are applications for tracking how employees use the Internet, how teenagers drive, how phone support workers serve customers, and many more.
Applying computing technology to observe others' behavior increases the likelihood of achieving a desired outcome.
Hygiene Guard [35] is one example of a surveillance technology. The system (Figure 3.7), which monitors hand washing, is installed in employee restrooms to make sure workers follow hygiene rules. The system uses sensor technology located in various places: on the employee's ID badge, in the restroom ceiling, and at the sink. It identifies each employee who enters the restroom. After the employee uses the toilet facilities, it verifies that the employee stands at the sink for 30 seconds. If not, the system records the infraction.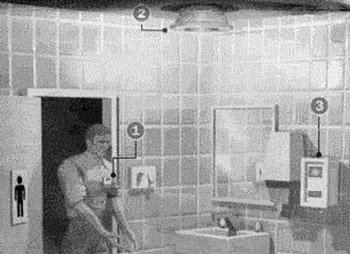 Figure 3.7: Hygiene Guard is a surveillance system that tracks employee hand washing.
Another example of surveillance technology is AutoWatch, a computer system that enables parents to monitor the driving behavior of their children. [36 ] (Makers of this system suggest AutoWatch can also let you monitor how employees drive corporate vehicles.) According to company literature, AutoWatch is a "little black box" that records driving speed, starts and stops, and other data. Parents can then remove the device from the vehicle and download the information to a PC.
Surveillance Must Be Overt
At first glance, AutoWatch seems a reasonable idea: Parents should be able to monitor how their children drive. However, the product literature suggests that parents "conceal the AutoWatch unit under the dash or under the seat." [37 ] AutoWatch is a covert technology when installed this way. When used covertly, AutoWatch is no longer a persuasive technology because its goal is not to motivate or influence; it's just secretly monitoring.
This brings up a key point: For surveillance technologies to effectively change behaviors, they must be overt, not covert. Delivery companies sometimes post a message on the back of their trucks : "How am I driving?" with a toll-free number to report problems. The fact that the truck drivers know others can report them for reckless driving probably motivates them to drive more safely.
Contrast this with a covert installation of AutoWatch. How will teens be motivated to avoid driving recklessly if they don't know their driving is being monitored by AutoWatch? When used covertly, AutoWatch is geared toward punishment , not persuasion. There are important ethical questions surrounding the use of covert technologies, but I will not address them here, since covert technologies by definition are not persuasive technologies.
Rewarding through Surveillance
While surveillance technologies may use the threat of punishment to change behavior, they also can be designed to motivate people through the promise of rewards. For example, parents could use the AutoWatch system to reward their teens for driving safely, perhaps providing teens with gas money for future driving.
In terms of workplace surveillance, several companies have created systems that track employee behavior and reward them for doing what their company wants done. [38 ] (Rather than calling these products "surveillance systems," companies may refer to them as "incentive systems" or "incentive management technology." [39 ] )
An Illinois-based company called Cultureworx has created a product that can track employee behavior throughout the day. And it can reward employees who do things that meet company policies or help boost the bottom line. If a company wants employees in its call centers to use its customer relationship management (CRM) software, inputting customer information and results of each customer contact, the Cultureworx system can track employee performance along these lines. The harshness of tracking employees this way is softened somewhat because the surveillance system gives points that can be exchanged online for products from places like Eddie Bauer and Toys R Us. (However, it's not clear to what extent employees would embrace such a system simply because it offers rewards.)
Public Compliance without Private Acceptance
While surveillance can be effective in changing behavior, in many cases it leads to public compliance without private acceptance. Some theorists describe this as "compliance versus internalization." [40 ] People will behave in a prescribed way if they know they are being observed, but they will not continue the behavior when they are no longer being observed unless they have their own reasons for doing so. [41 ] In other words, without motivation to internalize the behavior, the conformity and compliance effects will weaken and often disappear when a person is no longer being observed.
The real power in surveillance technology lies in preventing infractions; surveillance should focus on deterrence, not punishment. Even so, using surveillance as a motivating tool is not the most noble approach to persuasion, even when it leverages the promise of rewards rather than the fear of punishment. The use of surveillance technology also raises serious ethical questions about maintaining the privacy and dignity of individuals. (We'll explore the ethical concerns in more detail in Chapter 9.)
[30 ] The "Like's Gone" concept was created by captology students Marissa Treinen, Salvador Avila, and TatianaMejia.
[31 ] Strictly speaking, surveillance technology is not interactive in the way I've described other interactive computing products to this point; these products focus on interactivity between the technology and the end user . However, I consider surveillance systems to be persuasive technology under my definition, as they do incorporate a limited kind of interactivity. Input comes from one person (the user) and output is sent to another person (the observer), who then closes the loop by interacting with (rewarding or punishing) the person observed.
[32 ] K. Bell DeTienne, Big brother or friendly coach? Computer monitoring in the 21st century, The Futurist, pp. 33–37 (1993).
[34 ] Jennifer Granick, Big Brother: Your boss, Wired (July 1998 ).
[35] The American Management Association (AMA) conducts an annual survey of workplace testing and monitoring. For a summary of its recent results, showing the increased prevalence of workplace monitoring and surveillance since 1997, see http://www.amanet.org/research/ pdfs /ems_short2001.pdf.
[36 ] J. C. Turner, Social Influence (Pacific Grove, CA: Brooks/Cole, 1991).
[37 ] Hygiene Guard is produced by Net/Tech International in New Jersey.
[38 ] For more information on AutoWatch, see http://drivehomesafe.com/control_teendriver_speeding_driverlicense2.htm.
[39 ] The user manual for AutoWatch suggests various ways to conceal this device. To see an online version of the manual, go to http://www.obd2.com/pdffiles/Userawfw.pdf.
[40 ] For a long list of companies that provide incentive management solutions, see http://www.workindex.com/extrefs.asp?SUBCATID=1714.
[41 ] For a brief article explaining incentive management in call centers, see http://www.callcentermagazine.com/article/CCM20010627S0002.