Headsets: Free Hands for Everyone!
As mentioned elsewhere in this book, one of the main issues with cellular phones in general is that users hold the phone with one hand while talking, thereby losing one of their two appendages. Although this isn't critical when walking on a breeze -drenched beach at sunset, when one is operating a motor vehicleespecially a motor vehicle with a manual transmissionlosing the use of one hand can be a significant danger to both the driver and those around him or her.
The solution to this problem is hands-free headsets. If you can make it so that you can talk to someone without having to hold the phone to your ear, you can operate your car more safely. But driving a car is only one of the things a hands-free phone lets us do. Having a conversation on your Pearl without using your hands is a powerful and valuable ability. Talking on the phone used to be "dead" time, but with a hands-free phone, you can perform tasks that require little thought (from cleaning the garage to preparing dinner) at the same time.
The Pearl gives you three ways to go hands-free: wired headsets, wireless Bluetooth headsets, and the built-in speakerphone. Each of these options has pros and cons, but with the exception of the speakerphone, you can buy third-party accessories to make your Pearl hands-free just the way you like it.
Wired Headsets
The Pearl comes with a wired headset that works extremely well ( Figure 7.1 ). The headset plugs into the headset jack on the top-left side of the Pearl (just above the USB jack) and then fits into one of your ears. The sound quality is outstanding, and no one talking to me could tell that I was talking on a headset instead of the actual phone.
Figure 7.1. The included wired headset is outstanding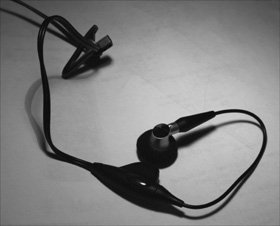 Many headsets (including the one that comes with the Pearl) have a mute button on the microphone. The mute button is important if you want to talk to someone else without letting the person at the other end of the call know what you are saying.
When you're shopping for a wired headset/microphone combination, you may hear the term noise cancellation. Noise-cancellation technology works by creating an "antinoise" for any steady background noise near the headset. It sounds crazy, but it really isn't. Sound, as you may know, travels in waveforms, like the ripples on a pond after you drop a pebble in. As it turns out, you can cancel a noise almost completely by creating an antinoise with the exact- opposite waveform. The result is no wave at all (or a very little one); therefore, the original sound is canceled or at least greatly diminished.
Noise cancellation is great in theory, and sometimes also great in practice, but it does have some limitations. The biggest limitation is that creating and generating the antinoise require the use of a computer. Unfortunately, no computer is fast enough to eliminate noises dynamically with sound that is diverse in nature. With constant sounds, however, the story is quite different. Sounds produced by airplane engines, cars on a highway , fans, air conditioning, and machinery can be reduced dramatically with noise-canceling technology.
Therefore, if you need to use your Pearl's headset in an area with lots of constant background noise, noise-canceling headphones are going to make a significant difference in your ability to hear the person at the other end of the line. The benefits include being able to keep the volume lower, because you won't be struggling to hear what the person at the other end is trying to say.
Is it worth it? The answer is yes if you are around a lot of background noise. Otherwise, it's probably not worth the money.
The Pearl has an EM70 jack for external headsets. This jack is pretty much the standard for cellular and wireless landline phones, so virtually any headset used for similar purposes is going to work with the Pearl. I have an over-the-head headset that I bought for my Panasonic 5.8 GHz cordless home telephone ( Figure 7.2 ), and it works wonderfully with the Pearl. If you are interested in getting a headset for your Pearl, try a few at your local electronics or office-supply store and then pick the one that sounds best to you.
Figure 7.2. This over-the-head headset that I bought for my cordless home phone works just fine with the Pearl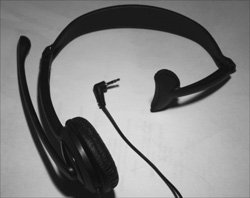 Bluetooth Headsets
A Bluetooth headset ( Figure 7.3 , next page) is a good option for those who don't want to have to worry about wires. But these headsets are not without their drawbacks, most of which involve price: Bluetooth headsets are more expensive. That said, these devices are handy, and combined with the Pearl's voice-dialing feature, they allow you to dial a number and talk on the phone without taking the Pearl out of your pocket or getting tangled in wires.
Figure 7.3. This Plantronics Voyager 510 Bluetooth headset looks great and works well but runs around $100, whereas a wired headset can cost $10 to $20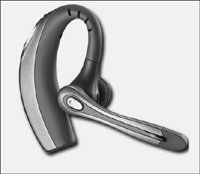 Bluetooth Explained
Bluetooth is a wireless standard used for personal area networks (PANs), such as those created by cellular telephones, computers, and personal digital assistants (PDAs). The name Bluetooth is derived from the name of a 10th-century Danish king known as Harald Bluetooth. Apparently, Harald used diplomacy to get disparate parties to communicate so as to prevent war. This name fits this technology because it allows many types of devices to communicate with relative ease.
Bluetooth came about because of a need for wireless communication between relatively low-power devices such as cellular phones and PDAs, but it is also used in computers to connect wireless keyboards and mice.
Another recent use of Bluetooth comes in the form of small wireless over-the-ear headsets for cellular telephones, allowing the user to place the phone out of sight and talk over the headset. More than once, I've been in the grocery store and seen someone apparently talking to himself, only to find a small over-the-ear headset in use.
The effective range of Bluetooth devices varies considerably, but most devices work within about 30 feet of each other.
Setting up a Bluetooth Headset
Setting up a Bluetooth device is remarkably easy. Simply turn the device on and put it in pairing mode (the documentation that comes with the device tells you how to do this). Then enter the Set Up Bluetooth area through the Pearl's main menu ( Figure 7.4 ), and tell the Pearl to search for devices it can be paired with ( Figure 7.5 , next page). When the devices are paired off, you're done.
Figure 7.4. You access the Set Up Bluetooth area from the main menu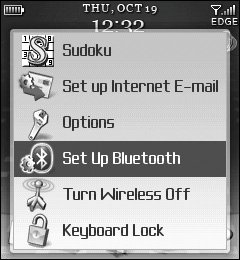 Figure 7.5. The Pearl can search for any nearby Bluetooth devices ready to be paired with it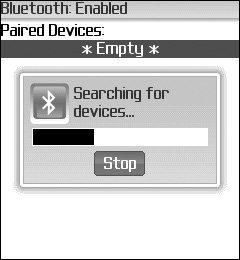 You can tweak a few more Bluetooth options through the Options > Bluetooth menu, but the devices generally just recognize each other and work. It may sound too good to be true, but it isn't; Bluetooth just flat-out works.