4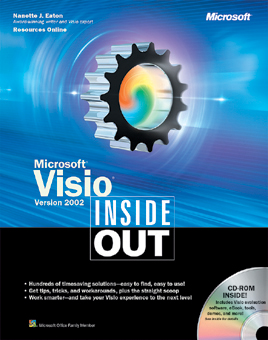 Copyright © 2001 by Resources Online
3 4
PUBLISHED BY
Microsoft Press
A Division of Microsoft Corporation
One Microsoft Way
Redmond, Washington 98052-6399
Copyright © 2001 by Resources Online
All rights reserved. No part of the contents of this book may be reproduced or transmitted in any form or by any means without the written permission of the publisher.
Library of Congress Cataloging-in-Publication Data
Microsoft Visio Version 2002 : Inside Out / Resources Online, Nanette Eaton.
p. cm.
Includes index.
ISBN 0-7356-1285-4
1. Computer graphics. 2. Microsoft Visio. I. Eaton, Nanette. II. Resources Online.

T385 .M5237 2001
650'.0285'66869--dc21 2001031510
Printed and bound in the United States of America.
1 2 3 4 5 6 7 8 9 QWT 6 5 4 3 2 1
Distributed in Canada by Penguin Books Canada Limited.
A CIP catalogue record for this book is available from the British Library.
Microsoft Press books are available through booksellers and distributors worldwide. For further information about international editions, contact your local Microsoft Corporation office or contact Microsoft Press International directly at fax (425) 936-7329. Visit our Web site at mspress.microsoft.com. Send comments to mspinput@microsoft.com.
Active Directory, BizTalk, ClearType, FrontPage, Microsoft, Microsoft Press, Outlook, PowerPoint, Visio, Visual Studio, Windows, and Windows NT are either registered trademarks or trademarks of Microsoft Corporation in the United States and/or other countries. Other product and company names mentioned herein may be the trademarks of their respective owners.
The example companies, organizations, products, domain names, e-mail addresses, logos, people, places, and events depicted herein are fictitious. No association with any real company, organization, product, domain name, e-mail address, logo, person, place, or event is intended or should be inferred.
Acquisitions Editor: Kong Cheung
Project Editors: Aileen Wrothwell; Sandra Haynes
Series Editor: Sandra Haynes
Content Test Editor: Leslie Phillips
Web Developer: Kevin Kihslinger


Body Part No. X08-06086
3 4
Acknowledgments
I was recently chatting with a Visio manager I used to work with about this book and joked that it was an extended love letter to Visio. The truth is, from the time I first started working with Visio products in February 1995, I knew that the product and the people who created it were unusual—the product in its scope, and the people in their thoughtfulness. I hope this book is as intelligent, thorough, and thoughtful as the software it describes and the people who designed that software.
Thanks to the people at Microsoft Press for their expansive vision of the Inside Out series, and thanks to Kong Cheung, acquisitions editor, for entrusting the Visio book to Resources Online and me. Sandra Haynes and Aileen Wrothwell, my project editors at Microsoft Press, have my gratitude and admiration for their astonishing grace under pressure.
My huge thanks go to the other talented contributors who helped me create the contents of this book: Brie Gyncild (who also provided essential moral support at the outset), Lori Goff, Judy Lemke, Ellen Wixted, Cynthia Peterson, and April Richards. Thanks to Tory McLearn, project manager, for smoothing the way from coast to coast; to Terry O'Donnell, technical editor, for keeping me honest; to Erin Milnes and Norreen Holmes, manuscript editors, for making every sentence sound better; to the production artists for making every page look better; and to Jan C. Wright, the best indexer in the business. Among my Resources Online colleagues, I must thank Jim Larkin for the sage advice, hardware, and emergency repairs; Tycen Hopkins for patient technical support; and Terry Brandli for all the lunches.
In addition, so many of my friends on the Visio team helped me. Special thanks to Elise Jones for everything; to David Larkin, Jason Sutherland, and Darrin House for much-needed answers and last-minute builds; and to Beck Andros, Nancy Matthew, David Salaguinto, Ronnie Ang, Bill Holt, Michael Kallay, and Barry Allyn for essential source materials.
And a wink to Mitch Boss and Mark Davison, who wondered all those years ago whether it was worth their time to teach yet another writer about Visio from the inside out. You still may wonder, but I appreciate your efforts. Couldn't have written this without you.
—Nanette J. Eaton