4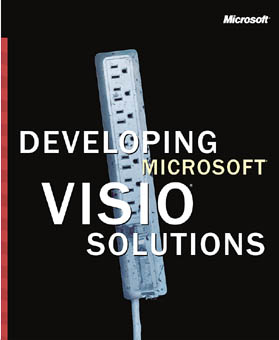 Copyright © 2001 by Microsoft Corporation
3 4
PUBLISHED BY
Microsoft Press
A Division of Microsoft Corporation
One Microsoft Way
Redmond, Washington 98052-6399
Copyright (c) 2001 by Microsoft Corporation
All rights reserved. No part of the contents of this book may be reproduced or transmitted in any form or by any means without the written permission of the publisher.
Library of Congress Cataloging-in-Publication Data
Developing Microsoft Visio Solutions / Microsoft Corporation.
p. cm.
Includes index.
ISBN 0-7356-1353-2
1. Computer graphics. 2. Microsoft Visio. I. Microsoft Corporation.

T385 .D474 2001
650'.0285'66869--dc21 2001030496
Printed and bound in the United States of America.
1 2 3 4 5 6 7 8 9 QWT 6 5 4 3 2 1
Distributed in Canada by Penguin Books Canada Limited.
A CIP catalogue record for this book is available from the British Library.
Microsoft Press books are available through booksellers and distributors worldwide. For further information about international editions, contact your local Microsoft Corporation office or contact Microsoft Press International directly at fax (425) 936-7329. Visit our Web site at mspress.microsoft.com. Send comments to mspinput@microsoft.com.
Active Directory, ActiveX, FoxPro, FrontPage, Microsoft, Microsoft Press, MS-DOS, Outlook, PowerPoint, ShapeSheet, SmartShapes, Visual Basic, Visual C++, Visual FoxPro, Visual J++, Visual SourceSafe, Visual Studio, Visio, Win32, Windows, and Windows NT are either registered trademarks or trademarks of Microsoft Corporation in the United States and/or other countries.
Portions copyright 1991-1997 Compuware Corporation. ImageStream Graphics Filters copyright (c) 1998 by INSO Corporation. All rights reserved. International CorrectSpell spelling correction system copyright (c) 1995 by Lernout & Hauspie Speech Products N.V. All rights reserved. Certain LZW graphics capability licensed from Unisys Corporation under U.S. Patent No. 4,558,302 and foreign counterparts. Some of the clip art used in this product is derived from images copyrighted (c)1988-1995 3G Graphics, Inc. from their IMAGES WITH IMPACT!(r) FOR WINDOWS(r) Vol. 1. These images are used here under a non-exclusive licensing agreement between Microsoft Corporation and 3G Graphics, Inc., 114 Second Avenue South, Suite 104, Edmonds, WA 98020, USA (425) 774-3518 or (800) 456-0234. Some of the maps incorporated into this product are extracted from data provided courtesy of Environmental Systems Research Institute, Inc., 380 New York Street, Redlands, CA 92373-8100, USA (909) 793-2853.
The example companies, organizations, products, domain names, e-mail addresses, logos, people, places, and events depicted herein are fictitious. No association with any real company, organization, product, domain name, e-mail address, logo, person, place, or event is intended or should be inferred.
Acquisitions Editor: Juliana Aldous
Project Editor: Denise Bankaitis
Body Part No. X08-06277