Get Creative
These toy drums sound pretty cool. I could see using them in the studio on one song.
Figure 6.15.
Toy electronic drums at Circuit City.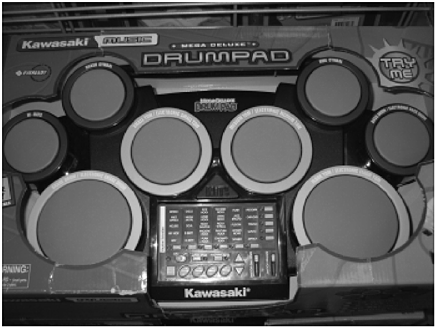 Coda
There's only one thing every top ten band ever has in common, regardless of whether it's rock, pop, blues, soul, punk, or whatever: The drums are really, really good. Drums on all hit recordings are totally locked in time in a groove that makes your foot move whether or not you want your foot to move. A weak drummer makes any band weak. A really groovin' drummer makes a good band very good. A really groovin' drummer makes a great band transcendent . So be good, or get a good drummer, with good gear. Or get a machine and learn to use it.
Chapter 7.

Electronic Music and

DJ Equipment
DJs who perform in clubs on their own are often deified and treated like rock stars, and they sometimes do a lot more than just spin records.
Lots of bands have DJs who perform in the studio and onstage and add depth, sort of like a keyboard player, but using turntables, samplers, and sequencers.
Some music is entirely based around the DJ and then performed live with a band .
I know even less about DJ music than I do about drums, so I just interviewed some folks. They explain it pretty well, so I'll just shut up and show you what they said.
Skip Frederiksen
Skip, a.k.a. Moxx, is the DJ for the Florida trip-hop band Beauty's Confusion. I interviewed Moxx on the subject of electronic music. You can learn more about Skip and the band at www.beautysconfusion.net and www.monochromevision.net.

Skip Frederiksen.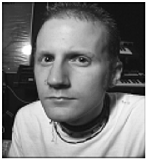 | | |
| --- | --- |
| 1: | Describe the music creation/DJing you do. |
| A: | I write all kinds of music from melodic punk to trip-hop, shoegaze to trance, hip-hop to new wave, and everything in between. I guess I spend most of my time writing trip-hop and abstract hip-hop because it's my favorite style of music to listen to as well as write. The only DJing I do would be of the scratch nature. I have no interest in beat mixing and DJing live. (I leave that stuff to people like BT/Oakenfold and whoever.) I just do a lot of scratching (a-la Portishead, DJ Qbert, that kind of stuff). Most of my music writing is assisted by my best friend and bandmate, Joel Legros. He completes 95 percent of the ideas I have, whether it's songs for Beauty's Confusion or just some random projects or movie score-type music we have going. I don't know what I'd do without him. He inspires me as a musician and as a friend and has helped me finish my song ideas by probably 1200 percent. He writes all the time, and I see that he gets shit done, so then I do the same. I write whenever I can, however I can. Most of the writing and recording takes place in my studio, but sometimes I'll bring my laptop and headphones to a bookstore or coffee shop and work on ideas with that. |
| 2: | Do you use Macs or PCs? |
| A: | PCs. |
| 3: | What hardware and software do you use? How do you use it? |
A. Software
Native Instruments plug-ins and VSTs (includes Battery, Absynth 1.3, Pro-53, FM7, Vokator, Traktor, Kontakt).
Joel and I swear by the Native Instruments plug-ins. We use Battery for programming drum parts , Absynth for creating lush pads and ambience (and anything related to the movie score-style stuff we write), Pro-53 for basically any type of sound we want from aggressive to laid-back, weird sound effects and more. It's modeled after the old Prophet 5 synthesizer by Sequential Circuits. FM7 for lots of clear, bell-like sounds ( modeled after the super-powerful 80s synth the DX7 by Yamaha). FM7 is very versatile and can be programmed easily to edit and create new sounds. It can do everything from long drawn-out ambience to cool new wave-style leads and anything else. Vokator is a cool vocoder (for getting robot-like sounds), but it can also do a lot of crazy effects. We don't use that as much as the other stuff. Traktor is a cool program for DJs that allows you to beat match, beat mix, and do all sorts of cool stuff definitely mainly geared toward DJs. Kontakt is a great sampler, though I don't use that much either.
NOTE
A pad is a long, drawn-out ambience or subtle drone. In synth talk, when you need something to "fill" out a part in the songsomething that creates atmosphere or a dream-like quality, or sometimes tension, too. Just basically a sound that kind of fades in, and while a key is held (or a chord), the sound usually changes slightly and gives it a sense of movement. And when you let go of a key, the sound typically takes a few seconds to decay.
VSTs and DXis are virtual instruments, which you can control by connecting a keyboard via MIDI to your computer. They usually need a host, which is a sequencer application (such as Cubase or Cakewalk Sonar) that can host DXIs or VSTs. VST effects are like virtual instruments, but they are virtual effects units. Instead of having a hardware reverb unit, for example, you have the software version that looks exactly like the hardware (rack screws and all) and sounds the same, shown on your computer monitor.
With VST effects and Direct X (DX) effects, you can generally get a clearer sound with effects than with some hardware, which will probably hiss. Because virtual effects are totally electronic, they are clean and great sounding and can enhance production tenfold no hiss, no cable noise, no nothing.
We have a Roland v-drum electronic kit and an AKG C2000B condenser mic for recording vocals.
Figure 7.1.
Roland TD6 digital drums.

All photos in this chapter by Skip unless otherwise noted.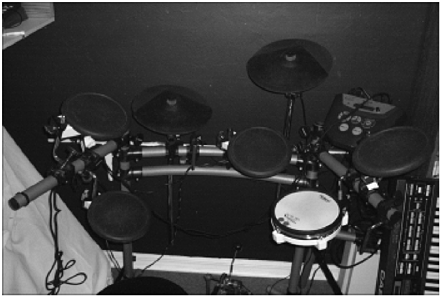 Lounge Lizard Virtual Rhodes/Wurlitzer

Electric Piano
We use this thing in practically all of our songs. It perfectly emulates the vintage Fender Rhodes electric piano and the Wurlitzer 200 electric piano. Bands like Ivy use the Wurlitzer in a lot of their songs and it sounds great. Portishead uses both the Wurly and the Rhodes. Their song "Roads" is actually a reference to the piano; the intro to the song is a Rhodes piano with a tremolo effect. Morcheeba uses the Wurly and Rhodes in practically all of their songs. They just have an amazing sound. Nothing beats the real thing, but the Lounge Lizard is definitely a powerful virtual instrument, and at a tenth of the cost (or less, nod, nod, wink, wink) of getting a real Rhodes and Wurlitzer.
Emagic EVP73 Virtual Rhodes Piano
I tend to favor this virtual Rhodes over the Lounge Lizard. I don't know why, I just think it sounds warmer and prettier. Seems to respond more like a real Rhodes than the Lounge Lizard, though the Lizard is far more programmable. You can make that sound like a Rhodes or a piece-of-shit toy piano from 1961. I have owned a real Rhodes Stage 73 Mark I piano, and I think the EVP73 sounds a lot more like the real thing.
Sampletank XL 1.3
Joel and I use this exclusively for the solo violin and grand piano. Sampletank has a lot of amazing sounding samples, very versatile, with tons of great effects. Any type of real sound you want (pianos, strings, bass guitars, and more) can be achieved with Sampletank. Highly recommended. Though a huge, huge resource hog. Bogs down your PC bigtime, and we have a fast system.
Novation V-Station
We use this in every single Beauty's Confusion song. We had a Novation K-Station (the hardware version) but sold it to buy the V-Station. This thing is great for trance, ambience, phat basses, noisy , aggressive leads, pretty leads, whatever. Has a built-in arpeggiator, which we sync to the song's tempo via our sequencer very useful for ideas and stuff. This is worth every penny. Not to sound like we work for Novation (we don't), but their products are seriously kick-ass. No electronic music producer or electronic band should be without Novation gear or software.
Fruity Loops 3.56
I mainly use Fruity Loops to make (what else?) loops. It's great for creating song ideas from scratch. It's powerful, fun as hell to use, and has great sounds that can be tweaked beyond belief. I always use an external keyboard controller, though. There are many musicians out there who can make full songs by drawing notes with the mouse. Not me, I need to tap my ideas in on keys. The only way to go. Fruity Loops is very inexpensive and incredibly powerful. Another highly recommended piece of software. We used Fruity Loops for the drums on our song, "Windmills" on our first EP. We also used it on several other songs, coming up on our full-length.
Figure 7.2.
Controller keyboard.
Reason 2.0
Reason is powerful as hell. You can create any type of music with it from hip-hop and R+B to straight up techno, trance, goa, breakbeat, whatever. I use Reason exclusively to create loop ideas for Beauty's Confusion. Our song "City" (on our upcoming full-length record) was made mostly with Reason. Ninety percent of the parts in "Faded" were programmed and played in Reason, except for Joel's guitars and Jenna's vocals, of course. We made the beat using ReDrum and the intro pads using the NN-XT sampler. The bass line was made using the SubTractor. Loops were made with the Dr:rex Loop Player. Reason is so cool because they offer a lot of things called refills, which are patches designed exclusively for each Reason virtual instrument. The refills are relatively cheap and much more editable than a basic sample loop CD. You can also find tons of free refills on the Web. The only thing that sucks about Reason is you cannot use VSTs or DXis (external plug-ins). They want you to use that program exclusively, which is why they call it Reason, I guess. But something that's really cool is that you can sync it to Cakewalk Sonar or any other sequencer that can rewire (running both Reason and the sequencer in sync). There, you get a lot more options. Reason sounds phenomenal and is so powerful. We love it.
Cakewalk SONAR XL 2.0
I make all of my solo music in Cakewalk Sonar, Joel makes all his solo stuff in Sonar, and we do all our band stuff with Sonar. The reason we love it is because it's three things in onean extremely powerful MIDI sequencer, an extremely powerful digital audio workstation; it has looping capability just like Acid Pro and costs $100 less than Acid. It's very easy to get full songs alive and kicking in Sonar. We can drop a drum loop in for inspiration, play some live keyboard parts via MIDI, and add guitars and vocals on top, all in the same program. Very versatile.
Figure 7.3.
Midi mixer.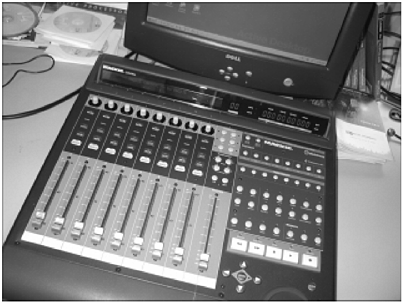 Very easy to use. We swear by it. It's also pretty damn stable as far as programs go. It crashes from time to time as all programs do, but it's the most stable, and I've used them all, from Cubase to Logic to Pro Tools. Sonar is the way to go, plus it's the least expensive out there.
Edirol PCR-30 MIDI Keyboard Controller for

Virtual Instruments
We use the Edirol 32-key PCR-30 MIDI controller to tweak our virtual instruments. It has eight knobs and eight sliders to control all aspects of synthesis and tweaking sounds. It has presets, which can be recalled for any of the soft synths (software synthesizers as opposed to hardware) you're controlling (or hardware, for that matter). The keys feel great (not cheap at all). It's small enough to connect to a laptop anywhere and write music. We use it to control our V-Station, Native instruments plug-ins, and Fruity Loops and Reason.
Figure 7.4.
Beauty's Confusion main studio.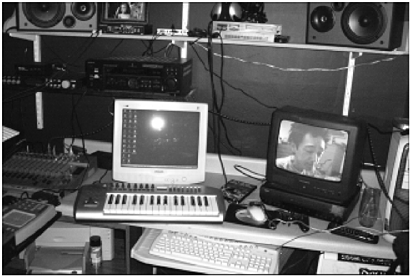 Hardware
Hardware here is sort of the bridge between the old school and the new. We're talking the fun stuff that controls or works in concert with all the fun software stuff we mention in this chapter.