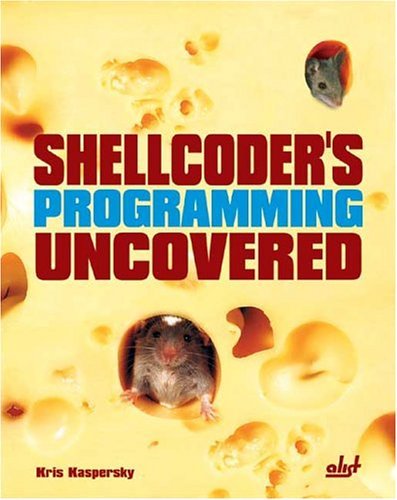 Shellcoder s Programming Uncovered
by Kris Kaspersky
A-LIST Publishing

2005

(512 pages)
ISBN:193176946X
Some software isn't effective because it proves unable to prevent the propagation of worms, but this guide examines where security holes come from, how to discover them, how to protect systems, and how to do away with security holes altogether.

Table of Contents
Shellcoder's Programming Uncovered
Introduction
Part I - Introduction to Shellcoding
Chapter 1
-
Required Tools
Chapter 2
-
Assembly Language " Quick Start
Chapter 3
-
Hacking Using GPRS Uncovered
Part II - Overflow Errors
Chapter 4
-
Buffers Subject to Overflow (Lane of Monsters)
Chapter 5
-
Exploiting SEH
Chapter 6
-
Specifiers Under Control
Chapter 7
-
Practical Overflow Example
Chapter 8
-
Searching for Overflowing Buffers
Chapter 9
-
Methods of Protecting Buffers Against Overflow
Part III - Secrets of Designing Shellcode
Chapter 10
-
Shellcoding Problems
Chapter 11
-
The Technique of Writing Portable Shellcode
Chapter 12
-
Self-Modification Basics
Chapter 13
-
Playing Hide-and-Seek Under Linux
Chapter 14
-
Capturing Ring 0 Under Linux
Chapter 15
-
Compiling and Decompiling Shellcode
Part IV - Network Worms and Local Viruses
Chapter 16
-
Life Cycle of a Worm
Chapter 17
-
Local Viruses in the UNIX World
Chapter 18
-
Viruses in Scripts
Chapter 19
-
ELF Files
Chapter 20
-
Method of Capturing Control
Chapter 21
-
Main Symptoms of Virus Infection
Chapter 22
-
Simplest Windows NT Virus
Part V - Firewalls, Honeypots, and Other Protection Systems
Chapter 23
-
Bypassing Firewalls
Chapter 24
-
Escaping through the Firewall
Chapter 25
-
Organizing a Remote Shell Under UNIX and Windows NT
Chapter 26
-
Hackerz Love Honey
Chapter 27
-
Sniffing a LAN
Chapter 28
-
Databases Under Attack
Part VI - Exotic Objects for Insertion
Chapter 29
-
Attacking Bluetooth
Chapter 30
-
Economizing on GPRS
Chapter 31
-
Legends and Myths about Flashing BIOS
Chapter 32
-
Viruses Infecting BIOS
CD Description
List of Figures
List of Tables
List of Listings
CD Content
| | |
| --- | --- |
| | |
Shellcoder's Programming Uncovered
Kris Kaspersky
Copyright 2005 by A-LIST, LLC
All rights reserved.
No part of this publication may be reproduced in any way, stored in a retrieval system of any type, or transmitted by any means or media, electronic or mechanical, including, but not limited to, photocopying, recording, or scanning, without prior permission in writing from the publisher.
A-LIST, LLC
295 East Swedesford Rd.
PMB #285
Wayne, PA 19087
702-977-5377 (FAX)
mail@alistpublishing.com
http://www.alistpublishing.com
This book is printed on acid-free paper.
All brand names and product names mentioned in this book are trademarks or service marks of their respective companies. Any omission or misuse (of any kind) of service marks or trademarks should not be regarded as intent to infringe on the property of others. The publisher recognizes and respects all marks used by companies, manufacturers, and developers as a means to distinguish their products.
ISBN: 1-931769-46-X

Printed in the United States of America
05 7 6 5 4 3 2 First Edition
A-LIST, LLC titles are available for site license or bulk purchase by institutions, user groups, corporations, etc.
Book Editor: Julie Laing
LIMITED WARRANTY AND DISCLAIMER OF LIABILITY
A-LIST, LLC, AND/OR ANYONE WHO HAS BEEN INVOLVED IN THE WRITING, CREATION, OR PRODUCTION OF THE ACCOMPANYING CODE ("THE SOFTWARE'') OR TEXTUAL MATERIAL IN THE BOOK CANNOT AND DO NOT WARRANT THE PERFORMANCE OR RESULTS THAT MAY BE OBTAINED BY USING THE CODE OR CONTENTS OF THE BOOK. THE AUTHORS AND PUBLISHERS HAVE USED THEIR BEST EFFORTS TO ENSURE THE ACCURACY AND FUNCTIONALITY OF THE TEXTUAL MATERIAL AND PROGRAMS CONTAINED HEREIN; WE, HOWEVER, MAKE NO WARRANTY OF ANY KIND, EXPRESSED OR IMPLIED, REGARDING THE PERFORMANCE OF THESE PROGRAMS OR CONTENTS.
THE AUTHORS, THE PUBLISHER, DEVELOPERS OF THIRD PARTY SOFTWARE, AND ANYONE INVOLVED IN THE PRODUCTION AND MANUFACTURING OF THIS WORK SHALL NOT BE LIABLE FOR DAMAGES OF ANY KIND ARISING OUT OF THE USE OF (OR THE INABILITY TO USE) THE PROGRAMS, SOURCE CODE, OR TEXTUAL MATERIAL CONTAINED IN THIS PUBLICATION. THIS INCLUDES, BUT IS NOT LIMITED TO, LOSS OF REVENUE OR PROFIT, OR OTHER INCIDENTAL OR CONSEQUENTIAL DAMAGES ARISING OUT OF THE USE OF THE PRODUCT.
THE CD-ROM, WHICH ACCOMPANIES THE BOOK, MAY BE USED ON A SINGLE PC ONLY. THE LICENSE DOES NOT PERMIT ITS USE ON A NETWORK (OF ANY KIND). THIS LICENSE GRANTS YOU PERMISSION TO USE THE PRODUCTS CONTAINED HEREIN, BUT IT DOES NOT GIVE YOU RIGHT OF OWNERSHIP TO ANY OF THE SOURCE CODE OR PRODUCTS. YOU ARE SUBJECT TO LICENSING TERMS FOR THE CONTENT OR PRODUCT CONTAINED ON THIS CD-ROM. THE USE OF THIRD-PARTY SOFTWARE CONTAINED ON THIS CD-ROM IS LIMITED THE RESPECTIVE PRODUCTS. THE USE OF "IMPLIED WARRANTY" AND CERTAIN "EXCLUSIONS" VARY FROM STATE TO STATE, AND MAY NOT APPLY TO THE PURCHASER OF THIS PRODUCT.