Chapter 1. Gotta Get My RSS
It's morning and you're checking your email. Your in-box is stuffed, with both real email and spam. Your stomach tightens. How are you ever going to wade through all that mail before the morning meeting?
Now it's afternoon, and it's time to do some research on the Internet. You're supposed to be keeping track of the latest developments in your field, and the task has proven far harder than you thought. When you search the Internet for the latest news, you get 17 million pages, some dating back years. How can you possibly sort through all those pages to get just this month's news?
Let's face it, it's great that the Internet has made finding information simpler and quicker than ever. But it's also a problem: People are drowning in piles of information to work through. By some estimates, it takes a worker two hours a day just to respond to emails.
Much of the trouble is that until recently it has been difficult to choose where your information comes from. When you use a search engine to find information, you're searching more than 3 billion World Wide Web resources at once. When you open your email program, anyone (and sometimes it feels like everyone) is dumping email on you.
That's where RSS comes in. And this book is your guided tour to all the secrets of RSS.
What Is RSS?
The great advantage of RSS is that you can select your sources of information if you're the reader, and you can publicize selected information if you're the publisher. RSS is the next step in the information revolution and it's transforming the Internet and the world.
RSS is an acronym for at least three different phrases, but the most common one is Really Simple Syndication. Syndication has to do with syndicating your information flowin other words, you can subscribe to the information feeds you want. And when you subscribe, you automatically get the news you want. If you don't subscribe, you don't get the news you don't want. That's a breath of fresh air, but who publishes this news flow? Are there many feeds out there?
RSS feeds are a good idea in theory, but according to www.pubsub.com, which specializes in RSS feeds, the site now tracks feeds from 21,201,699 sources, 13,489,779 of which are currently active. Many of these feeds come from Web logs, or blogs, and are automatically converted into RSS feeds by the Web site that hosts that blog. So, there's an immense number of feeds you can choose from. (Are there too many? That's a different question!)
You can find feeds on just about every aspect of modern life, from commercial to professional to personal. You'll find medical RSS feeds, news RSS feeds (for example, from almost all the major national newspapers), feeds on new software, on hobbies, finances, press releases, new products, shopping hints, human resources, fiction writing, and just about everything else you can think of.
So the information is out there, and if you're interested in a certain type of information, you can subscribe to the appropriate feed. But how does RSS work? And how do you handle a feed?
You start with the software.
How RSS Works
As you may knowand if you don't, you'll learn all about it in this bookRSS is based on XML. (XML stands for Extensible Markup Language, in case you've not heard of itbut don't panic, RSS is easy to master.) A typical RSS feed is actually an XML file that contains one or more news items. (You can read all about XML in Chapter 4, "Creating RSS Feeds from Scratch.")
An RSS feed is an XML file that resides on a Web server and is accessible by URL. How do you know if there's an XML file just waiting as an RSS feed? When you see a button on a Web page (Figure 1.1), with the icon XML or RSS (there are other possible icons as well, as you'll see in Chapter 2, "Grabbing RSS with Readers"), you know there's an RSS feed available. Figure 1.1 shows some of the RSS feeds on CNN.comjust about all CNN's stories are available in RSS now.
Figure 1.1. RSS feed buttons are plentiful on www.cnn.com.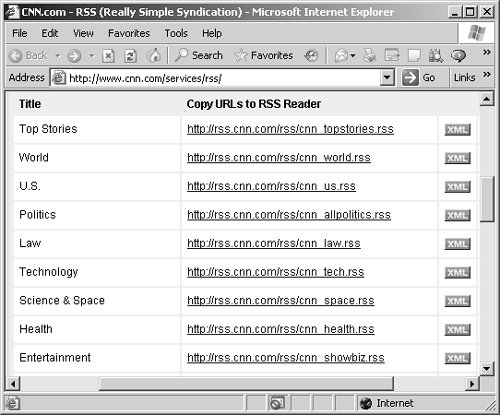 In fact, there are scores of RSS feeds out there, and your first step is to find the ones you want. To that end, you can search dozens of RSS feed directories using keywords. Here's a starter list of online RSS feed directories, each of which lists many RSS feeds you can subscribe to:
www.syndic8.com/feedlist.php

www.blogstreet.com

www.search4rss.com

http://feedfinder.feedster.com/

www.completerss.com

www.newsgator.com/ngs/default.aspx

www.blogsearchengine.com (add rss after your search term)

www.2rss.com/index.php

www.rss-network.com/

www.rssfeeds.com/

www.shas3.com/RSS.html
You'll learn how to work with RSS feed directories in the next chapter, but here's the idea: You just navigate to a directory site in your browser and use an RSS feed directory such as Feedster (Figure 1.2), then enter the relevant term.
Figure 1.2. Enter a term in the Feedster RSS directory, then click the Find Feeds button.
After you click the Find Feeds button, you'll get a list of feeds (Figure 1.3).
Figure 1.3. Click the Find Feeds button to get your list of RSS feeds from Feedster.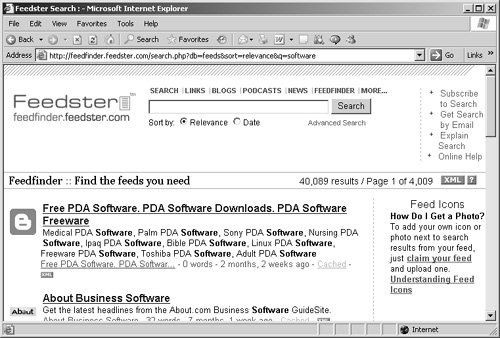 How do you read the feeds you've found? The idea is you subscribe to the feeds you want using an RSS reader. Essentially, XML buttons link to the URL for the RSS feed, and you simply paste that URL into your RSS reader.
With the RSS reader program SharpReader, the feed is listed in the left-hand pane. Each feed consists of a number of news items. When you click a subscribed feed, the news items from that feed appear in the top right pane of the RSS reader (Figure 1.4).
Figure 1.4. Get news items from RSS feeds in SharpReader.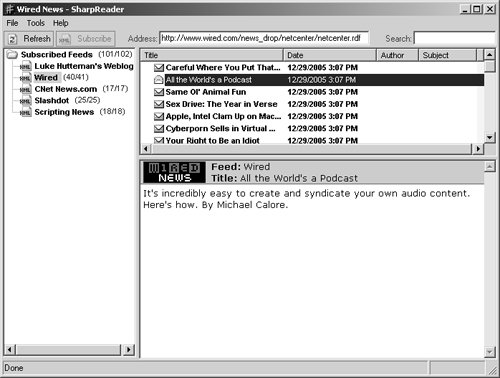 Those news items are also listed by title. After you click an item's title, the text for that item appears in the bottom right pane, as you see in the SharpReader figure. Often there's a hyperlink that appears with the item's text that you can click to get more information.
That's how you handle RSS feedsusing software to collect the data from feeds (RSS readers are also called aggregators) and then seeing that data displayed in an easily read format. Of course, this is just an overview of the process. The full detailsincluding how to subscribe to an RSS feed, what RSS readers are available, and how to use online RSS readersare covered in Chapter 2, "Grabbing RSS with Readers."