7.2 Bandwidth Bottlenecks
Caches also can reduce network bottlenecks. Many networks provide more bandwidth to local network clients than to remote servers ( Figure 7-1 ). Clients access servers at the speed of the slowest network on the way. If a client gets a copy from a cache on a fast LAN, caching can boost performanceespecially for larger documents.
Figure 7-1. Limited wide area bandwidth creates a bottleneck that caches can improve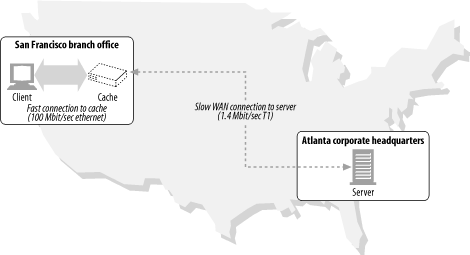 In Figure 7-1 , it might take 30 seconds for a user in the San Francisco branch of Joe's Hardware, Inc. to download a 5-MB inventory file from the Atlanta headquarters, across the 1.4-Mbps T1 Internet connection. If the document was cached in the San Francisco office, a local user might be able to get the same document in less than a second across the Ethernet connection.
Table 7-1 shows how bandwidth affects transfer time for a few different network speeds and a few different sizes of documents. Bandwidth causes noticeable delays for larger documents, and the speed difference between different network types is dramatic. [1] A 56-Kbps modem would take 749 seconds (over 12 minutes) to transfer a 5-MB file that could be transported in under a second across a fast Ethernet LAN.
[1] This table shows just the effect of network bandwidth on transfer time. It assumes 100% network efficiency and no network or application processing latencies. In this way, the delay is a lower bound. Real delays will be larger, and the delays for small objects will be dominated by non-bandwidth overheads.
Table 7-1. Bandwidth-imposed transfer time delays, idealized (time in seconds)

Large HTML (15 KB)

JPEG (40 KB)

Large JPEG (150 KB)

Large file (5 MB)

Dialup modem (56 Kbit/sec)

2.19

5.85

21.94

748.98

DSL (256 Kbit/sec)

.48

1.28

4.80

163.84

T1 (1.4 Mbit/sec)

.09

.23

.85

29.13

Slow Ethernet (10 Mbit/sec)

.01

.03

.12

4.19

DS3 (45 Mbit/sec)

.00

.01

.03

.93

Fast Ethernet (100 Mbit/sec)

.00

.00

.01

.42
7.3 Flash Crowds
Caching is especially important to break up flash crowds. Flash crowds occur when a sudden event (such as breaking news, a bulk email announcement, or a celebrity event) causes many people to access a web document at nearly the same time (Figure 7-2). The resulting redundant traffic spike can cause a catastrophic collapse of networks and web servers.
Figure 7-2. Flash crowds can overload web servers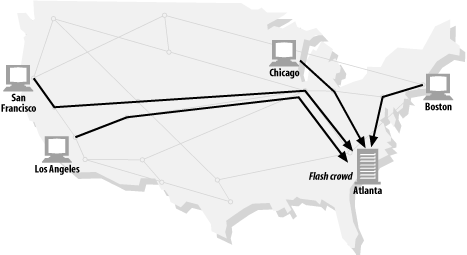 When the "Starr Report" detailing Kenneth Starr's investigation of U.S. President Clinton was released to the Internet on September 11, 1998, the U.S. House of Representatives web servers received over 3 million requests per hour, 50 times the average server load. One news web site, CNN.com, reported an average of over 50,000 requests every second to its servers.