Overview
As a result of these various internal and external pressures, many progressive companies in the United States, but particularly in Europe, Japan, and Australia, have chosen to implement broad programs of supplier monitoring and auditing. Equally important, as part of the movement toward greater corporate social responsibility that is occurring worldwide, many companies (more than 2,500) have begun to publish reports that detail their social and environmental policies and activities (as well as those of their suppliers). This reporting movement, known as SEAAR " Social and Ethical Accounting, Auditing, and Reporting " promises to have a profound effect on how companies in the future will manage their extended supply chain.
Although the SEAAR movement in the United States still remains less well developed or recognized, the shift in focus toward this social and environmental reporting framework, particularly in Europe over the last three years , has been nothing short of remarkable . In fact, such has been the pressure and enthusiasm for corporate social responsibility among the European business community, that most major corporations have developed some type of SEAAR-based CSR programs (and, unlike in the United States, in the European context the two terms, Corporate Social Responsibility and SEAAR, are used almost interchangeably).
These efforts span the full gamut of corporate dedication, from simple and unenforceable pledges to adhere to recognized labor and environmental codes of conduct through to the adoption of international standards covering social and environmental behavior, with full and audited reporting. And the numbers continue to grow. The World Business Council for Sustainable Development, based in Geneva, has over 160 multinationals as members. CSR Europe, one of the most influential forums for education and dialogue on the subject, has 59 company members and 16 national partnership organizations, with a total membership of 500,000. [1]
The Global Reporting Initiative, as we have seen, listed more than 2500 companies filing some type of social and environmental reports in 2002 (see Figure 5-1).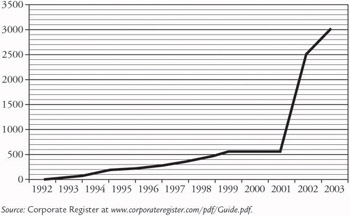 Figure 5-1:

International Nonfinancial Reports in the Last Decade
Source: Corporate Register at www.corporateregister.com/pdf/Guide.pdf.
What is more, corporate social and environmental reporting, at least in Europe, is no longer the domain only of large and international companies. A recent survey by the European Commission of 7,600 companies in 19 European nations, found that 50 percent of all European SMEs (small- and medium- size enterprises ) have now adopted some type of CSR program. [2 ] A similar survey by Grant Thornton found that European SMEs have moved much more quickly to adopt advanced CSR standards than previously thought. The survey indicates that 41 percent of small- and medium-size companies in Europe have a formal environmental responsibility program in place, with many more having policies in place to cover social and corporate governance issues.
We were surprised about the extent to which corporate social responsibility has been embraced by SMEs across Europe, especially the number of companies that have formal policies in place in a number of areas ranging from environmental responsibility to ethical sourcing, says Andrew Godfrey, Head of European services for Grant Thornton.
SMEs have done this quietly , without hype and without much support. And as CSR continues to climb up the boardroom agenda in listed companies, we believe we will see further growth of social responsibility in the SME sector. [3 ]
So why have European companies adopted SEAAR in such a robust and enthusiastic way? There are many reasons.